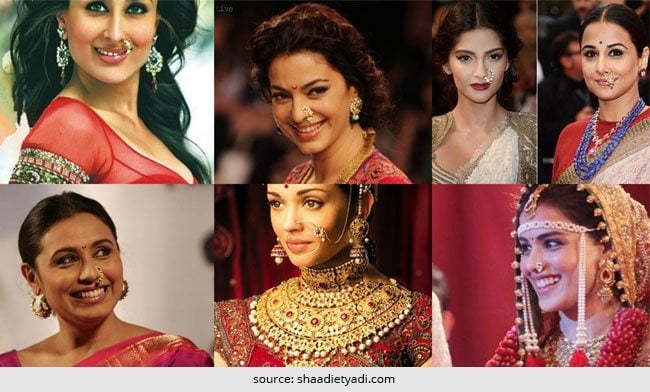 Brought in the 16th century to India during the Mughal rule, naths or big nose rings have been hailed as a symbol of marital status. However, over the years this precious ornament has gone far beyond the reason of existence. When Sonam Kapoor walked on the red carpet at Cannes Film Festival wearing the kundan nath nose ring, it gradually came to be a major part of fashion accessory. Today, it's more of a trend and accessory which enhances facial beauty.
Various styles of Nath
A nath is a large piece of adornment that covers the mouth and connects to the earlobe through a chain. Because of the heaviness, the nath has undergone a change in terms of shape and size. Some brides who want their head jewels or necklace to do the talking opt for smaller size of nath.
[Also Read: How to Make Nose Ring at Home]
The brides in current scenario are going towards contemporary instead of the classical heavy kundan pieces in nath. For instance, if we talk about bridal nath designs, the chaand bali styled nath which is chic-looking is also very much in vogue. For someone who prefers a heavier look, the decorated chain naths are the ones to go for. Currently, the naths which are in vogue include the mango-shaped nath, half-moon or moon shaped nath, and the flower-adorned nath.
Below are images of a traditional nath design and a contemporary nath design.
Materials used for making Nath
Generally naths are made in 22 karat gold with a touch of pearls and polki. Various combinations of coloured stones can also be used such as emerald, ruby, amethyst, and sapphire. All these glittering gemstones add to the entire look of the nath. The metal can be used in 22k, 18k or 12k gold. Naths in uncut diamonds are trending too.
The market is flooded with brass and copper naths but these metals should be avoided at any cost as they react to the skin causing skin infection. Since the nose is one of the most sensitive areas of our body, nose rings made of synthetic stones should not be worn.
Naths for your face shape
When it comes to selecting a nath, different factors are there for consideration – the size of the nath, shape of the face and the amount you want to accentuate your nath.
[sc:mediad]
First of all, you need to check the size of your nose and that of your face. Large noses and big round faces may look great with a giant red ruby. On the contrary, a smaller nose may be adorned with a silver stud.
Secondly, decide how much attention you want to draw to the nose ring. Basic silver or gold is going to garner less attention than sparkly gems.
[Also Read: HATHPHOOL: Jewellery for your Hands]
Thirdly, your personality also affects the choice. For instance, if you wear a lot of makeup then you may want a large nose ring to complement the look whereas a small nath can be used if the makeup done is light.
Generally, a nath should be so worn that it goes well with the face-cut. A smaller nath or a half-moon shaped nath is better for a smaller face as they do not hide your entire face. If you have a round face then the circular barbells or the Maharashtrian naths worn by Marathi women is a perfect choice as it gives a very classical look to the face and also makes the face look slim. On a heart-shaped face, the nathni that has a chain and connects to the hairdo, as seen in Bollywood films looks better. Ethnic nathni is good for a square-shaped face. Though the plain rings suit all face types, the beaded nose rings look best on an oval face.
Nose piercing required?
The best part about a nath is that it can be enjoyed without getting your nose pierced. Two kinds of naths are made for those who do not want to pierce their nose. One such style is a button nath which is locked by a small button connected with the ear and the other style is a screw nath which is locked by a screw and has a small chain to support it. The other types of naths available are sling nuts which work as a clip on nath nose ring and also the magnetic or push style naths.
[Also Read: Kamarband or the Elegant Sari Belt]
Naths for other occasions
Such has been the acceptance of naths that it has even become a big part of the hippie culture. Many prominent faces are seen wearing naths on casual occasions, for instance, tennis player Sania Mirza. So, naths have taken a huge step forward from being just seen in shaadi mandap. It can be a high fashion accessory but one needs to be able to carry it with flair.
Hope this article on nath nose ring was helpful.