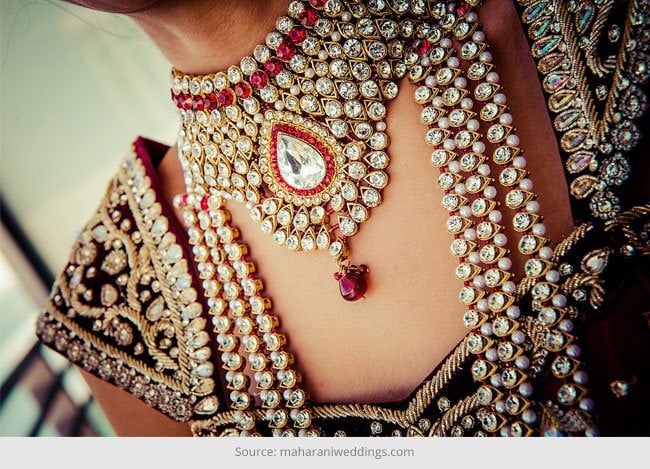 Indians and jewelry have a complimentary bond. Indian weddings cannot be complete without a set of beautiful jewelry for the brides. Some of these sets are so heavy and intricately gorgeous that you wouldn't want to wear them again. Not only are they very expensive, but they are too much of a beauty to be worn on other occasions. So, what do you actually do with such a heavy set?
[Also Read: Recycled Jewelry]
With the changing times and trends many brides have now found a novel way to use their bridal jewelry! Most of them now revamp it or use it in a different form so that they can even wear it on an average day.
Read on to know more on how to reuse bridal jewellery:
Revamp That Diamond Necklace
That delicate diamond necklace that you got gifted by your in-laws, you can use it on other special occasions too. Diamonds are something which goes well with almost any kind of attire. So whether you are wearing a saree or a gown, you can team up your diamond necklace with any of these. Diamonds in themselves are a very classy affair, so if you are planning to don one of these sets, you do not need to accessorize at all! You can simply complete your look with a single necklace! Don't let your beautiful necklace sit idle in the locker, take it out for a spin and wear it often to special occasions. After all, diamonds are forever!
[Also Read: Top 10 Diamond Necklaces in the World]
Give a New Lease of Life to Your Old Gold Chain
Sometimes an old heirloom piece does not go well with fashion of today. But don't worry, it does not mean that you should throw away these heirloom pieces. You can simply update a sentimental heirloom piece to give it more meaning and a more fashionable design according to the current trends.
If you have a trusted jeweler, you can ask him or her to give a design or you can also browse design ideas on Pinterest. Customizing old pieces are not too hard and sometimes they can turn out to be even prettier than before! So do not leave them in the bank lockers and use vintage jewelry without thinking twice.
Give your Old Ring a New Meaning
Your wedding ring will always be a favorite, but sometimes you can upgrade it to a new design, right? Old wedding rings can be restyled and customized with new gemstones or designs. It will be your old ring aright, but it will look different and so in vogue. Keep a design in mind so that you can ask your jeweler to style it exactly as you want it. If you would want your ring to be bigger, you can even ask the jeweler to melt old rings and give it an even bigger look. It all depends on how you would want to carry off the new ring.
[sc:mediad]
[Also Read: Why Indian Women Love Gold?]
Dazzle With Your Old Danglers
Those sparkly danglers you wore with your Lehenga- Don't worry, you can still wear them. You just need to accessorize them right. So, if your danglers are a show by themselves, you can wear them solo. Some heavy and intricate danglers look gorgeous when worn with long skirts or gowns. Keep in mind that you will need to wear a little gorgeous skirt if you want your danglers to shine. Style your hair in a way that it is tied like a bun. You can wear a delicate necklace if you want, but if they are exquisite, then you don't need anything at all!
[Also Read: World's Most Expensive Earrings]
So you see, you needn't worry about your bridal jewelry, there are many ways you can still wear them years after your wedding! Redesign your old jewelry. Repurposed vintage jewelry is in vogue these days, but just make sure, you style it right.