"Big girls need BIG diamonds" – Elizabeth Taylor 
The obsession for diamonds never end. "ROCKS" are how they are normally referred to these days, are sworn by designers and celebrities for their gigantic size and clarity. To add to the list is the clear cut diamonds with color tints and its uniqueness.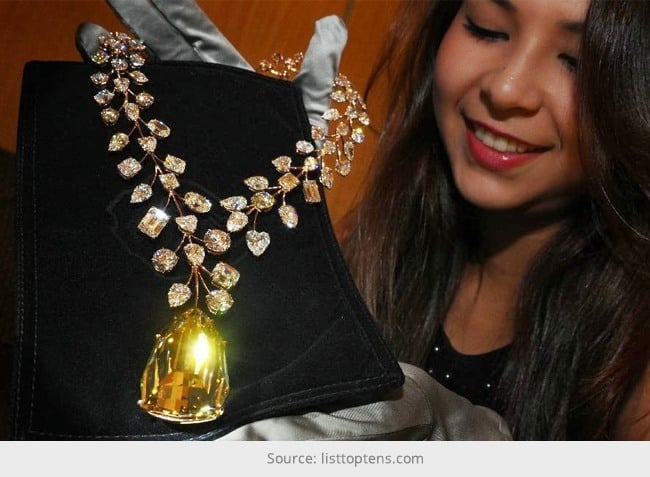 Those who have watched the movie "Blood Diamond", starring Leonardo Dicaprio will know how many lives can be tossed aside just to find one little piece of a compressed charcoal.
That being said, the diamond trade will continue to survive as long as people have a penchant for the ridiculously expensive jewelleries.
most expensive necklaces in the world:
Fashionlady offers you top 10 most expensive necklaces in the world.
1. Incomparable:
Price: US $55 million
Mouaward created a stunning masterpiece – 637-carat L'Incomparable diamond necklace in 2013 and has been named the world's most expensive necklace by Guinness World Records, as it is valued at a mind-boggling $55 million.
The yellow gem is set on 18k gold. This step‐cut diamond is the largest internally flawless diamond ever graded by the Gemmological Institute of America.
Apart from this huge rock, the necklace is decked with 35 round diamonds, 27 pear-shaped diamonds, nine heart-shaped diamonds, five emerald-cut diamonds, five cushion diamonds, four oval diamonds, three Asscher-cut diamonds and two radiant diamonds.
[Also Read: Washer Necklace Tutorial]
Here is the video that will elevate your respect towards diamonds and especially towards Mouaward for this fine creation. You will definitely see why it deserves to be priced at $55 Million!
The necklace' centrepiece diamond was found by chance in a pile of mining rubble by a young girl in the Democratic Republic of Congo. One thing is certain, the child who found it in the 1980s will never benefit. Her identity and fate remains a mystery.
2. Heart of the Ocean Diamond Necklace:
Price: US $20 Million
Familiar to most of us with Kate Winslet wearing a replica in the movie "Titanic" released in the year 1997, the original was made by Harry Winston. This stunning blue sapphire diamond necklace was worn by Gloria Stuart at the 1998 Academy Awards.
The original Winston necklace has a stunning 15 carat blue diamond which is the reason for such an expensive price tag while the replica worn in the movie costs only $10,000.
3. Heart of Kingdom Ruby Necklace:
Price: US $14 Million
What makes this gorgeous piece unique is that this hand crafted pendant necklace can be gently moved and crafted into a tiara by hand. This invention by Garrard & Co many other pieces of similar fashion which can turn one ornament into multiple and alternative forms of jewellery.
The fascinating centrepiece weights 40.63 carat is a Burmese Ruby set on a 155 carat diamond necklace.
The distinguished craftsmanship and attention to detail definitely makes it worth the money!
According to Forbes:
The stone is accompanied by two independent Swiss laboratory reports that verify its rarity.
4. Briolette Diamond Necklace:
Price: US $11.1 Million
The 75.36 carat Briolette Diamond Necklace was sold at Christie's Auction, Hong Kong for a whopping $11.1 Million, while it was estimated to fetch between $8.5 to $12.5 million.
The flawless briolette diamond weights more than 75 carats with a purple-pink marquise diamond attached to it. Smaller briolette diamonds are set on 18 carat white gold chain of an adjustable length.
[sc:mediad]
William Goldberg, the master craftsman took 6 months to cut the 160.5 carat diamond to make it the world's most largest and most perfect Briolette ever made in a stunning tear-drop shape cut.
It is believed that the sale revenue generated at this auction was $82,947,664.
5. Neil Lane Diamond Necklace:
Price: US $4 Million
Known to lend eye-catching jewelleries to top celebrities at Oscar Nights, the Los Angeles Neil Lane has created one of the most expensive diamond necklaces. Neil Lane was the first and continues to be the most favourite jeweller to the stars.
6. DeBeers Marie Antoinette Necklace:
Price: $3.7 million
Set in platinum, this DeBeers Marie Antonette Necklace has 181 carats in diamonds set in platinum making it to this list of most expensive diamond necklaces. To add to the 181 carats, is a monster 8 carat white diamond that steals the show!
The sparking diamonds include 1.84 carats of pink diamonds, diamond and two yellow diamonds of 5.24 and 7.06 carats each. In total, its weight is 181.1 carats, which is quite remarkable.
7. H Stern Venus Necklace:
Price: US $3.17 Million
With 110 carats set in noble gold, this Y shaped necklace design has a 14 point star as a clasp. Simple, elegant and unique, this necklace has all shapes and cuts including pear, square and cushion.
8. Majestic Diamond Necklace:
Price: US $2.5 Million
Tiffany & Co. made a necklace with a pear shaped 41.4 carat diamond solitaire set in Platinum that adds to the list of the most expensive diamond necklace brands in the world. 
9. Zip Necklace:
Price: US $1.2 Million
Zip's being the simplest fastener for boots, inspired Van Cleef and Arpels creation to create the most iconic piece ever made. Round and baguette cut diamonds are used to create this piece that can be transformed into a stunning bracelet design by zipping up the necklace. 
10. Elisa Sapphire and Diamond Necklace:
Price: US $325,000
Bulgari also joins the list of most expensive necklace brands in the work with this marvellous Elisa Sapphire and diamond necklace design.
Weighing more than 24 carats, this oval shaped necklace has oval links that ends with a sapphire at each point, making it an extremely unique piece.
Did you know the story about the "Patiala Necklace"?
This "Patiala Necklace" is one of the most expensive necklaces in the Indian history.
Who made the Patiala Necklace?
In 1926, the Parisian jewellery workshops of Cartier SA received a special delivery: an overflowing trunk of precious stones and jewellery, including the De Beers diamond, from the Maharaja of Patiala, Bhupinder Singh, with a request for creating a ceremonial necklace worthy enough for a King. With three years of intense labour and patience, the iconic Collier de Patiala, or the Patiala Necklace, was created in 1928.
What went into the Patiala Necklace?
The necklace soon became popular as it was set beautifully in five rows of diamond-encrusted platinum chains, containing 2,930 diamonds that weighed almost 962.25 carats. In the center, a cascade of seven large diamonds, each between 18 carats and 73 carats, surmounted a pendant where the iconic De Beers rested. This hue rock was a tobacco colored diamond weighing 18 carats and containing two rubies weighing 29.58 carats.
What happened to the Patiala Necklace?
The $25 million necklace sparked controversy, when it mysteriously disappeared from the royal treasury of Patiala in April 1948. The last King to wear it was Maharaja Yadavindra Singh, son of Maharaja Bhupinder Singh. 50 years later in 1998, Eric Nassbaum, a Cartier representative, stumbled upon the remnants of the necklace in a small antique shop in London. All the big stones were gone, including the De Beers and along with the seven surrounding diamonds.
Let us know what you think about the most expensive diamond necklaces. Which among these do you wish to own?