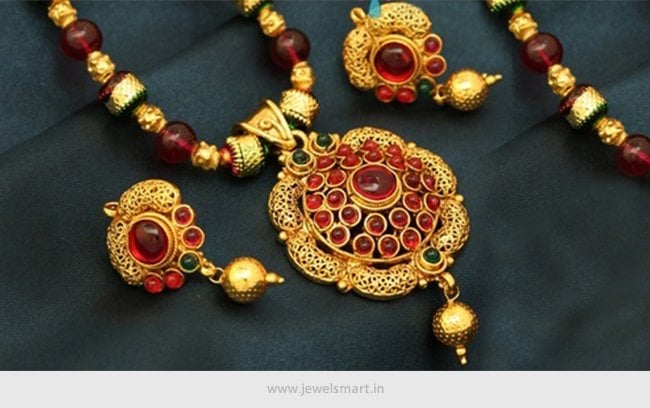 Indian women somehow have a nose, eye and ear for anything that shines and blings bright in golden hues. To say that they love it would be an understatement.  Perhaps our tastes have evolved over time and we have embraced the white metals but gold holds a place of honour that is akin to scared.
Call it culture or conscious upbringing, our love for gold dates back to toddlerhood when we played 'bride-bride' with our cousins. Remember, how we would deck up in our mom's maang tikka and drape her dupatta like a coy bride? Since those days, our minds get stamped with an understanding that gold makes you happy and makes you prettier. On a serious note, we all know how much of an asset gold jewellery turns out to be. In the era where gold prices have seen appreciation in leaps, we all bow down to its investment value. However, women love gold for much more than just these reasons.
1. Gold is Versatile
We now have sleek lines and trendy styles that make gold jewellery wearable to a cocktail party and also to office. From the tiniest of pendants to the classiest of rings, we have stunning innovations in design that has catapulted gold to high ranks in terms of being female favourites.
From the filigree gold pieces to the office collections that leading gold jewellery brands have launched, you could even be spoilt for choice. Despite its old world essence, gold can be customized and worn in a way that imbibes a contemporary look. The versatility of gold makes it a perfect match to go with everything– from pearls to semi-precious stones. Filigree work on pearls and gold works wonders while emerald cocktail jewellery in gold setting is one of the raging trends this season.
2. Gold looks fabulous on warm Indian skin tones
No matter how much we admire platinum and love silver, our honey-tinted or even wheatish skin tone somehow finds perfect compatibility with the glint of gold. Imagine yourself dressed up in all finery for a wedding and yet you find something missing. No matter how heavy a costume jewellery set you flaunt, adding a hint of the tiniest gold bit could turn you into a diva. You could take a leaf out of our Bollywood celebrities' look book when it comes to wearing gold jewellery the right way. From Shilpa Shetty to Vidya Balan, actresses have been going the traditional chic way with a classic gold neckpiece clubbed with an Anarkali suit.
No matter what the occasion is, gold jewellery is the safest bet and the easiest step to work wonders with your look. From a monsoon wedding to a Monday meeting, you could make heads turn in minutes, thanks to gold jewellery.
3. Gold Never goes out of style
Some like to dress down while some like to funk it up. Quirky, as women are, you might be finding ways to be a scorcher in town. Somehow, it makes sense to invest in a couple of heavy gold pieces. Of course, you could keep topping your collection up with itsy-bitsy pieces from time to time. This evidently makes us love gold– for the mere fact that gold jewellery comes in both chic and traditional avatars. In fact, gold jhumkas have come back with a bang and are a safe bet to club with a designer sari. For those who find heavy pieces difficult to carry, sleek gold bracelets coupled with Victorian studs in yellow gold, offer spunk with comfort. Don't you love how Sonam Kapoor uses that classic nosering to turn eyeballs at Cannes?
[sc:mediad]
4. Gold gives a Stylish Edge to Western Outfits
The best part about picking a gold jewellery piece this season is that you could even team it with your semi formals. A casual chiffon shirt with fitted trousers could be escalated to a style statement grade by accessorizing it with gold hoops. In fact, for those of you who love the minimalist look, a statement neckpiece in gold could be a rocker of a pick!
5. Gold is re-moldable
Since Indian women are crazy shoppers, they tend to get bored of the same old designs over the years. Gold jewellery allows one the liberty to re-mold the sets or items and get it redone in a new design. This is peculiar to gold since melting and re-designing platinum and sliver has barely caught up in a big way.
With so many reasons outlined, we are sure that even you might feel the twitch of going and grabbing up a gold set or two. I assure that this could be the beginning of your long long affair with gold!