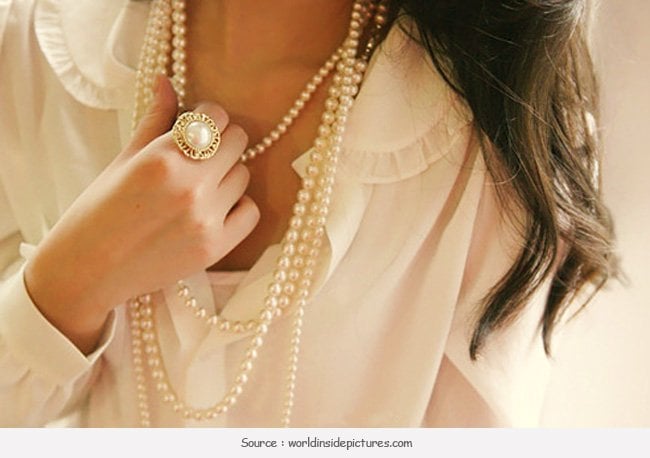 What does a little black dress and a strand of pearl have in common? – Coco Chanel! The iconic designer's signature style always had a special place for pearls. Chanel's love for pearls comes from their timeless elegance. Pearl jewelry has a vintage charm, yet they are never out of style. The classic look is back in trend for 2014. However, the pearl has shed its high class reservations in exchange for a cool attitude. From fitted dresses and blazers to statement neckpieces, pearls have found a place in world of fashion in every size and color. Pearl jewelry has also taken on a cool sophistication. From necklaces to bracelets, layering is the favorite style.
[Also Read: 2016 Best Oscar Jewelry Pieces]
Take a look at some trendy pearl jewelry straight off the runway:
Deepika Padukone wearing pearl jewelry by Farah Khan Ali
Sonam Kapoor at IIJW wearing pearl ornaments from Gitanjali jewelers
Now that you have seen the charm of pearls on celebrities and super models, don't think you need an expensive wardrobe to get this trend right. Pearls are versatile enough for every occasion and budget. From discreet minimalism to being the centre of attention, you can easily style pearl jewelry according to your needs.
The big trend is to layer them – get multiple strands of pearls in different lengths. You can either layer pearl on pearl or mix 'n match it with a variety of materials. Gold looks especially good with pearl jewelry. Also remember that white is not the only color that pearls are available in. For the classy look, try pink, yellow, grey or blue pearls. If you are up for high fashion, keep black Tahitian pearls in mind too. Lavender, green, peach, brown and silver colored pearls are available too. Faux pearl jewelry is available in an even larger variety of colours.
Layered pearl jewelry is not only for your neck. Chunky pearl bracelets are a high fashion style statement.
For the ears, long pearl danglers and chandeliers are in vogue. Single pearls studs set in geometric gold frames are ideal for day time use and work wear. [Image: http://www.pinterest.com/pin/361413938819339507/]
Apart from chunky pearl bracelets for the wrists, you can also opt for elegant pearl bangles.
Now, let's find out how you can wear these trendy pearl ornaments for different occasions and styles:
Would you like to add some vintage glamour to your bridal look? – try pearl jewelry. Ethnic Indian pearl jewelry comes with a combination of Kundan work, gold and precious stones. For a traditional wedding such ornaments are ideal rather than pure pearl jewelry. Pearl has a minimalistic attitude; however it is undoubtedly elegant enough for the grand Indian wedding.
For a high fashion street look, layer long strands of pearl with other necklaces in different materials. Gold or copper toned chains with colorful stones and beads are best to get this look right. You can easily go from day to night in this trendy pearl jewelry style.
Add a statement neckpiece to spice up your casual day look. Look for chunky pearl necklaces and bracelets teamed with gold or silver accents. These ornaments can go with any colour. So, you don't have to worry too much about the dress. This style is 'simply sophisticated'.
For formal wear, choose layered pearls in a single size and color. White or grey pearls are ideal for work wear. The simple but trendy pearl jewelry can glamorize even the most boring suit or dress.
So, what are you waiting for? Go get your pearls!