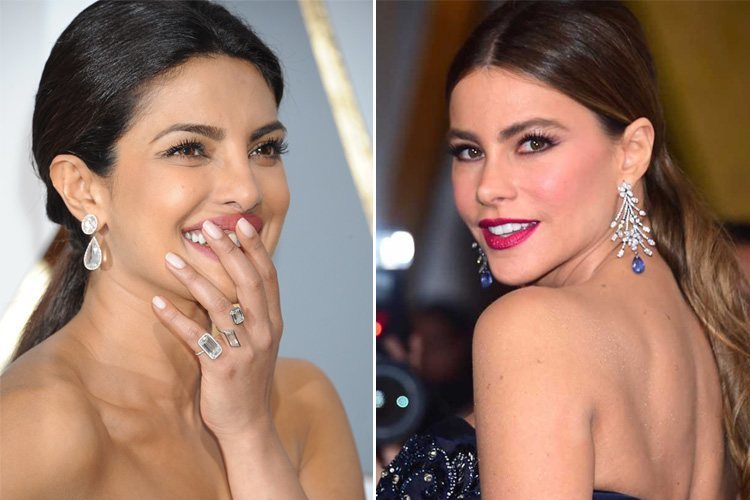 The world waited with baited breath to know who would bag the Oscars and which films would make history. The red carpet saga was a busy one as usual, with celebrities flaunting designer wear and chic trendy accessories for company. We aren't here this time to talk about the gowns, the hair and the makeup, but would like to shed light on the bling factor with regard to the best Oscar jewelry worn. Here are a couple of best Oscar jewelry numbers the media couldn't stop talking about and now it is all over social media too.
[Also Read: Best Dressed Celebs At The Oscars 2016]
Iconic Jewelry Worn At The Oscars
Grab a seat and take a good look at each of the iconic jewelry worn at the Oscars this year.
1. For The Love Of Chokers
Chokers were a trend in the 90s and they are back with a bang this time. Celebrity actress Olivia Wilde was caught in a sexy valentino haute number gracing her neck with a large choker. She completed the look with diamond and pearl earrings, courtesy Neil Lane.
2. Mismatch For Saoirse Ronan
Celebrity actress Saorise Ronan stunned the paparazzi with plenty of chic mismatches- quite oxymoronish to say so, but the celebrity made waves wearing Choppard earrings quite individually made from emeralds and pearls, diamonds and jade that matched her bottle green shimmery haute wear.
3. Harry Winston Gems For Charlize Theron
Charlize Theron was the 'lady in red' gracing the red carpet at the Oscars this year, and she looked every bit a sensual swan at the affair that lasted all night. Charlize looked chic in a bright red Dior gown, graced with a navel-grazing necklace (48.8 carats diamonds) and cluster earrings.
[Also Read: Jewelry On The Red Carpet]
4. Lorraine Schwartz For Sofia Vergara
The world may have had a hearty laugh and gone mushy with Sofia's antics the last time when she was on the red carpet, but this time the diva wore jewelry made by Lorraine Schwartz's diamond-and-sapphire creations. Fifteen carat each with vine earrings and gobstopper-size rings matched the deep blue hue on the haute gown she wore.
5. 90 Carats Of Lorraine Schwartz  For Lady Gaga
The world stood and applauded the bold and vivacious Lady Gaga for her take and support to the victims of sexual abuse and rape worldwide. Standing pretty and in a chic dress pant with an embossed white gown over it, Lady Gaga's iconic two-piece construction rings were stunners for the shutterbugs to deal with.
[Also Read: Elizabeth Taylor Jewelry]
6. Priyanka Chopra Wore Lorraine Schwartz
Desi diva Priyanka Chopra had her elegant way and did a good job too at the red carpet saga, hosting the Oscars this year and making India proud. Priyanka had her laughs and flaunted her glistening Lorraine Schwartz 50-carat diamond earrings and finger rings like a pro!
[Also Read: Gorgeous Hairstyles At The Oscars 2016]
7. Neil Lane For Jennifer Garner
Celebrity Jennifer Garner wore Neil Lane at the Oscars 2016, – chic four diamond-and-platinum bracelets with a combo of 150 carats displayed on her, and a 10 carats an emerald-cut ring on the finger!
8. Heidi Klum In Lorraine Schwartz Pieces
The Oscars 2016 saw Hollywood celebrity Heidi Klum flaunting Lorraine Schwartz pieces on the red carpet and at the venue. 20 carat triangular earrings with three finger rings of 67 carats made the bling effect come through for sure; who doesn't love a little peachy pink hues with diamonds?
[Also Read: Ocean Themed Jewelry]
9. Lorraine Schwartz Gems For Chrissy Teigen
Chrissy Teigen, famous Hollywood bombshell rocked the scene at the Oscars wearing large humongous 20-carat champagne-hued studs on her ears. Proof that the lady has a penchant for all things big in fashion!
10. Bulgari For Naomi Watts
A stunning sparkling Armani neckpiece brought in the shine and bling to the busy and very noisy red carpet when celebrity actress Naomi Watts made her presence felt. Brilliantly cut and suave for sure, Naomi made fashion statements in her neckpiece reach new levels.
[Also Read: The Vanity Fair Oscars Party]
11. Harry Winston For Kerry Washington
Sultry diva and Hollywood celebrity Kerry Washington made waves wearing jewelry by Harry Winston. Platinum 42 carat vintage 1963 hoop earrings and a pair of diamond statement earrings for the lady, graced along for the red carpet event!
[sc:mediad]
12. Forevermark For Olivia Munn
Whoever thought of this style was a genius, and when worn with a serpent diamond bracelet, courtesy the FOREVERMARK, the one shoulder gown for Olivia in bright orange made the lady stand out like a shining star!
Here were thus a couple of the best Oscar jewellery 2016 styles worn at the red carpet this time. We can only wait and watch the trends catching up or someone emulating the best jewelry on the red carpet at weddings and special events here in India!