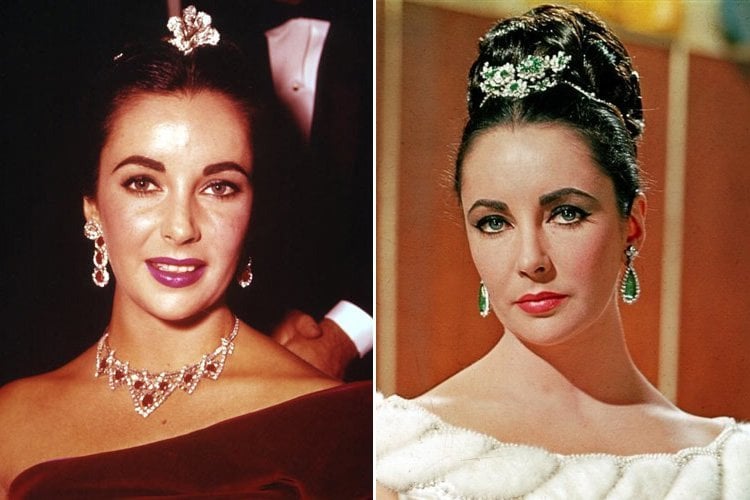 "He was holding a red leather box, and inside was a ruby-and-diamond bib necklace, which glittered in the warm light…"
The list of adjectives fall short when it comes to describing Elizabeth Taylor and Elizabeth Taylor jewelry. She has all of style, charisma, glamour and appeal you can possibly expect in a Hollywood heroine. Possibly one reason why her star-studded personality would go down in the annals of history as Elizabeth Taylor jewelry.
One of the most popular stars of classical Hollywood cinema in the 1950s, Elizabeth Taylor was one of the most bankable stars, whose taste for exquisite jewelry was not only admirable, but iconic. You can say she was ahead of time, which is why the tag Elizabeth Taylor diamond goes perfect.
[Also Read: Reasons that made Elizabeth Taylor Look so Attractive]
You would love to know that Christie's New York auctioned the Elizabeth Taylor jewelry which was worth $137 Million. Would you be able to sleep on hearing this?
Elizabeth Taylor's Love For Antique Jewelry
Let's check out Elizabeth Taylor jewelry which is truly hallmark, timeless and hardly finds any comparison with contemporaries of past and present.
The Taj Mahal Diamond Necklace
This glamorous necklace of Indian origin is as historical as the monument itself. It was in 1627, that this vintage jewelry heart-shaped diamond was presented by the Mogul Emperor of India to his son Shah Jahan, who in turn gifted it to his beautiful wife Mumtaz Mahal.
In 1972, Richard Burton bought this Gold and Ruby Chain by Cartier at an auction for £350,000 and presented it to Elizabeth on her 40th birthday. She in turn replaced the silk cord of the necklace with another one made of rubies and diamonds. When this Taj Mahal necklace was auctioned at Christie's, it fetched a whopping $8.8 Million. Now you know, the level of diamond jewelry worn by Elizabeth Taylor.
The Krupp Diamond
Seen as the most flawless diamonds of its time, Richard Burton presented a 33.19 carats Harry Winston diamond ring to Elizabeth Taylor which originally belonged to Vera Krupp. Richard won this ring in a bidding war for a good 305,000 pounds. Such was her love for the diamond rock that Elizabeth wore it almost every day. This diamond was rechristened as 'The Elizabeth Taylor Diamond'.
The Taylor-Burton Diamond
Richard Burton bought the most famous gemstone for his wife Elizabeth Taylor which was a pear-shaped diamond weighing 69.42 carat. Cartier was then roped in to design a necklace out of it.
[Also Read: Cameo Jewelry]
Richard Burton Ruby And Diamond Ring
This diamond ring by Van Cleef & Arpels weighed 8.24 carat and was a Christmas gift to Elizabeth Taylor from none other than Richard Burton.
The Mike Todd Diamond Tiara
Taylor's third husband, Mike Todd, gave her antique jewelry in the form of this tiara in the year 1957 and said: "You're my queen, and I think you should have a tiara".
[Also Read: Ocean Themed Jewelry]
Taylor replied by saying "It was the most perfect night, because Mike's film 'Around the World in 80 Days' won for Best Picture. It wasn't fashionable to wear tiaras then, but I wore it anyway, because he was my king."
The Cartier Ruby Suite
In 1957 again, Todd gifted Elizabeth Taylor with a Cartier diamond-and-ruby set. What was the time of gifting – when she was swimming.
The Diamond Chandelier Earrings
Diamonds might be her first love, but what brought gleam to Taylor's eyes is antique jewelry. Now take a look at these shoulder-dusting antique chandelier earrings. Taylor wore them first in 1959 and four decades later at the Academy Awards in 1992.
[Also Read: Most Expensive Engagement Rings]
The Bulgari Emerald Brooch
Meet the 'tremblant brooch' cast in platinum, diamonds and emeralds which was gifted to Liz by her husband at that time, Eddie Fischer. The brooch radiated light marvellously and the flower motifs accentuated the diamond jewelry all the more.
The Bulgari Necklace
While shooting for Cleopatra, Elizabeth Taylor took a break and went with Richard Burton to shop for Bulgari. The result is this drop-dead gorgeous necklace for the beautiful Liz.
The Legendary Pearl – La Peregrina
This pearl, ruby and diamond necklace had a 203-grain pear-shaped pearl which was a gift from Richard Burton. It was designed by Elizabeth Taylor in partnership with Al Durante of Cartier, though it was the property of both Anne Boleyn and Queen Mary Tudor of England in the past.
The Granny Suite Necklace
In order to celebrate the birth of her first grandchild at the young age of 39, Richard Burton gifted Elizabeth Taylor a lion-themed necklace from Van Cleef & Arpels.
JAR Sapphire Ear Clips
This diamond and multi-colored sapphire "Ball" Ear Clips by JAR was bought in Paris in December 2001. They were custom designed by jewelry designer Joel Arthur Rosenthal (known by his initials JAR).
[sc:mediad]
Charm Bracelet
This gold bracelet having 20 charms has Elizabeth's name inscribed on it. It also has a gold sphere locket which opens up to show four medallions – each one carrying the name and birth dates of her four children.
Burton Wedding Bands
Diamond wedding bands were gifted to Liz by Burton at the time of their marriages.
Ping Pong Diamond Rings
This set of three diamond rings was gifted by Burton to Elizabeth in 1970 for having won a game of ping-pong.
Hope you got absolutely mesmerised by Elizabeth Taylor jewelry. Let us know the pieces in her diamond jewelry collection you wish you could own.