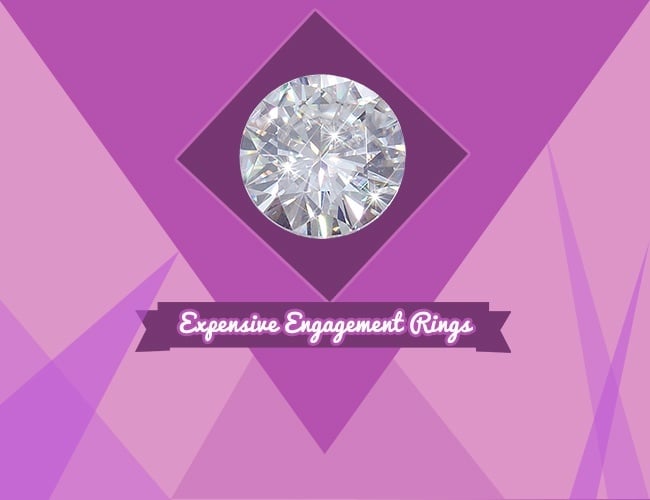 The latest to join the bandwagon of wearing one of the most expensive engagement rings is the self-proclaimed star, Kim Kardashian. There is always someone waiting to take over the tag of being gifted the most expensive diamond. And eventually, none of the engagement rings of late, amount to the most expensive in the history. Read on to find out the 15 most expensive diamond engagement rings that likely prove love knows no bounds!
The year of 2012 gave a heavy competition to the lucky ladies from Hollywood, who were proposed by their prince charming for marriage. Some of the Tinsel town's biggest names including Jennifer Aniston, Angelina Jolie, Kelly Clarkson and Miley Cyrus were gifted some of the history's most expensive rocks.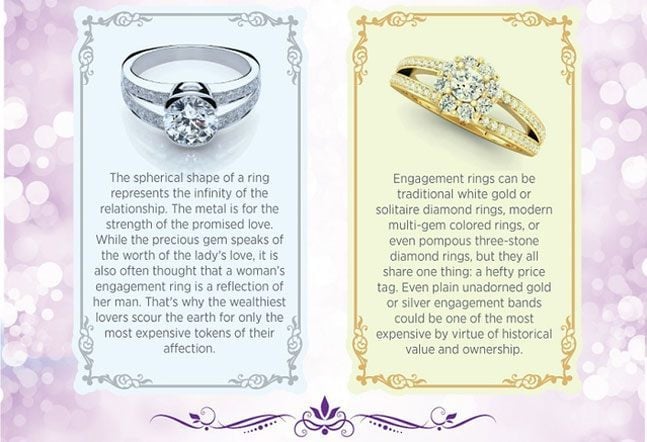 While Aniston was surprised with a huge rock costing $500,000, Brad Pitt wooed his fiancee Angelina Jolie with a special diamond ring costing around $250,000. On the other hand, Miley's engagement ring had cost Liam Hemsworth $250,000 and Kelly Clarkson was surprised with $150,000 diamond engagement ring from her fiance Brandon Blackstock.
[Also Read: Radiant Cut Engagement Rings]
As Jennifer Lopez sings, "Don't be fooled by the rocks that I got", the rocks are always remembered irrespective of the fact such glamorous marriages are short-lived.
Let's have a look at the 15 most expensive celebrity engagement rings!
Statistics show the an average engagement ring in America costs around $5000, while the cheapest in the list is $1.37K and the most expensive is beyond $8 million.
Princess Diana
Priced at $137,200, this royal engagement ring is the same ring that was given to Princess Diana by Prince Charles in 1981 when they got engaged. Now this blue sapphire-encrusted ring is the prized possession of the Duchess of Cambridge, Kate Middleton. Even though it's not that expensive, still it's priceless for the legacy it holds.
[Also Read: Kate Middleton's Apparel Designers]
Anna Kournikova Engagement Ring
While million girls fell in love with Enrique, the singer's heart fell for Tennis sensation Anna Kournikova. And the engagement ring of $2.5 million that Enrique gifted his fiancée was much more in news than their engagement.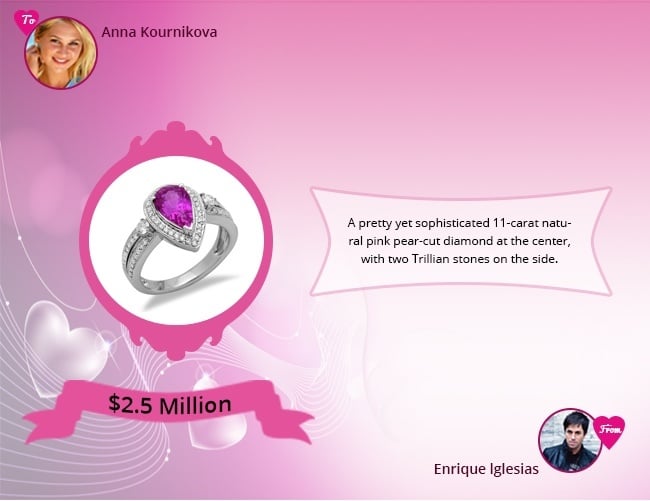 Catherine Zeta Jones Engagement Ring
When Michael Douglas proposed with a 10-carat antique marquise diamond engagement ring, his lady love Catherine Zeta Jones couldn't say no. Priced at $2.5 million, this 1920-inspired marquise-shaped diamond weights around 10 carats and is surrounded by sparkling small diamonds.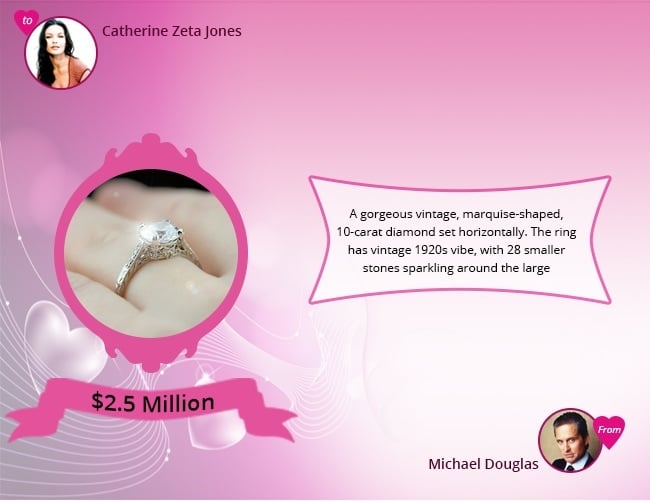 Jacqueline Onassis Engagement Ring
Jacqueline Onassis was gifted a whopping 40.42 carat diamond ring worth $2.5 million from her second husband Aristotle Onasis in 1968. One of the most stylish US first ladies got married to the Greek shipping magnate Aristotle five years after the death of her first husband, John F Kennedy.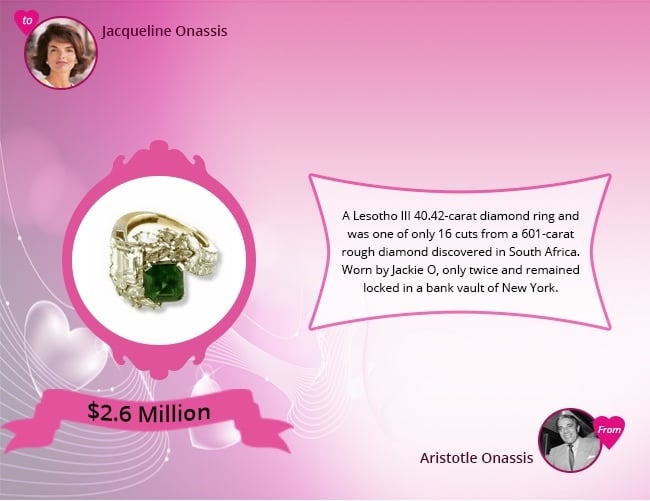 Melania Knauss Engagement Ring
Donald Trump had gifted Marla Maples a 7.5-carat emerald-cut Harry Winston diamond ring in 1991 costing $250,000. When they got divorced Maples put it for auction and fetched $110,000. Later in 2004, Donald once again broke the bank and this time for Melania Knauss, whom he gifted $3 million worth diamond ring weighing 15 carat.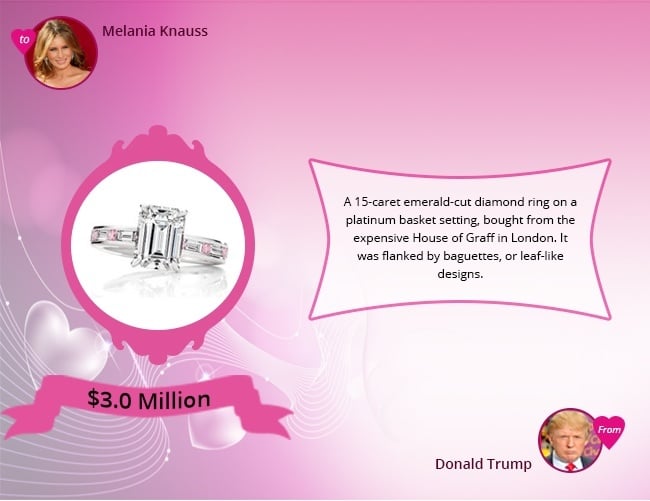 Jennifer Lopez Engagement Ring
[sc:mediad]
No matter how long Hollywood marriages survive, but the amount spent after such marriages, especially the celebrity expensive engagement rings become immortal. Here is another story of a failed marriage, but with a price tag. Marc had gifted Jennifer Lopez a dazzling 8.5 carat diamond engagement ring designed by the celebrity jeweler, Neil Lane.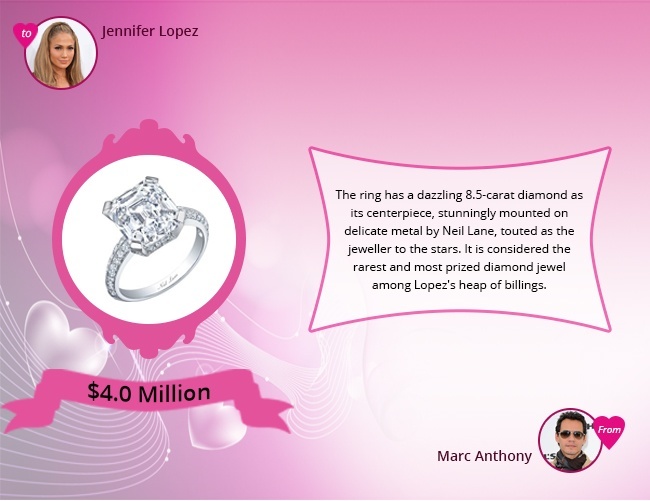 Grace Kelly Engagement Ring
Here is another story of imperial diamond. When Prince of Monaco gifted Grace Kelly the official engagement ring, it was pretty obvious to see a pricey rock. The 10.47 carat emerald-cut diamond is flanked by two unique designed diamond baguettes.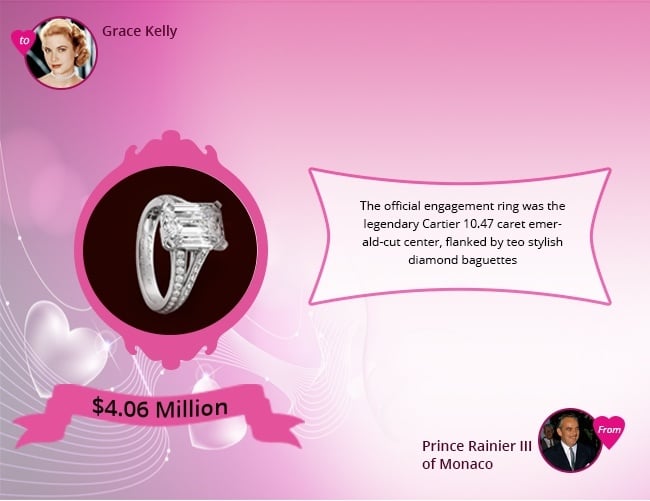 Paris Hilton Engagement Ring
Another ridiculous expensive engagement that was short-lived. What could we expect more from Paris? Anyways, the massive 24 carat diamond -encrusted white gold ring was so huge that Paris Hilton had stated that it hurt her finger. Later when they broke up, she auctioned it for Katrina hurricane victims.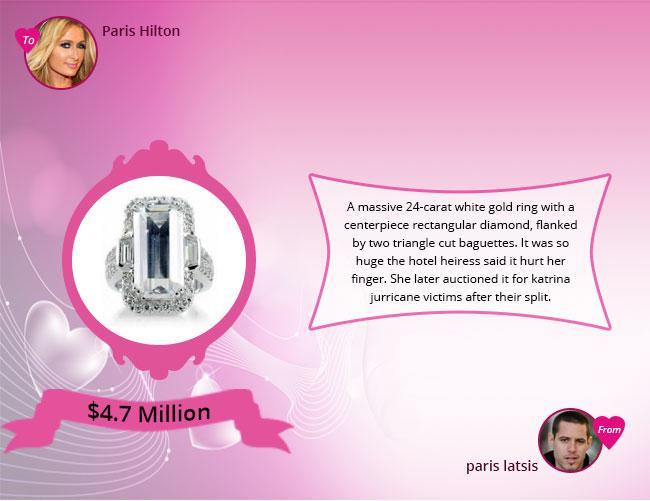 Beyonce Engagement Ring
When Queen Bee announced her engagement, everyone expected to see something grand. But when Jay Z gifted her a whopping $5 million diamond engagement ring, Jay took everyone by surprise including his fiancé, Beyonce. This is one of the most expensive rings ever.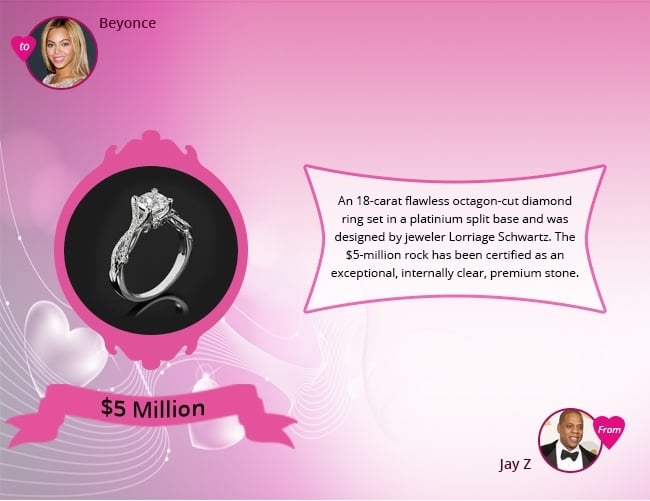 Elizabeth Taylor
Let's debunk a bit of history. Known for her penchant for diamonds, Liz Taylor possessed some of the world's exquisite jewelries, diamonds especially and it was never an easy task to impress the reel life Cleopatra. However, Richard Burton did manage to woo her with a huge 33.19 carat diamond ring worth around $8.8 million.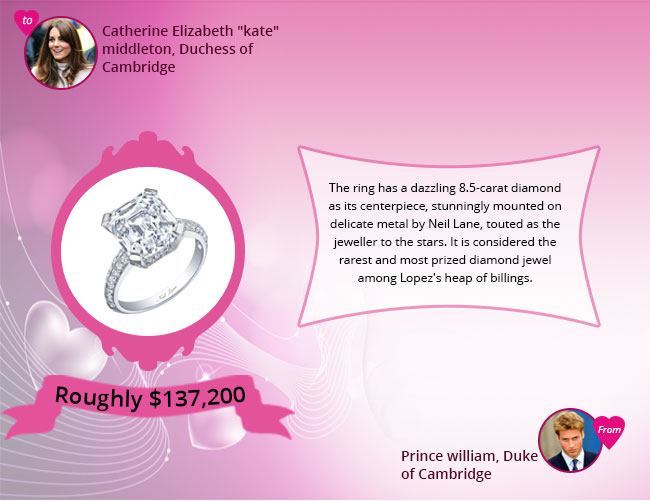 [Also Read: World's most expensive earrings]
Here are 5 other expensive diamond celebrity engagement rings!
Jessica Simpson's engagement ring
Price: $100,000
Neil Lane designed a nontraditional engagement ring for Jessica by her 5 month's beau Eric Johnson.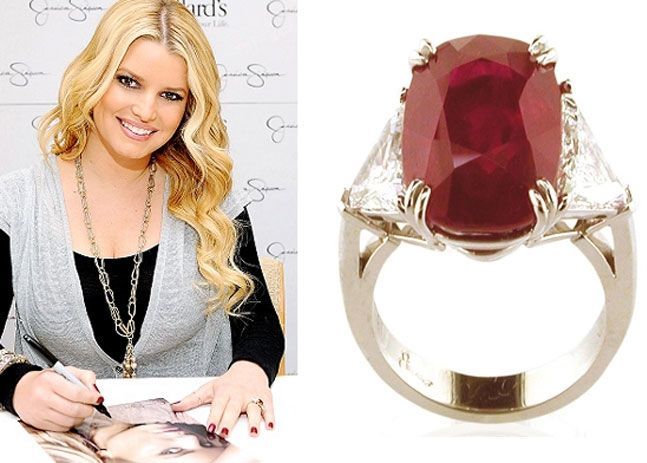 Britney Spears' engagement ring
Price: $92,000
Britney Spears was gifted a 4-carat diamond ring priced at $92,000 from her husband-to-be, Jason Trawick.
Drew Barrymore's engagement ring
Price: $80,000
The colorless, radiant cut diamond studded ring gifted to Drew confirmed her engagement with Will Kopelman, the fortunate heir of mogul Arie Kopelman.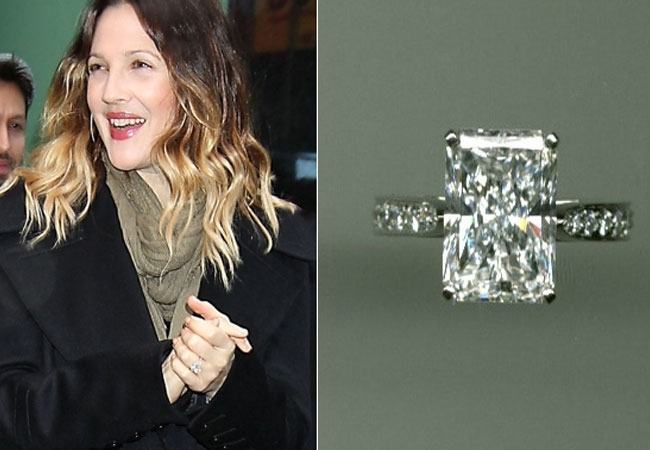 Victoria Beckham's engagement ring
Price: $65,000
One of the world's star couples, David and Victoria Beckham celebrated their wedding with the sparkle of brilliant-cut high priced diamond engagement ring.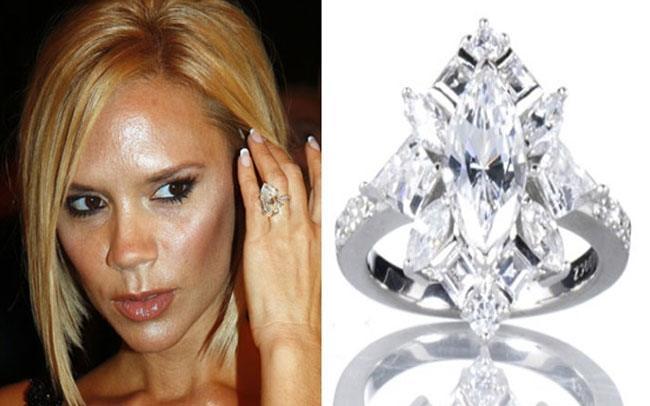 Nicole Kidman's engagement ring
Price: 45,000
Keith Urban had gifted his beautiful wife, Nicole Kidman with a 3-layered wedding band encrusted with brilliant cut diamonds.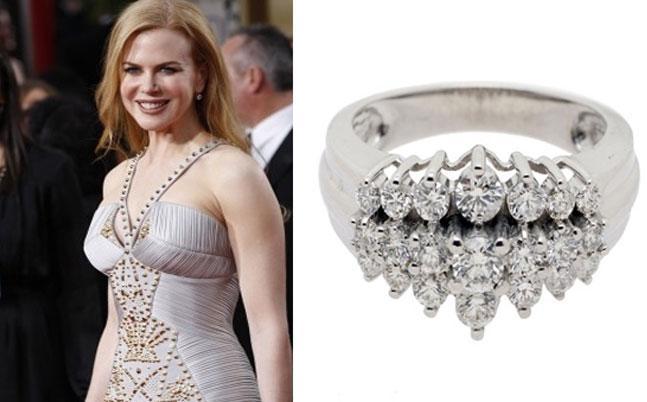 [Also Read: Most expensive jewellery brands in the World]
So here are the 15 most expensive engagement rings that prove love knows no bounds.