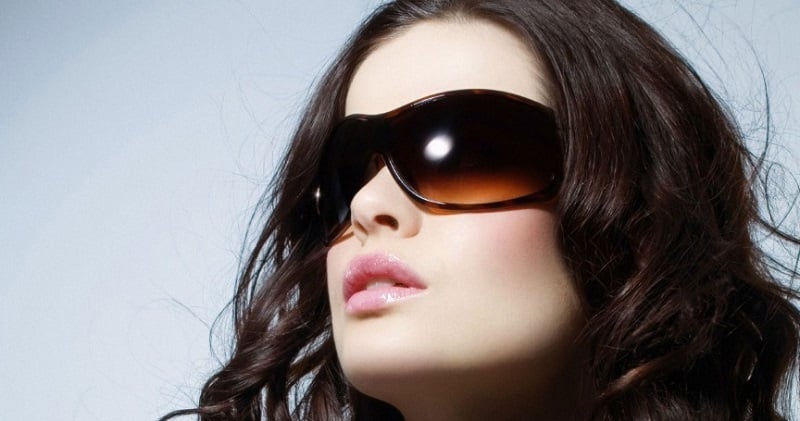 Some of the world's richest accessories are immensely related to fashion. And when we have bags and shoes shelling out in unbelievable prices, how could sunglasses, which are among the must-have fashion accessories, be left behind.
Will you invest your fortune on a pair of sunglasses  or Ferrari. While these two are completely different things to be compared Believe it or not, world's most expensive sunglasses are sold in 6 digit numbers – the amount enough for buying a Ferrari. Do have a look at 10 most expensive sunglasses in the world!
Here are the Top 10 Most Expensive Sunglasses Ever Sold
10. Cartier Paris 18k Gold Sunglasses
Price – $25,000
Cartier Paris accentuates fashion elements with gold i.e. 18 carat gold accents. The brand has used some 80's products with gold and has refined them adhering to new age trends.
This pair of 18 karat gold sunglasses features gold encasing around the lenses. The pair also features 7.5 carats of diamonds that adorn the lenses with black arms on the back.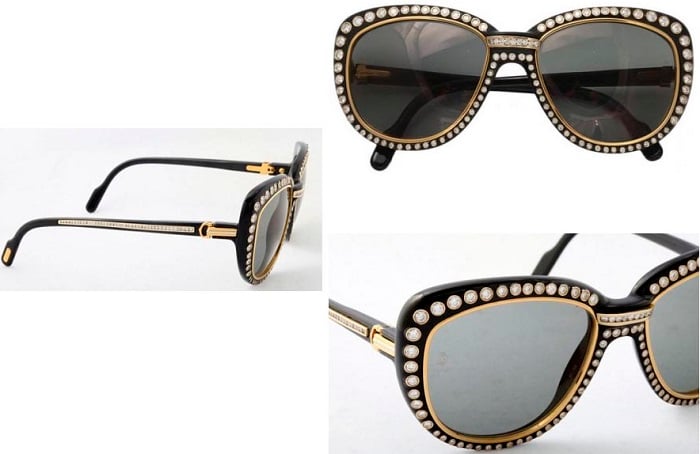 The strong weight of the diamonds and the quality of the gold used make this eye wear worth for $25,000 in its normal form today.
9. Lugano Diamonds Sunglasses
Price – $27,000
Lugano Diamonds sells one of the many different pairs of sunglasses for $27,000. These lavish eye wears are designed by Barton Perriera. He has accentuated gold sunglasses with pink lenses and matching 2.85 carats of pink diamonds. In order to make it more glamorous, he has also included leopard print flanked by 3.59 carat black diamonds that go with a light brown tone on the lenses.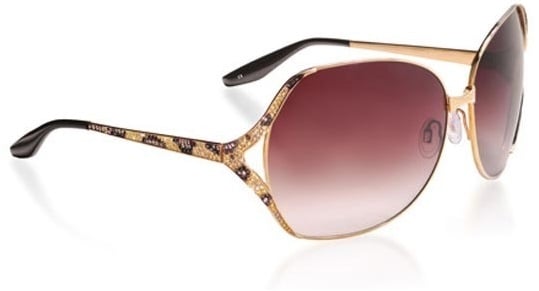 8. Gold and Wood 119 Diamond Glasses
Price – $30,000
Gold and Wood are famed for making high end fashionable sunglasses. This fabulous pair of Gold and Wood glasses is accentuated with 119 diamonds around the lenses along-with black buffalo horn styles around the rear parts of the glasses.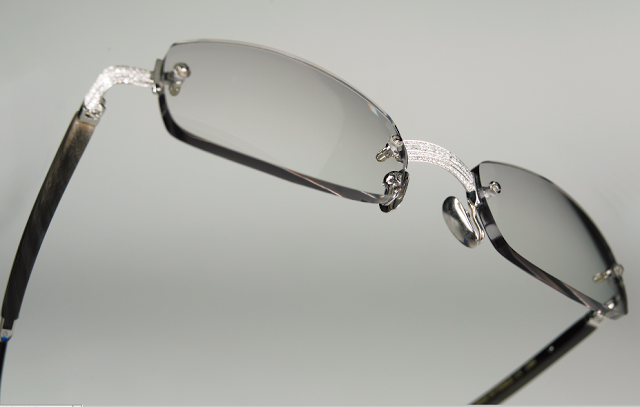 These make for something that's very reflective and easy to spot in any place.
7. Gold and Wood 253 Diamond Glasses
Price – $55,000
Gold and Wood offers one more pair of expensive sunglasses, which comes with horn temples and 253 brilliant cut diamonds. The eye wear is made in Paris and features 22 diamonds that are made with a refined princess cut.

The sunglasses feature no solid frames around the lenses, but are quite refined. This is priced at whopping $55,000, thanks to the many fine diamonds that you'd get on all parts of the glasses.
6. Bvlgari Flora Sunglasses
Price – $59,000
The Flora sunglasses from Bulgari features 18-carat white gold with diamonds and blue sapphires around the body of the glasses flanked by a series of small aquamarine accents.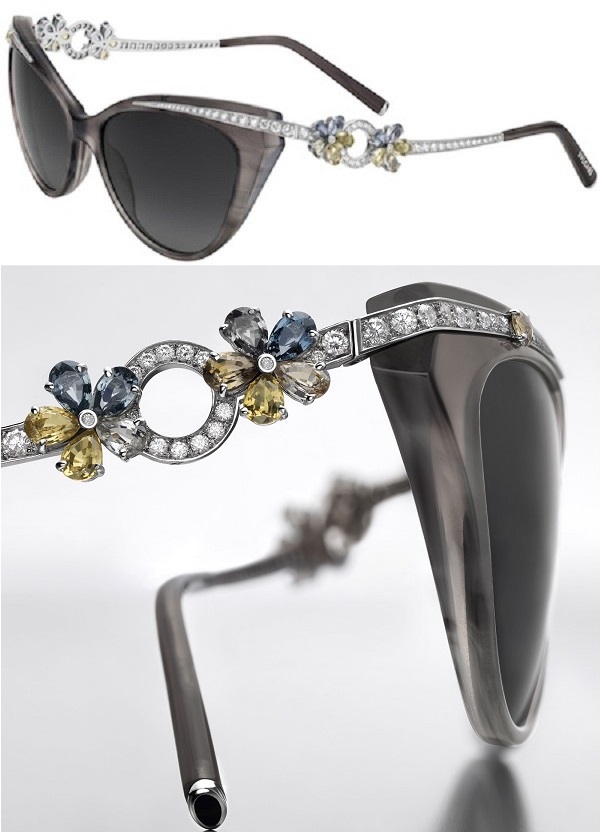 [sc:mediad]
These are designed with solid black frames at the ends and around the lenses. These sunglasses cost $59,000. However, you can get a base model without as much gold or as many diamonds costing around $25,000. Naturally, all the precious items used here are totally real and will be easy to spot in any place.
5. Luxuriator Canary Diamond Glasses
Price – $65,000
The Luxuriator Canary Diamond glasses is designed by Franco in Los Angeles and features a series of small diamond jewels embedded around the entire body of the glasses.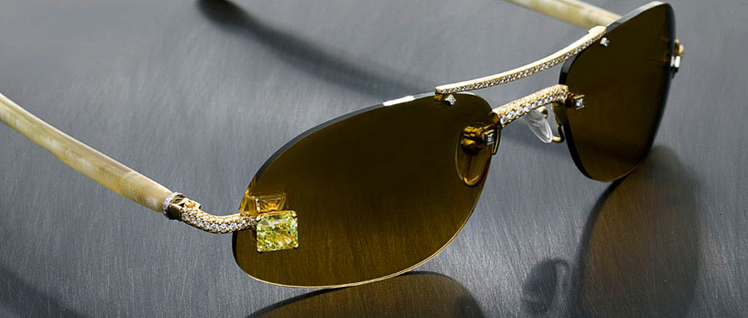 The major highlight features the huge diamonds that sit on the dark lenses, which are adjustable to light as needed. These glasses go for $65,000 primarily because of the fine diamonds but the 18-carat gold plating around the body of the frames makes this expensive just as well.
4. Cartier Panthere Glasses
Price – $159,000
Not everybody can pull off these glasses. As the name suggests, the Cartier Panthere comes with panther accent on each side of the frame.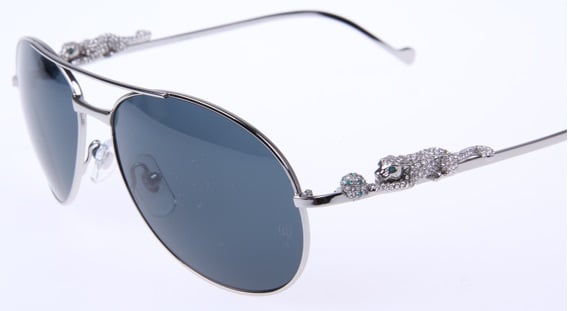 This crouching panther look is very unique and includes an 18-karat white gold design plus 561 cut diamonds and 645 brilliantly cut blue sapphires. These lavish sunglasses are available only on request.
3. Shiels Emerald Sunglasses
Price – $200,000
Shiels Jewelers recently made a unique pair of sunglasses, which feature emerald materials. The eye wear is made with a fine gold frame that is very thin, featuring a series of small wires.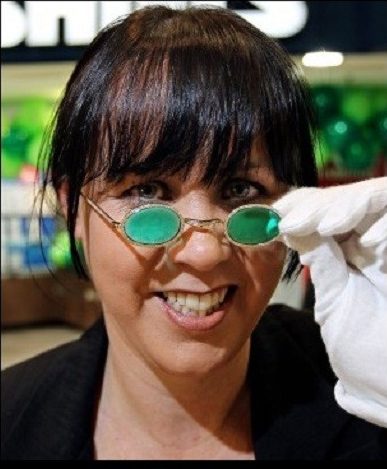 The lenses are the major highlights, as they are made with authentic emerald gems. These lenses are relatively thin and fine while allowing the eyes to see through them with ease. Still, these unique frames are priced at 2 lac, only if you want to see the world through emerald.
2. Dolce and Gabbana sunglasses
Price – $383,609
Dolce and Gabbana, one of the world's top fashion houses, offer their lavish creation that comes with a golden frame and brown-tinted lenses for those who enjoy being in the limelight.
TOP


The sunglasses feature authentic gold used in the frames, thus jacking up the price of this product to a total of around $383,609.
It's an alarming total not only because of fine gold but also for their brand name.
1. Chopard Sunglasses
Price – $400,000
This is the most expensive pair of sunglasses in the world at present. This pair of eye wear is encrusted with 51 river four-carat diamonds with full cuts to make them visible.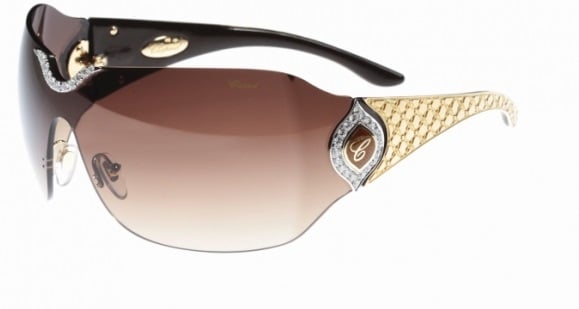 The tip ends have a 24-karat gold trim to them. The trim is not even made in a solid design as it has a bunch of small holes around it. This is an amazing feature to find when looking for great sunglasses but it will cost you a fortune to get.
Hope you enjoyed this post!
Images Source: pinterest