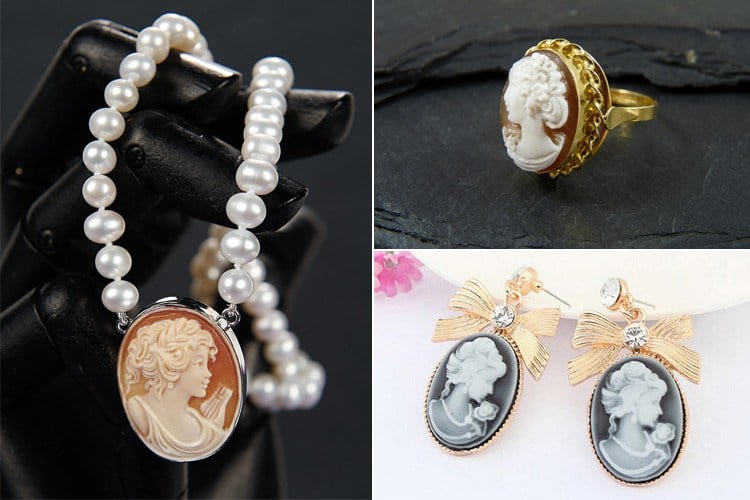 Nothing sparkles more than jewelry and none elicits the most dazzling smile from a woman than a jewelry piece! The joy and satisfaction reaches an altogether different level if they happen to be antique cameo jewelry. Dating back to thousands of years ago, the cameo or vintage jewelry of the Victorian era are currently running as top vintage bestsellers. Deemed as the best way to ooze a royal yet soft, romantic and ultra feminine vibe from you, these pieces are getting all kinds of modern twists and are a must have for all you fashionistas! Let's get updated on these modern cameos or your grandma's treasure and flaunt them in the royal style befitting of you!
[Also Read: Ocean Themed Jewelry – Wearing The Sea Of Charms]
Cameo Jewelry Pieces To Stock Up
Cameo Brooch
Once a staid accessory, the brooch had all but faded from our minds. However, it has come back with a vengeance and is perhaps the most stylish and easy way for you to flaunt your cameo jewelry in style!
Resurging in a big way, you would find this edgy jewelry piece this season apart from regular places, in unexpected places like the cuff of the jeans, the belt loop and even shoes! These can be the focal point of your ensemble and make an un-parallel statement for you. Some innovative ways of wearing these are:
Copy Rihanna's style and pin them on the side of your knitted cap.
Wear them in the middle of the collar of your shirts or at one side of dress to create sensational ooze!
Add an interesting touch to your shoe with statement brooches.
Adorn the old standard of wearing on a button up! Amp it up by creating an extended interesting patterns with multiple brooches at interesting points.
Pin these pieces at highlighting points on the bun, chignon, etc., to add the extra oomph. However, remember to keep hair loosely undone to avoid the misguided prom-goer look!
[Also Read: Animal Jewelry]
Pin them on a scarf or as cufflinks. They would polish the overall vibe to astonishing degrees!
[Also Read: Princess Diana Jewelry: Rolled In Priceless Luxury]
Cameo Necklaces
Cameo necklaces are an ever increasing fashion trend to add a touch of glamour to any outfit and are often deemed as the season's game changer accessory! Sara Jessica Parker is perhaps the leading inspiration for all you ladies to flaunt this vintage jewelry. Accessorizing her Hamilton inspired monochromatic white ensemble with a statement cameo pendant; she deftly broke the formal vibe and infused a fun and dramatic element! Polishing the look with statement pumps matching the color of the pendant, it's the best inspiration of adding a fun element to otherwise formal attire.
Cameo pendant looks terrific against all those modern and formal attires demanding statement necklaces. Pairing a large cameo pendant with a polished wrap dress, off-shoulder dress, etc., can make it the focus of your entire silhouette! If the pendant locket is small, it can be combined with various other necklaces from your closet of varying lengths to lend a spectacular and dazzling look. They make terrific jewelry pieces with pearls.
For business attire or any other simple ensemble, the vibe can be softened and fun element incorporated with a pair of small cameo locket and matching cameo earrings! They can look real classy. Check out the below images to get some much needed inspiration to include this jewelry item in your wardrobe.
[sc:mediad]
Cameo Rings/Bracelets
Cameo rings or cameo bracelets work as terrific statement pieces which lend a new look to any of the modern ensembles! The latest trends are a set of bracelet and ring joined together with the bracelet sporting the cameo jewelry piece. They can look terrific with just about every red carpet and party dress and can add a new sensuality to them! Wearing an all exclusive cameo bracelet or ring too looks chic especially with all the modern artistic flair given to them! Never have they looked more alluring! Invest in them without blinking an eye and flaunt your best looks with them! Remember to check out pieces with romantic silhouettes. They complement almost every outfit.
Some Tips Regarding Cameo Jewelry
Cameos are terrific pieces with a lot of history behind them. However to carry it off seamlessly, it's important that you do not get into the history of each piece and enjoy the fun element involved. In case you stumble upon the old cameo jewelry left by your grandmother, check them out for any frail end. They can also be taken to a vintage jeweler to give them a modern twist and make them absolutely new and stunning for you to rock on!
Lastly, a very important point must be kept in mind. Cameo jewelry can be susceptible to cracking and drying out. Thus, every time after use, dust them gently and apply some oil on them with your fingers and leave overnight. In the morning, wipe away any remaining oil on the cameo pieces with a soft cloth and store them away in their boxes! They would remain well-preserved!
Do you have antique cameo jewelry? How did you flaunt it? Share with us in the comments box below.