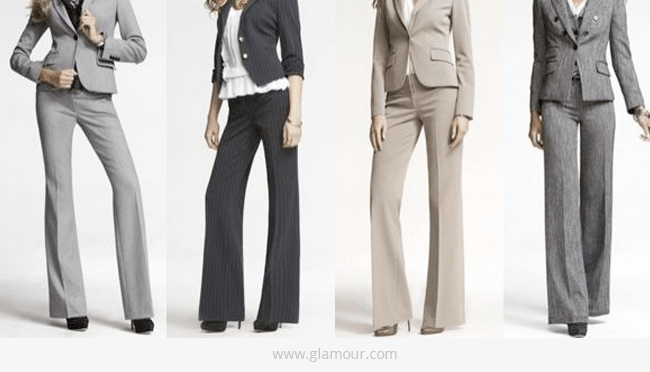 When you think of 'Business suits' the first thought that pops into the mind is a smartly dressed man, maybe an investment banker, heading to a corporate work setting. But as always, fashion continues to evolve and women have also embraced the Business Suit with much grace. Remember Bipasha Basu in her typical trouser and jacket with hair pulled back in the film "Corporate"? This film also played a part to ease the trend into the minds of the Indian women.
Androgynous dressing has long been a part of fashion, and the 60s revolutionized it. The runways were decked with women in trouser suits and button down shirts. Twiggy, the iconic British model adopted the boyish look by cropping her hair short and pulling off the suited attire. But that was the time of empowerment for women. Androgynous dressing was to show the world that women are in all ways equal to men, that they can even dress the same if they like. Now with the corporate suited look re-entering the fashion scene, it dictates that women have already found their equal place. But the trends are different today.
The suits are no longer entirely masculine, and women have found a way to make this piece of androgyny something that compliments their personal taste. Business suits raged on the ramps this year with designers predicting the comeback through various expressions of the formal suits. Alexander Wang highlighted the collared white shirt while YSL dominated with the pantsuit. Other designers were shown sporting the trend in their shows included Christian Dior, Victoria Beckham and Helmut Lang.
Different Business Suits
Business suits range from a variety of trouser suits, fitted skirt suits, one piece formal dresses teamed with formal jackets and so on. Women have moved on from trying to look coy and girly to looking womanly and polished. A great suit, with a good cut, can give you the clean, crisp, polished look, while also highlighting your best curves and feminine features.
Here is just a basic guide on how to look smart and stylish in a business suit. Business suits need not to be plain and boring. Get creative and throw in your own style.
1.Begin with Basics
The first thing to keep in mind while wearing a formal suit is to wear the right undergarments. Tummy tuckers and shapers can be worn to veil the hips. You do not want to be showing seams under a fitted trouser or skirt. If you are wearing light or sheer clothing, make sure to wear a bra that does not show through, preferably a nude or white one. You could also go with slips and camisoles to keep it all clear.
2.The Classic Pantsuit
If you are more in favour of androgynous dressing, the pant suit is an absolute classic. Ideal for any formal event or meeting, it works just as well even for a simple day in the office. There was a time when the flared bottoms were in fashion, and there was a time for the slim fit. But today it's the straight leg that works better in a formal setting. This however depends on your body type as well. If you are curvy or hourglass in shape, go for a slight flare at the bottom. This will fall in line with your hips and create an illusion of a straight leg. If you are petite, then a skinnier fit might work better, because something loose will make you look even thinner in all the fabric.
Project Runway's Tim Gunn for MORE Magazine
Get the hem right. A modern look for pants is longer than it used to be. Your hem should create a 'break' on your shoe, not skim the top of it.
Colours for Business Suits
A pair of black or grey trousers with a classic white shirt teamed up with a matching blazer is your safest option. But here is your chance to experiment. A pair of black trousers can be paired with a cream jacket, or if you are willing to be bold, you can even try a brighter solid colour like corals, deep reds, or even striped patterns. You can even try a variation of shirts over the trousers – pastel cotton shirts, bold coloured silks, or chiffons work great with this look. What works great are also waistcoats teamed up smartly with the shirt. A smart pair of stilettos and a classy hand bag puts together the perfect outfit.
The Shorter Approach – Shirts & Blazers
The shirt and jacket look is a very smart dressing choice. It highlights the feminine features while also creating an aura of seriousness around it. And the best part, it works great for an evening out after work as well. This look is more open to experimentation. You can try flowy skirts or fitted A-liners, printed or plain, above and below knee lengths as well. Once again, depending on your tastes, team it up with a classic blazer or a new age one with bold colours and prints.
Alternatively you could also try the jacket-over-dress approach, teaming up a smart formal dress with a contrasting blazer.
Ladies, remember to experiment. The benefit of business suits is that it adds versatility to your outfit. The layering of the clothes gives you a chance to explore your dynamism too.
2. Accessorize
The most important aspect of looking well put together is accessorizing. You may be wearing the best labels and the trendiest clothes, but a mismatched hand bag or the wrong pair of shoes can upset your fashion balance. But not to worry, it's not as hard as it looks.
Hair Do – Also remember to pay attention to your hair style. A straight out of bed look (messy hair), or beachy waves won't work with the suit. Tie it up in elegant knots or a high pony, or straighten it out to keep it neat. And yes, tame those fly-aways too!
Jewellery
– A business suit need not to be boring, but we can't forget that it is still formal. Remember to wear simple jewellery which complements the outfit but doesn't take away attention from your agenda at that meeting. Too much bling and you miss. Try petite studs for the ear, and you can go a little heavier on the neck depending on the shirts. If you are wearing solid colours, you can layer it up with longer neck pieces. If you are wearing prints, try to stick with thin chains and small pendants. The best wrist accessory would be a smart watch; you definitely can't go wrong with that.
Hand bags
– A woman carries all her secrets in her hand bag. Make sure you carry a bag that is enough to accommodate your needs. A small clutch may go well with a certain style, but it's not going to look good if it is overstuffed and bulges. Basic handbags in different colours look great on pant suits, and you can try larger tote bags with the skirts and dresses
Shoes
Peep toes, pumps, stilettos all work great with business suits. Since the look is formal, try to avoid flats as it tends to give it a more casual feel. Also great pair of heels can do wonders to improve your poise in a well cut business suit.
Look Who We Spotted In Business Suit!
We can already see it becoming a big trend on the runway, and the celebs all seem to have caught on. Here are some favorite fashionistas pulling off the business suit with so much class!
The basic essentials to get your formal wardrobe started:
1. A pair of formal trousers / skirt (grey or black to begin with)
2. A crisp formal white shirt
3. A blazer in a basic colour to go with the trousers/skirt (invest in a black one first)
4. A pair of black pumps
5. A sturdy and formal handbag (you can try a neutral shade)|
What are you waiting for? Go and get yourself a business suit for your next meeting! Don't forget to accessorise the look stylish!