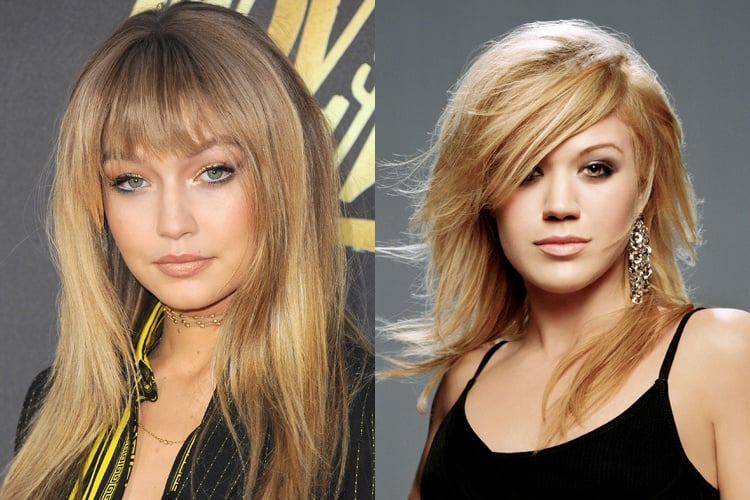 Bangs are back with a bang again. They are a major hit this season. It does not matter if you have rough unruly hair or super smooth glossy hair that refuses to be styled. Bang hairstyles looks amazing on any type of hair.
Bangs gives a fresh new twist to your appearance. Whether you chop a few inches of your hair or maybe totally go crazy to cut off your whole length, bang hairstyles are for you.
'Sadhna-Cut' is the word for Bangs for the Indians. The sensational Bollywood actress from the 1960s wore this style in many of her movies and made it a fad among young women of that era. She was inspired by Audery Hepburn.
In an Interview with Sadhana,
"I had a broad forehead hence despite make -up Nayyar Sahab, the movie's director, was not satisfied by my looks. Therefore he decided to give me a different hair style which would hide my forehead. Nayyar sahab had seen the Hollywood actress Audrey Hepburn, who used to have a fringe. He brought a picture of Audrey Hepburn and showed it to our hair stylist. The idea clicked as the fringe worked wonders and became famous as Sadhana cut."
Why Do the Bang Hairstyle?
Bangs hairstyles can be created on both long and short hair. They provide a frame and structure to your face. It highlights your bone structure and hides your flaws. You can get the bangs depending on your facial shape. And there are numerous numbers of options for hairstyles with bangs.
Let's look at some stunning bang hairstyles to get inspired from
1. Michelle Obama's Bangs
Yes, we are talking about the First Lady herself, Michelle Obama. I love her for being so correct and undimmed about making her own fashion statements. I also love her for her bang hairstyle falling right through her forehead. It broadens near her cheekbones which refine her looks. The bangs suit her facial structure.
2. Taylor Swift Straight Bangs
Taylor Swift's straight bangs suits her oval shaped face. This is a style that highlights and plays up with your image a lot. You just need to invest in a few trimming sessions frequently to maintain this bang style.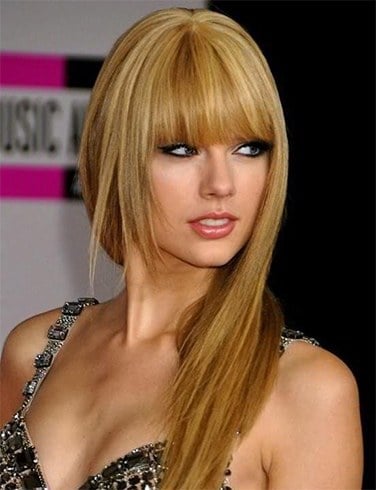 3. Florence Welch Side Swap Bangs
I love Florence Welch deep intense red hair color as much as I love her blunt bangs. The side bangs are matching the rest of her hairstyle which is the most important thing you need to keep in mind when you go for a haircut. The thickness of her bangs balances the thickness of her hair. To get thick front bangs, you have to let the middle of the blunt bang fall below your brow before cutting. This layered bangs hairstyles are wonderful for those who want to play with their hairstyles.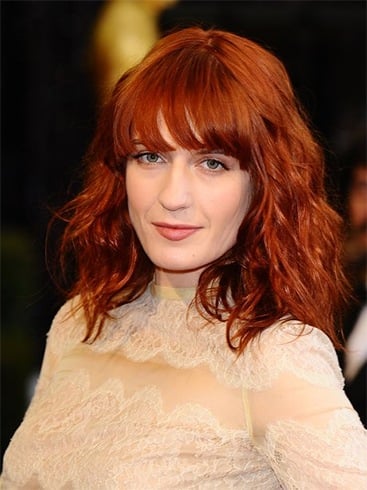 4. Shailene Woodley Choppy Hairstyle With Bangs
Popular TV show actress, Shailene Woodley is often seen sporting choppy sleek side bang hairstyles. This is a very popular hairdo and will suit the college preppy girls. It doesn't call for high maintenance. You can give final touches using a hair straightener if you do not have sleek straight hair.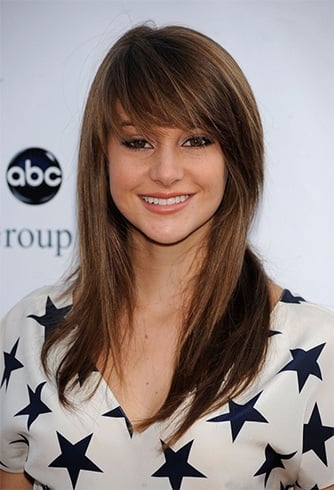 5. Kristen Stewart Short Hairdo
Kristen Stewart recently made headlines after she decided to chop off her long tresses and go for a short haircut. Her hairstyle is the show stealer here. Her short chops suit her attitude well. The bangs are subtle and not hinting simple at the same time. Bob hairstyles truly look killer if you can carry it off well.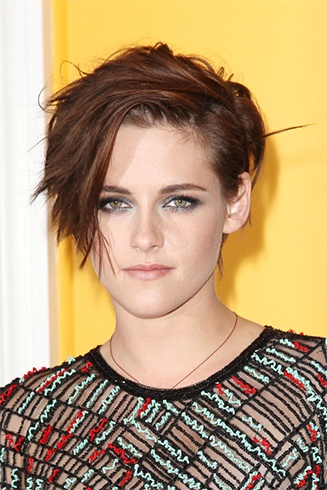 6. Ginnifer Goodwin Side Swept Bangs
Ginnifer Goodwin thick side swept bangs are evidence enough to declare why short hairstyles rock. It takes away the boyish charm and adds on a sexy look. The bangs do all the magic here transforming the seemingly boyish cut into a redefined mesmerizing look.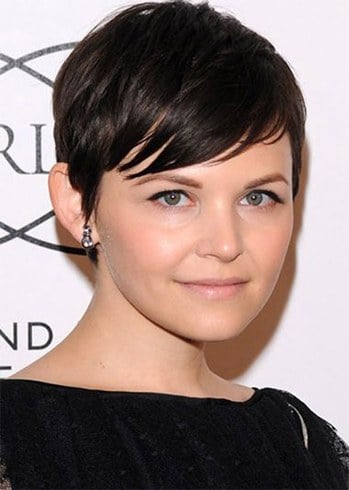 7. Layered Bangs
This short hairstyle with layered bangs is a killer and looks smoking hot. Look at the side contractions of this hairstyle. Both the sides have hi-sharp definition of their own. The bangs falling below the forehead is a superb end to this rocking hairdo.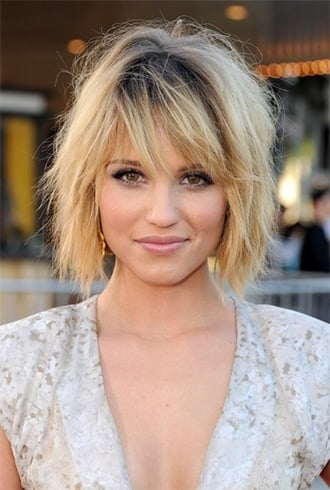 8. Medium Layered Hairstyle With Bangs
This hair style is a nice mix of feminine and sporty looks. This is a trend setting look and it gives you a kind of a naïve and innocent look. Depending on your comfort level, you can choose to get the bangs on both medium to short hair styles.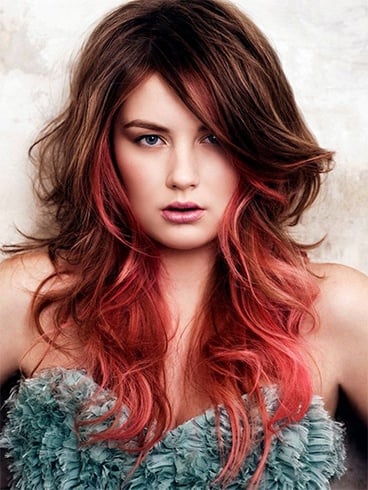 [sc:mediad]
9. Choppy Bob Hairstyle With Bangs
This choppy bob hairstyle with bangs looks so funky. It is ultra-messy but still so cool. This is one step ahead to being trendy this season.
10. Retro Inspired Bangs
Love the sassiness of the bangs in the picture. It works great on oval shaped faces. The hair is poker straight but yet the bangs give a crazy dimension and extend the voguish exterior form.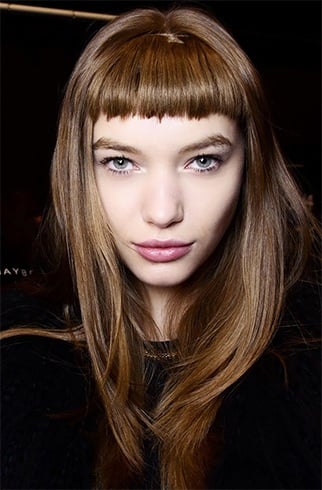 11. Bob Twist With Bangs
If you are game for frequent sessions of trimming every few weeks then this bob twist with bangs is just for you. This hairdo is gutsy and has a very different feel. It has a nice twist of modern and very retro like in a good way.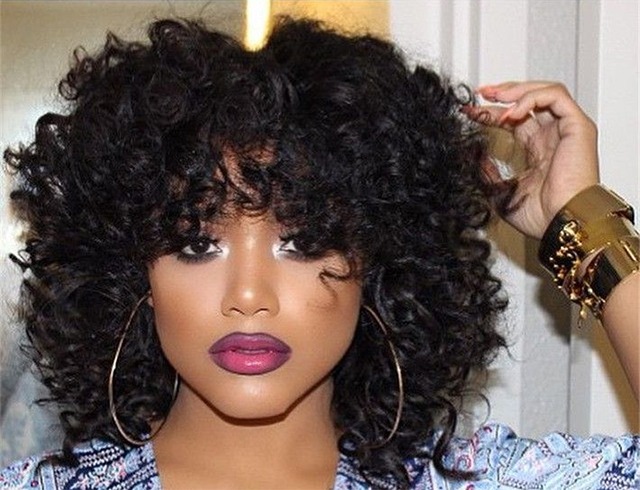 12. Short Hair With Long Bangs
This short hairdo with long bangs looks very girlish and looks even good on round faces. It is a very clear cut yet cleverly done. No major maintenance is needed for this type of hairstyles.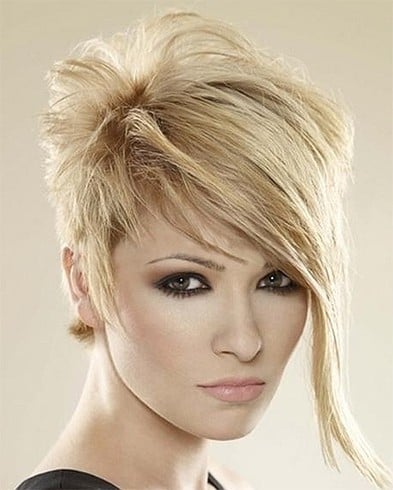 13. Short Boy Crew Cut With Bangs
This Boy cut with bangs will require guts to go under those scissors. But I love this simple cut as it is accentuating the facial structure. It will save you time from meddling with your hair and even an out-of-the-bed-look won't scuffle with your image.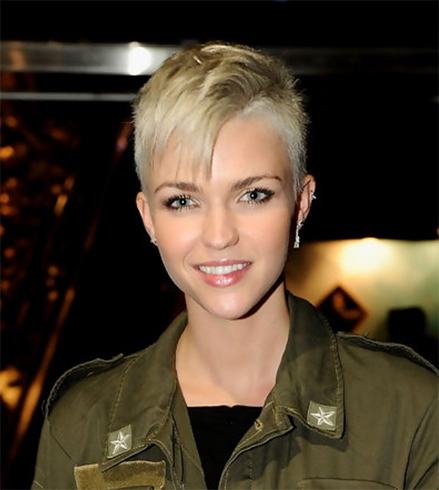 14. Bob Bangs For Large Foreheads
This hairstyle looks great on people with large foreheads. It hides their big bony structure naturally. This hairstyle is absolutely free of any maintenance. You can wear it whichever way you want to.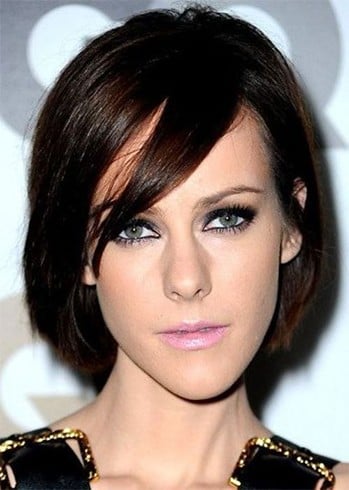 15. Spiky Short Hairstyle with bangs
I again love this awesome short spiky hairdo. Keeping in mind the length of the hair the bangs are rooted short. There is a lovely clash of bangs and spikes which also gives the hairdo a lot of feel and consistency.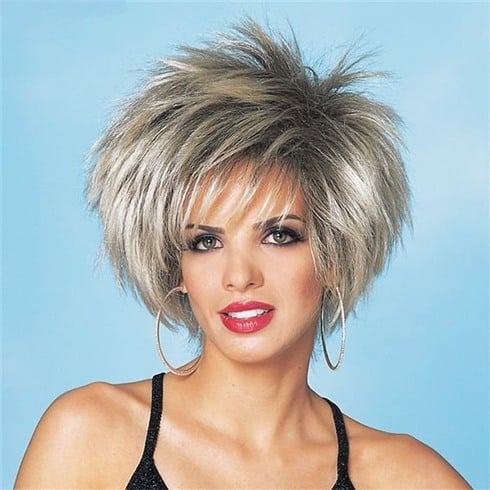 Curvy, wavy, straight, layered, single colored or ombre styles, bangs suit most face shapes and types or hair. Lazy morning hairstyles also go well with the bangs.
Apart from those mentioned above, celebrities such as Kate Middleton, Kim Kardashian, Rihanna, Jennifer Lopez, Jessica Alba and many more have made this hairdo a part of their beauty and style statement. Styled with high ponytails, top knots or just letting it flow with the long tresses, long bang hairstyles should be given a fair chance by all women.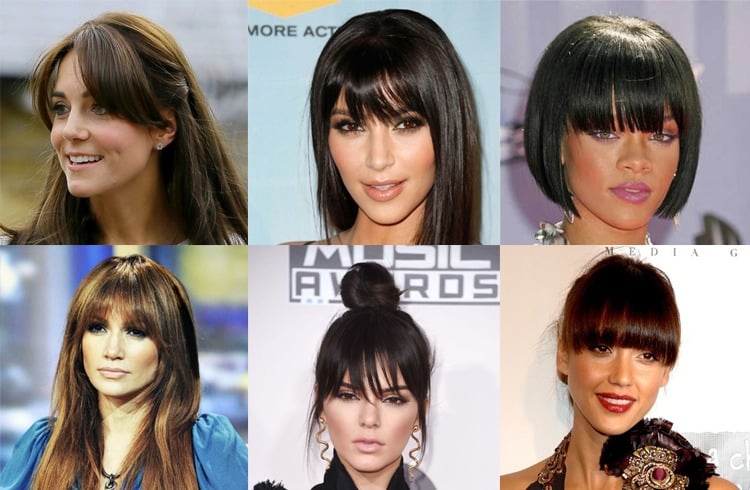 I wouldn't mind sporting these rocking hairstyles, would you dare to go under the scissors for this new trendy bang hairstyle? Share your views with us in comments.
Images Source: pinterest.com