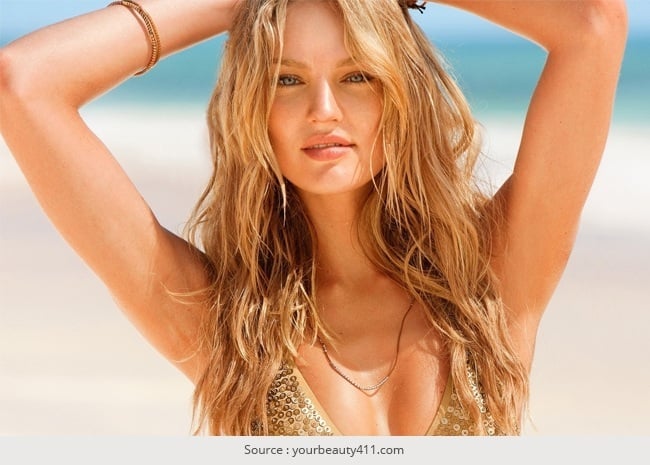 It's Sunday morning and teenagers have a really hard time rolling out of bed in the morning lately.So for a lot of young girls who love to stay on bed, here are five lazy hairstyles to throw in today without appearing a mess ever again. Get great hair quick! These buns, braids, and ponytails are hassle-free and super flattering for hectic mornings.
1. Pinned Back Braid
It's sexy for day or night, and it's easy for almost any length of hair. It's one of those styles that look a lot more complicated than it really is and would be ideal for one of those lazy mornings. The pinned back braid look is simple creation of two thin braids that are pulled back together.
How to Do?
Step 1: On one side of your hair, take a one-inch section and do a simple braid. Make sure to leave a bit of hair out in the front to frame your face.
Step 2: Pin the braid end to the back, middle of your head. Make sure it stays very secure and give your hair a bit of volume at the top by slightly pressing upward when pinning.
Step 3: Repeat Step 1 on the other side.
[Also Read: Brush That Straightens Hair]
Step 4: Repeat step 2, tuck the second braid with bobby pins on top of the first braids' pins.
You can add several variations to your classic braided hairstyle: the mini side braid, double braided ponytail and the French side braid bun.
Once you have reached the end of your pinned back braid look, secure your braids with a tight elastic band and create a ponytail. Finally, take a tiny section of hair from the side of your ponytail and wrap it around the elastic band then secure with a bobby pin.
Braids and messy bun are perfect for an easy stunning look. It's easy to do, just a diagonal side French braid with a messy bun.
2. Beach Waves
Classic beach waves look is never out of style and assures to make you look sexy.
Learn how to give yourself this easy, undone and effortless look every morning with the help of your own stylist.
Method 1 – Divide dry hair into two sections. Braid each section and secure with an elastic band. Later, working with one braid at a time, run a flat iron down the length of it. Once cool, unravel each braid for instant beach waves.
Method 2 – You can also get great beachy waves by using a curling iron. Wrap strands of hair around the crown in alternating directions. Finally, run your fingers through your hair to separate the curls and slightly twist them into waves. Also apply air spray to your hairs this will help you maintain your beach waves.
Method 3 –
Step 1– With a help of spray bottle dampen your hair or wash your hair and let it semi air dry. Then, part your hair into sections. If they are not sectioned perfectly, then don't worry because they don't have to be.
[sc:mediad]
Step 2- Tie each section of your hair off to keep them separated from each other. Spray each section lightly with hair spray. Start twisting your hair in the direction you want your curl to be.
Step 3- Keep twisting your hair until it tightens to the point it starts to coil on its own. Coil it into a tight bun and then use bobby pins to keep it in place.
Step 4- Blow your hair until it's dry. The longer you dry it, the tighter your curls will be.
Step 5- Now remove the bobby pins and take your buns out of their coil. Separate your curls using your fingers and you are done!
3. Blowout Touchup
This great style always makes a powerful statement and salon isn't the only place where you can get an exemplary blowout look. An ionic hair dryer and a round natural bristle brush are needed in getting a great blow out.
Follow these quick tips to make the most of a salon-worthy blow out.
Step 1- To get the perfect blowout requires clean hair, so the first step is to wash your hair with a good quality shampoo that suites your hair type.
Step 2- Then, rough dry your hair with the help of hairdryer to the medium heat setting. When your hair is done about 75%, turn off your hairdryer.
Step 3- Now, divide each section of hair into 2 inch-wide parts and begin blow-drying with a mixed-bristle round brush (which smoothens and straightens).
Step 4- Keep in mind to always work from the bottom layers up when blow-drying your mane. Pin the top portion out of your way, so that you could better see what you're doing.
Step 5- Use as few products as possible when you are finished blow out. The more products you put into your hair, the more likely it is that your locks will attract dirt.
4. Messy Ponytail Look
If you want to capture a relaxed style with an ease, a messy ponytail style can do just that. Feminine, loose and comfortable, they are the perfect summer hairstyle for medium to long hair. Your unwashed hair will give you the needed texture for this messy ponytail look, so be sure to keep your locks dirty but clean by investing in some quality dry shampoo.
You can style a messy ponytail by viewing this video by Pop sugar beauty-
5. Cute & Easy Low Bun
A low bun works with lots of looks, from casual, day styles, to more formal. One with medium or long hair can easily don the hairstyle. We show you how to make an elegant and everyday low messy bun in simple steps.
Step 1: First you want to tease the crown of your head to get some volume.
Step 2: Next, divide your hair into two sections.
Step 3: Starting with the left side, twist the hair all the way down and coil it up in a bun in the middle of your head.
Step 4: Secure with a clear elastic and 2-3 pins.
Step 5: Then twist and coil the right side all the way down.
Step 6: Wrap that section around the first bun we have created. Secure with 5-6 bobby pins. Hair spray and you're good to go!
Which one hairstyle are you donning next Sunday? We are keen to know.