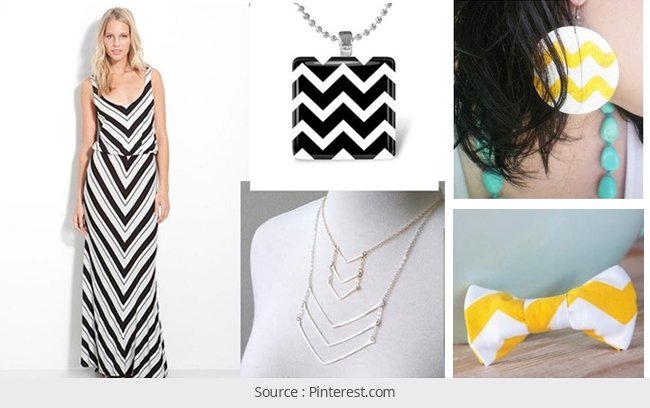 If you have not spotted chevron prints by now then you probably must be kidding. I have to make a modest start to talk about chevron prints. It is almost like an impact that has hit the fashion market ever since the chevrons prints made its mark. There are not many prints that we can talk about which have ceased to made its bold statement in the form of via apparels and accessories alike. But chevron prints have achieved that.
Nowadays you can spot most fashion apparel and accessories in chevrons; from clothes to watches. It's popularity has paved its way to wedding themes as well. The fashion world almost seems like it is worshipping chevron prints with the way it has flourished.
If words seem more like a mere threat then let me show you really how chevron prints have seeped its way in the form of apparels and accessories as well.
Dresses and Tops
Parties or casual, tops are one of the most comfortable upper-wears to carry off with denims and trousers. I am sure most of you will agree to this. Wear these tops over well – fitted pants and you can stal the show. You could aslo add some style to this by wearing a fitted blazer to complete the overall look.
The chevron printed maxi dress is another lovely ensemble. It looks inspiring and will definitely hit it off with the crowd.
This is a perfect ending to the limitless saga of chevron prints. And what better to end it than by talking about the chevron printed dress. The designs are beautiful of course. But the uniqueness of the prints yet again steals the show.
If you are bewildered and dumbfounded by the unlimited showcase of chevron apparels and accessories, we are also no less amused. You can never go wront with Chevrons if you know to style it right.
Let's look at some celebrities that have been spotted in this fantastic print.
Cardigans & Shrugs
The tribal chevron inspired print cardigan looks cool and edgy. You can let them glide over your body and be comfortable as ever.
Sheer Tights
Again the chevron sheer tights are swanky and in never seen before style. You can pair them with your favorite pair of dress and shoes. It definitely will make a style statement. Be it chevron lace tights or just plain chevron printed ones, are best complimented with a plain LDB.
Footwear
Of course no look can be complete with the perfect pair of shoes. Chevron prints are seen even in ballet shoes and the like. It will look great with your well fitted trousers or pants. Just make sure that you are not wearing any other chevron printed clothing unless you want to end up looking like a chevron freak.
Necklace and Neck-pieces
This is again a case of rarity here. The chevron prints strikes yet again even via neck pieces. But we sure are not complaining. We love the striking colors and the designs as well. It looks classy and trendy. You can get simple ones or statement making pieces that can match your outfit.
Scarves
The chevron printed scarves are also trend setting and will definitely jazz up your outfit. Even if you are sporting a simple gear up the scarves will enhance whatever that you are wearing. The scarves are versatile and you can use them in different number of styles.
These pieces can be worn at work too. Wear it in light and soft shades to maintain a monochrome outfit or in contrasting colours to suit your mood.
Earrings
I totally dig these classic chevron pattern earrings. It will look nice with any of your classy ensembles. Choose colors that make you look sophisticated and can gel with your attires.
Hair Accessories
Head bands, bow ties, clips and many more of these similar hair accessories are available in chevrons. Wear them with solid tops and dresses to make the chevrons stand out. Make sure to not over-do the print.
Watches
The mint green chevron inspired watch is a perfect everyday wear. Tag it alone everyday when you going out. The chevron prints makes it look different and stylish.
Clutch Purse
Classy, stylish, trendy, edgy and unique is what defines this chevron printed bags. It looks experimental. You can go about trying it with different looks.
If you wish to carry the printed handbags to work, make sure you have the right style and confidence to do so. Match the colour to your ensemble and make heads turn.
While envelope clutches are extremely in trend, carry them with well-fitted denims and tops or classy dresses to parties and dinner dates.
Did you think that was it? Chevrons have found a place amongst nail art designs too. We have a quick easy-to-learn nail art tutorial for Chevron design nails just for you.
Share with us in comments about what you think about this fabulous tribal inspired print.