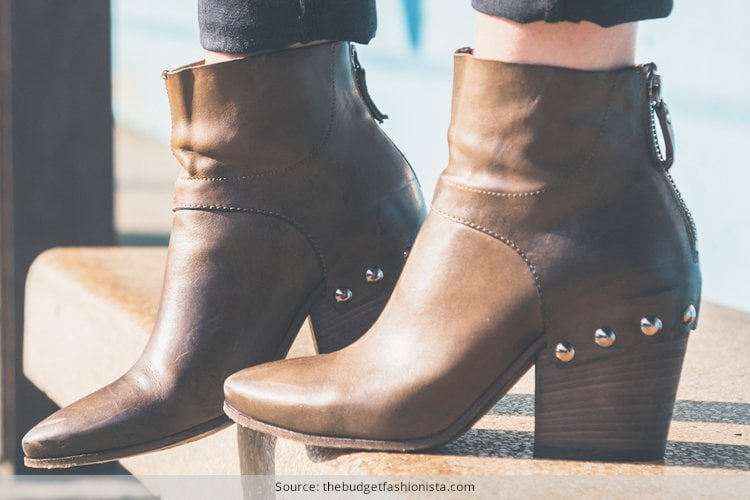 Most people are confused about how to style their ankle boots. Many women refrain from buying these smart and chic footwear's because they don't know how to compliment it with their day – to – day dressing styles.
Frankly speaking, even I was hesitant initially, but trust me, these wonderful pieces can be worn with almost anything and absolutely anywhere. And the best part is – they can be worn in any season too.
Rightly said by Marilyn Monroe:
"Give a woman the right pair of shoes and she can conquer the world."
Let's look at some stylish ways and clear your doubts on how to wear ankle boots:
[Also Read: Steel Toe Boots]
1. For an Everyday Look
All of us love our blue denims. There is nothing more comfortable that this second skin that we are ready to wear no matter where we are headed to. Skinnies with a basic t-shirt and a sling back is what you need to rock the casual loo. Leggings and a long top also compliments these shoes. If you are the types who love to wear skinny jeans, we have just cleared your thought on how to wear ankle boots with skinny jeans.
Wear boots that either match the color of your handbag. Take a bold step only if you extremely confident about rocking the look.
Leather boots and lace – up boots are most comfortable to wear to sport a cool casual look.
TIP: When wearing  ankle boots with jeans, make sure you cuff your jeans from the bottom to give it an edgy look.
2. For a Summer Look
Wear a short floral dress with contrasting ankle boots to make you look pretty and cool. If you are unsure about this look, wear nude leggings to be comfortable. Carry a sling back or an envelope purse, and there you go!!
[Also Read: How To Wear Ankle Boots]
Flat ankle length boots are best as they keep your feet on the ground and let you glide on a sunny day. Look at the image below to get inspired on ways to wear ankle boots during the warmer seasons.
3. On a Special Date Night!
Who does not want to look special on this day? I would want my man to drool over my fashion sense and style on such a night. Well, Boots will do the talking if you can walk in style. Wear a pair of high heel ankle boots if you are wearing skinniness with a silk blouse or a short LBD.
If you choose to wear black leggings and a nude shade top, wear a smart trench coat in a contrasting colour for that extra sexiness. Ankle boots for women come in many colors and materials. It's all how you pair it with your different outfits to look pretty.
If you are planning to wear ankle boots, for short legs we suggest you wear it in nude shades as it will give an illusion of longer legs.
[Also Read: Ugg Boots With Leggings]
As you can see ankle boots for women look extremely classy and can be worn with absolutely anything. Do let us know how you love wearing them? If unsure, tell us what it is and our expert stylists at FashionLady can help you out.