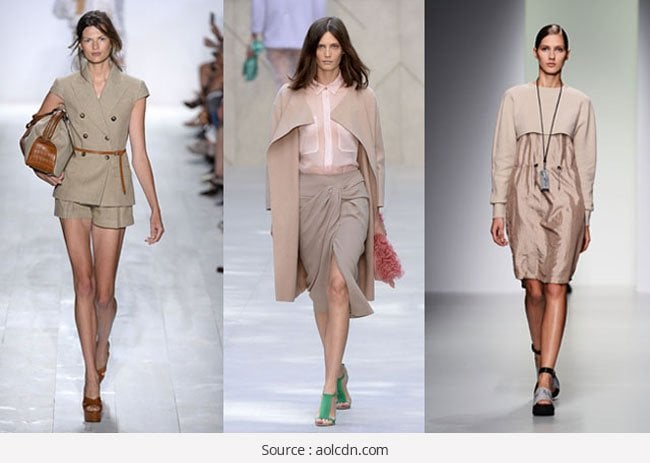 Designers all over the world has declared that the 2014 trend majorly consists of Nudes & Neutrals shades, whether you take Zac Posen Fall 2015 collection or Elie Saab's Fall 2014. And celebrities are wearing it! Nude shade is one such shade, which is considered boring and dull yet it has power to spell out elegance and class. Simple as it may be, all this trend needs is a little confidence to pull it off.
Neutral Shades
Baby pinks, beige, pale peaches and creams, etc. are a few neutral shades that are in vogue this season. And the good news is, the trend is definitely here to stay! But whether it's just pair of nude stilettos, a neutral nail polish, or even a cardigan, you can't go wrong with this effortless style.  Nude shades have always been a safest choice. When you are not sure how to team up your dress with, go for nude colours either in pumps or in blazers or the make-up. It complements all shades! It is a hue of sophistication!
Not only in 2014, the trend was on and off highlighted in the past fashion shows as well by designer brands like Burberry Prorsum, Chloe, Alexander McQueen and Nicholas Kirkwood be it in dresses or in accessories.
Common Questions
There are usually a lot of questions. Can I wear it to work? Is it too simple to wear to a party? What do I team it up with? But guess what, you can wear it anytime, and anywhere. All you need to know is how. Here's FashionLady's report!
For the Working Girl
Whether you have a day full of meetings, or a relaxed day just brainstorming new ideas, this look is ideal. The perfect day look would consist of a simple nude suit, thrown together with a clean and crisp white shirt. A dash of neutral make up and you are good to go. Team it up with beige heels or even a pair of platforms to get that fashionista edge.
Lunch Date with the Girls
A girly lunch date is full of chit chat, gossip and cocktails. And admit it; we don't have to try too hard to please our girls. So you can cut yourself some slack and go comfortable. Light, airy chiffons, teamed with pastels, and a light jacket or a knit sweater thrown over to beat the oncoming nip in the air, is all you need before you bring on the margaritas!
A Night-Out in the Town
Whether it's a dinner date with your crush, or a girl's night out at the club, all you need is a little neutral shimmer. A little black dress teamed with browns and gold, or a sequined dress is perfect to put you in the party mood. Add a dash of shimmery gloss, a pair of gorgeous cream stilettos and you need no other accessory. Well, maybe just some arm candy!
4 Nude and Neutral Must-Haves in a Women's Wardrobe
Celebrities Who Wore the Trend!
Celebrities play a key role in getting the trend popular among the masses. After designers showcase their collections on the runway, it's the celebrities who take it on the street! They set the trend by combining their dress with suede pump shoes or wear the beige gown over a coloured jacket or a nude shade blazer over a coloured dress. Here are some who posed for the shutterbugs.
Experiment and give the bright colours a break. There's a new(tral) shade in town. Tell us what you think about this new fashion trend?