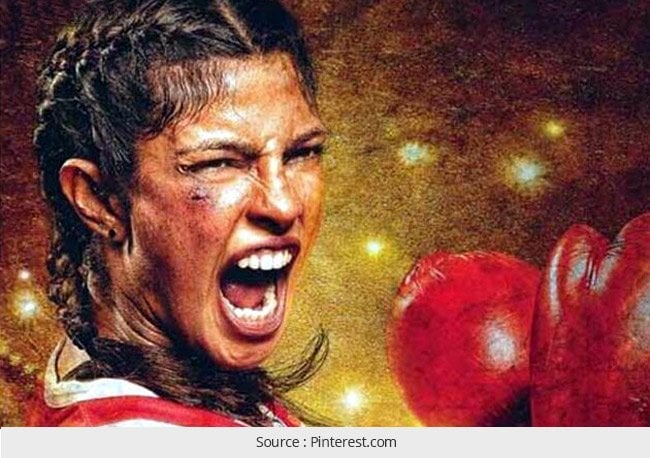 Stylish in Dostana, bold in Fashion, flawless in Barfi! and now, Priyanka Chopra is geared up to be Bollywood's Million Dollar Baby in her next – Bansali Production's Mary Kom. The soon-to-be-released biopic demanded more than good acting from the former Miss World – Priyanka trained hard to transform herself into an Olympic medal-winning boxer. PeeCee agrees that this has been the hardest movie ever in her career and going by the first look posters and teasers, I think she has done a good job of it.
It's been quite a while since a trailer release in B-Town has garnered so much excitement. Celebrities did not hesitate from lauding Priyanka on twitter and fans are eagerly waiting to catch the first day first show on September 5th, 2014.
If you haven't caught up with the trailer yet… quick, take a look:
Potential Record-breaker?
Directed by debutant Omung Kumar and produced by none other than the master of Bollywood fantasies – Sanjay Leela Bansali, the Priyanka Chopra starrer Mary Kom is a sports drama film based on the life of female boxer M C Mary Kom. It is reported that Bansali agreed to produce the film without even reading the screenplay.
"Omung told me about making film on Mary Kom around two years back, and I immediately said yes. There was no lengthy meetings or discussions," – said Bansali
Well, I think he made a great decision there – It is already estimated that Mary Kom would be a record-breaking blockbuster. Ajit Andhare, COO of Viacom 18 and co-producer of the movie, predicts it will be a "100 crore film with a woman in a lead!"
Praise for Priyanaka
Certainly, the leading lady seems to be the centre of some well deserved attention and appreciation. Priyanka is being compared to Hillary Swank who won an Oscar for her portrayal of Margaret 'Maggie' Fitzgerald, a waitress who aspires to become a boxing champion.
"If they (Hollywood) have Hilary Swank, we have Priyanka. She is a great talent and adds spark to her performance. As an actress I think she is in the league of Nutanji and Waheedaji," – said Bansali at the trailer launch of Mary Kom at PVR Andheri on 23rd July.
PeeCee's Bollywood colleagues were not far behind in nodding their approval – Twitter was flooded with celebrity tweets offering congratulations. They are calling her a "Raging Bulbul" and "Chameleon". From Shreyas Talpade to Alia Bhatt everyone had some words of praise for our national award winning desi girl.
After the poster release of Mary Kom, Ishq Vishk director Ken Ghosh tweeted:
"Is there anything this girl cant pull off? Wow @priyankachopra WOW!"
"The first look of @priyankachopra's #MaryKomFirstLook is just outstanding. Congrats team. Reminded me of #IQBAL – tweeted Shreyas Talpade
Alia "wants to puch something" after seeing Mary Kom's first look.
Priyanka's reply to all these kind words was that she has put in all her "Heart. Blood. Sweat. Soul. I've given it my all." "Over to you guys now"- she tweeted after sharing the poster.
Priyanka's Mary Kom Looks
Not only has Priyanaka trained rigorously for the muscled boxer's body, she spent a lot of time with the real Mary Kom to perfectly fit into her character's skin. It seems that PeeCee visited Mary in Manipur to get a taste of her life.
Mary Kom revealed in an interview that; "I met Priyanka in Mumbai, much before she came to Manipur, during which time we spoke at length. When she came to Manipur, she knew about boxing so I gave her tips as a mother and a wife, how I went about managing my home and profession, how I live with my family — basically she got to know aspects about my family life."
The make-up for Priyanka was also reported to be complicated. She even sports a bald look in the film. Apparently, the actress suffered an injury during one of the boxing scenes.
"Priyanka was filming a boxing scene with an actor from the North-East. She fell on the floor due to the impact. She got the shot spot on, so director Omung Kumar decided to retain it. The cut mark that you will eventually see on screen under her eye is real but we did touch it up with makeup to make it look deeper," said Uday Shirale, who worked on Priyanka's look.
Priyanka has sweated it out in the gym to achieve a physique that takes her from glamour queen to a queen in the ring. Samir Jaura, who also trained Farhan for Bhaag Milkha is behind PeeCee's pugilist look.
"My brief was not to make her look too bulky as in India people get put off by it. I wanted to retain her femininity but at the same time make her look like a boxer too. The right balance was essential." – Samir says about Priyanka's Mary Kom looks.
The fitness expert also revealed that Priyanka doesn't really like gyming, nor does she put on weight easily, but for Mary Kom, she was always watching what she eats.
You will also see her styled as a rebellious school girl and a homely wife and mother. It is reported that Priyanaka has also sung a soulful lullaby for the movie.
Another Bhaag Milkha?
So, it is agreed that so far the looks, poster, teaser and trailer has been a complete knock-out. But in light of the recent sport biopic trend, Priyanka's Mary Kom is also being compared to Farhan's Bhaag Milkha Bhaag and Irfan's Pan Singh Tomar. PeeCee isn't quite happy about it.
"I think you can't compare Mary Kom with Bhaag Milkha Bhaag. For the first time a film has been made on life of a female athlete. It is disrespectful to say it is a trend of sports biopic film. Mary Kom is the pride of our nation," – Priyanka said at the trailer launch.
Well, let's wait and watch if the film carries authenticity or has some Bollywood masala mixed in, as in the case of Bhaag Milkha. Till then, the only scope of comment is based on the trailer trending on all networks.
The Trailer – First Impressions?
Power packed and peppered with dialogues that evoke strong emotions – that's my take on the Mary Kom trailer. It starts off with a clear build up to Mary Kom's struggle to become a boxer. Her father burns her gloves; street boys taunt Mary by referring to her as Muhammad Ali; only the coach knows her true potential and trains her to knock down even street fighters that tower over her. The masala moments continue with Mary giggling and flirting with her fiancé and soon they are married. But her coach's voice over seems to urge her back into boxing and she takes up her gloves once again with the husband's support. A couple of well-choreographed stunts and dramatic dialogues follow. Altogether, it does pack a punch and make's you look forward to the movie.
What's your take? Let us know.
The movie is set to release on Sept 5, 2014.