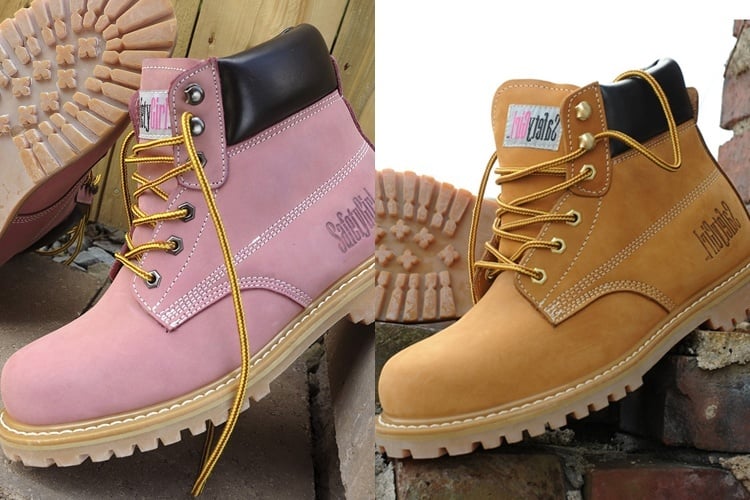 When you strut around in boots on the ramp or corridors of power, you invariably make a cult statement. Boots give women a boho look which is haute, sexy and in a class of its own.
[Also Read: How 30 Women Styled Their Over-The-Knee Boots]
Lets learn about steel toe boots
So, are boots just about fashion only when worn with skinny jeans, high-waist shorts or is there something more to it? Well, steel toe boots, pink steel toe boots or a steel boot of any colour is also a safety boot which is durable and protective. Meant to prevent you from several injuries, steel toe boots can ward off injuries due to slips and falls, cuts and burns, and punctures.
The logical question that can crop up in readers' mind is why wear steel toe boots in the first place? To answer it precise, lightweight steel toe boots are made from premium and full-grain leather using advanced technologies in footwear. This means you can stay assured of their performance on roads and alleys and protection on the job and the field. The grip, the safety, the traction, steel shank for added support, everything is there in loads making them the most comfortable women's steel toe shoes.
Reasons To Wear Lightweight Steel Toe Boots
Fashion is every lady's prerogative but so is safety. Ladies can feel safe in lightweight steel toe boots without sacrificing on comfort. All you need to do is choose the right shoe size, but most importantly make sure that the stylish womens steel toe shoes you wear are long enough to go past your ankles.
Also choose a pair of socks that would go with steel toe boots. In fact, socks are ergonomically designed to give you utmost comfort when you slip into steel toe boots.
A Peek Into The Stylish Womens Steel Toe Shoes
1. The Stylish Cowboy
The cowboy steel toe boots give you the extra protection and support of a metal. Take a look at the Stampede Square Toe Boot which is waterproof, rugged and made of cow hide. With fibreglass shanks and combination outsoles thrown in for good measure, it gives you tough protection by all means. But don't forget the beautiful embroidery on it and 11″ shaft that gives you greater leg coverage.
[sc:mediad]
2.  Slip-On
Sometimes minimalism goes a long way in delivering maximum output. Take for instance the stylish womens steel toe shoes from John Deere. This lovely no-nonsense brown walnut steel toe matches with almost everything and is equipped to handle the harshest of weather or hazard.
3. Rugged and Rough
Whether you want to be seen in skirts or formal dresses, here is stylish womens steel toe shoes that can make you look equally cool. This lace-up boot is a perfect combination of beauty and brawn. Plus it is waterproof, insulated and comfortable.
At the end of the day, safety doesn't mean giving up on the chic elements on life. When your mind questions why wear steel toe boots, you now know the fashion utility of this tough footwear item. So let go off your doubts and prepare yourself for a double duty in town with pink steel toe boots or lightweight steel toe boots, whichever interests your heart and mind.
We will be eager to know your love for steel toe shoes. Share with us your experiences of wearing the steel toe wonder on your feet.