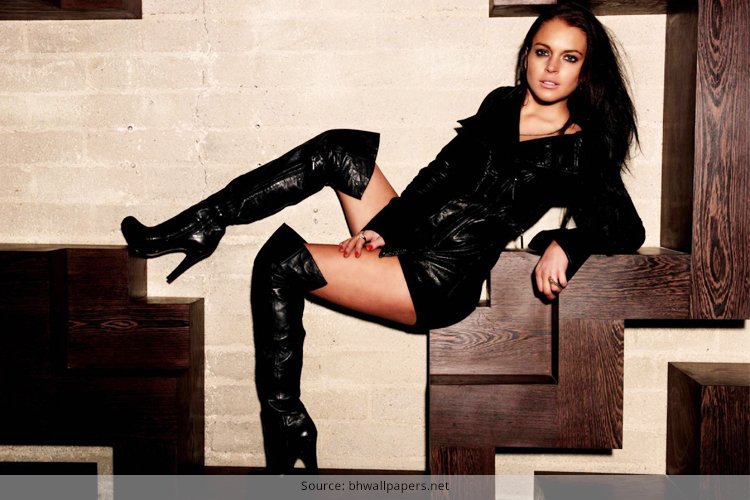 Over-the-knee boots – just thinking about them makes us want to drool. Over-the-knee boots are the epitome of sexy. They look so chic and sexy and are just the ultimate footwear to amp up your sex appeal. Here are 30 women who show us different ways to style a pair of over-the-knee boots.
1. With Skinny Fit Jeans
Skinny fit jeans and over-the-knee boots are a match made in heaven. They go so well together, as can be seen in the picture. A simple t-shirt and jeans look has been taken to a whole new level of trendy by pairing them with over-the-knee boots.
[Also Read: How to make your non-skinny jeans look skinny when wearing boots]
2. With a Leather Skirt
Pair your boots with a mini leather skirt for a scorching hot look. All that leather sure makes the look sexy and stylish at the same time.
3. With a Sweater Dress
Who says you can't look fashionable in winter wear? Check out this look where the woman has paired her boots with a sweet sweater dress. We like, now that is the way to look hot in winter.
4. With Leather Pants
Leather pants with leather boots? Oooh, tell us more! This is actually a really cool look. Although pulling your boots over your leather pants can prove to be quite a challenge. But it is so worth it, trust us, or better yet let the picture below convince you.
5. With Distressed Jeans
Another cool look that you can rock with your boots is the boots-with-distressed-jeans look. Check out how this woman totally owns the look.
[Also Read: Different Ways to Wear Distressed Jeans]
6. With An Oversized Sweater
Here's another winter favourite: over-the-knee boots with an oversized sweater. Such an easy look to create with such good results that you will fall in love with it.
7. With a Pencil Skirt
If you've been looking for a way to wear your over-the-knee boots to work, then take a cue from this woman. She has paired her pencil skirt and turtle neck top with over-the-knee boots for a work-appropriate look that is still edgy and chic.
[Also Read: The Complete Pencil Skirt Guide]
8. With Culottes
This is a look that pushes the boundaries. Check out how this woman pairs her boots with culottes for a look that is so unique and trend-setting.
9. With an Off shoulder Top
Over-the-knee boots paired with an off-shoulder top goes so well together, like bread goes with butter. It such a laidback casual look that looks so effortlessly stylish.
10. With a Shirt Dress
We are a fan of any look that takes less than five minutes to put together yet looks like its straight out of a fashion magazine. And that is the case with this look that pairs the boots with a shirt dress for a super cool look.
11. With a Lace Dress
Who says leather and lace don't go together? Here's a look that brings them together and makes them work.
12. With a Plaid skirt
Over-the-knee boots with a short plaid skirt is a look that's been around for quite some time.
13. With a Poncho
Okay, we love this look. It is very refreshing and innovative. Instead of going down the tried and tested route, take a ride on the wild side by pairing your over-the-knee boots with a poncho.
14. With a Circle Skirt
If you're aiming for a cute, girly look with your boots, then pair them with a flared circle skirt.
[Also Read: Steel Toe Boots]
15. With A Long Skirt
16. With a See-Through Skirt
17. With Shorts
18. With a Dip Hem Skirt
19. With an Overall Dress
20. With Leg Warmers
[sc:mediad]
21. With Red Hot Pants
22. With a Fur Vest
23. With a Crop Top
24. With a Denim Shirt
25. With a Blazer
26. With a Leopard Print Dress
27. With a Leather Jacket
28. With a Tulle Skirt
29. With A Maxi Dress
30. With Patterned Stockings