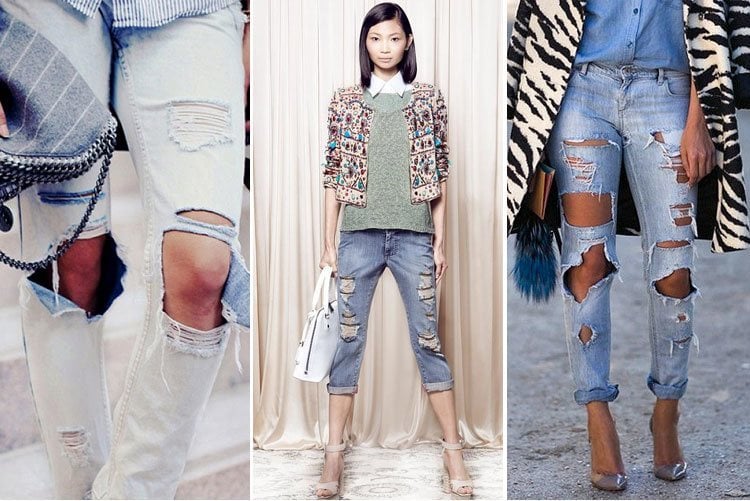 The need for dressing up in a serious way when it comes to office attire is fading away. In fact the line of margin between corporate dress code and casual wear is becoming blurred with fashion-hungry employees looking for appropriate options to look adventurous and in-your-face.
Are you the types who feel 'distressed' wearing torn jeans? If you are shying away from wearing ripped off jeans, it means you are way behind in the fashion radar.
A torn out pair of denims continues to evolve in the then-and-now. Call it as a wardrobe detox or rule-bending, distressed jeans give you a sassy street style look. In fact, you can wear distressed old denims on weekends and on casual days too. Sometimes, distressed denim might make you look unkempt or disorganised but when you accessorise it with the right statement pieces they can look anything but sloppy. Here are we go sharing some ideas with you on chic ways of wearing distressed and shredded jeans. Hope you enjoy this new breed of fashionable clothing and try to adopt and emulate it. What's interesting is that, there are a couple of easy ways to rip your old jeans.
The 'Torn' approach in Distressed Jeans
At times, one needs to do something off the conventional pattern to look different. Ripped off distressed jeans absolutely fits the bill when it comes to it.
[Also Read: Recycle Old Jeans]
There are two ways in wearing a pair of distressed jeans – either expose whole of your knees or few sections of your leg. Both ways, you shall look fashion fantabulous.
While dressing in this retro fashion statement, make sure you are tagging along the right accessories such as slick heels or flats, depending on your comfort factor. If you want a distressed flavour to last you long, then go for subtle shreds in your jeans.
Skinny Stunner
Looking skinny has its own charm. You can in fact create a distressed cult of your own by wearing skinny jeans. They help you create a neat and sexier silhouette. It is in fact cut out for everyday wear so that you can pair it with just about anything in your wardrobe.
[sc:mediad]
Tomboyish Tall
If you want to hang around with your friends and boyfriends over a game of pool, then do so by slipping into a tomboyish pair of distressed jeans. Team up the distressed and rugged looking denim with an edgy looking sweatshirt, Timberland shoes and you will see how cool and hot you will look the whole day.
[Also Read: Tips on How to fold Denims]
Example of Fashion Pairing with Distressed Jeans
Turning a fashion muse by wearing a pair of tattered distressed jeans can be a lot easier. All you need is a button-down top and a pair of sunglasses when you are moving around in the heat. When inside a glass ceiling where the sunshades will have to be kept aside, you can go ahead and substitute this look by wearing silver or artificial jewellery, mini rings and watch. Do not forget to pair this fashion ensemble with pointed pumps.
[Also Read: How To Wear Distressed Denims]
How to wear Distressed Jeans
The right style makes all the difference when it comes to wearing shredded distressed jeans. Couple of things you need to follow while wearing them:
a. Pair your jeans with basis staples such as tank-tops, sweatshirts or button-down shirts.
b. Maintain their carefree nature by wearing pointy flat sandals or sneakers (depending on the occasion).
c. Carry accessories such as roomy bag or a denim jacket to look cut out for a street-ready look.
[Also Read: 20 Easy Ways to Upcycle your Old Denims]
Wearing jeans tattered at the knee or slashed in the appropriate places will place you in the category of celeb value this season. Go ahead and indulge in distressed jeans, this season's chic fashion code.