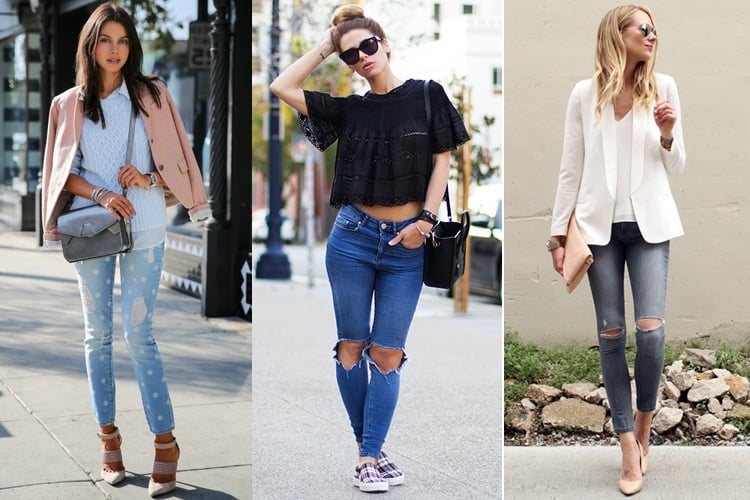 The 90's trend of wearing ripped and tattered jeans has made a come-back and is becoming more fashionable by the day. Whether you've bought them, or have a suitably shattered pair of jeans; they deserve to be worn with justice. When sported in the right manner; your favorite frayed and torn denims can appear as a graceful yet exude a relaxed aura. They are cool as well as handsome when paired with the right mix and match to give a totally rad look.
Not sure of how to wear distressed denims? We've listed ten ways to wear your pair of boyfriend jeans and exude a chic and cool quotient. With the right clothes and accessories, distressed denims can transform your look.
Top 10 Ways: How to Wear Distressed Denims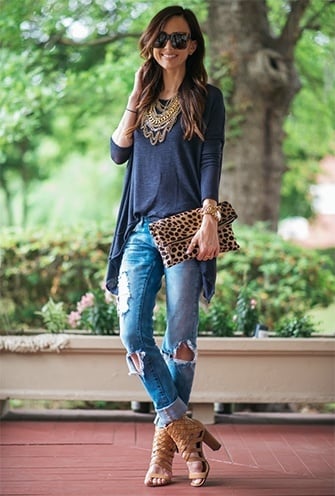 1. The Casual Bite Look
Grab a loose pair of torn jeans and team it up with a blazer, pumps and your sling bag. Look effortlessly stylish with slightly baggy jeans and a messy hair-do.
Ready to go for a meal with your colleagues?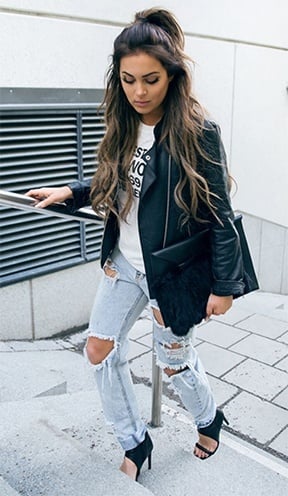 2. The New-Love Look
Pull on your dark coloured tattered skinny jeans with a funky top, contrast tote and a large hat for a playful appeal. Black colour jeans is preferred to enhance the overall look, pair it with aviators; you can hep up your look with complimenting and easy accessories.
[Also Read: Denim Jackets]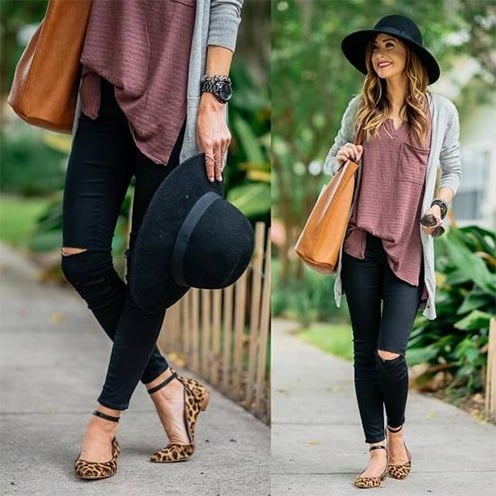 This is for the whole 'I really like you, but I'm not going to show it' look ladies have when they want to impress a guy they are casually seeing. Playing hard to get your man? This is the look.
3. The Weekend Brunch Look
Pick out a pair of jeans that are preferably not ironed to give the messy look. Wear them such that your top is only partially tucked in. Roll up the jeans unevenly. Hop into your cool pair of sneakers and grab your sling bag. Ta-da!
This fashionably disheveled attire, glammed up with some makeup will look remarkable at a Sunday brunch with your gals.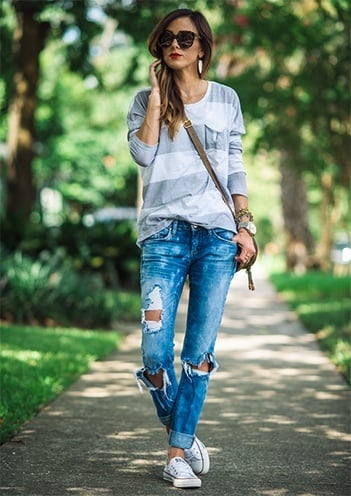 4. The Need-To-Run-Errands Look
Get hold of your high waist lean jeans and put on your leather jacket. For the additional comfort quotient pair it with laced shoes and an envelope bag. Pep up the look with a messy top knot bun and your favourite pair of aviators.
Casual outfit is all you need for the comfort zone, the rest you can always dress it up! Select a contrasting scarf or pair it with a hippy bag for the cool-casual look.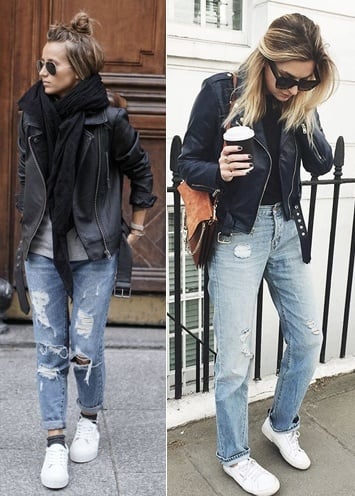 5. The Travel Look
Pair a smart white blazer with marginally tattered jeans and grab your envelope bag. If you own a white tuxedo blazer, even better! Sun glasses with high heels will blend in brilliantly. Add the bling with fashion jewelry or suave watches.
[sc:mediad]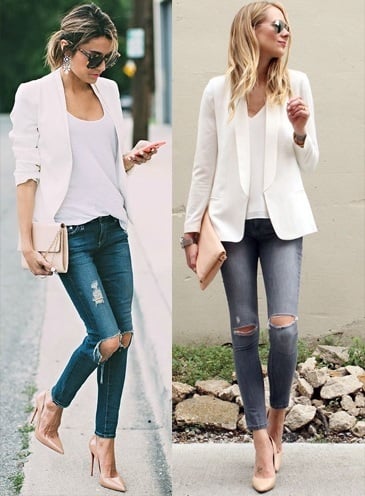 6. The Party-all-Night Look
Show some skin ladies. Team a torn denim skirt with a flowy top and some alarmingly sensuous heels. Grab your clutch and get ready to part-ay. Jazz it up with bling accessories or better still glittering tee! With this luscious attire the party won't start, till you walk in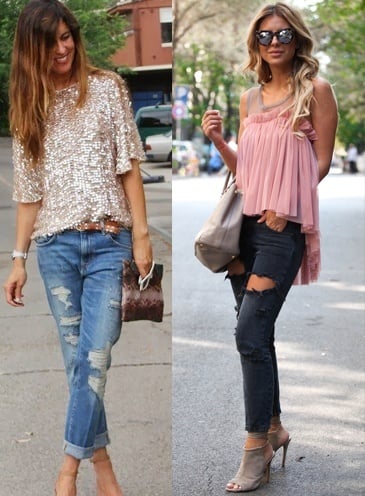 7. The Sports Look
Bring out your inside tomboy by sporting an illustrative sweatshirt along with your comfy ragged denims. Pair this with boots or sneakers and a sexy pair of aviators.
Perfect for chilling out with your mates and killing time watching a crazy sport tussle.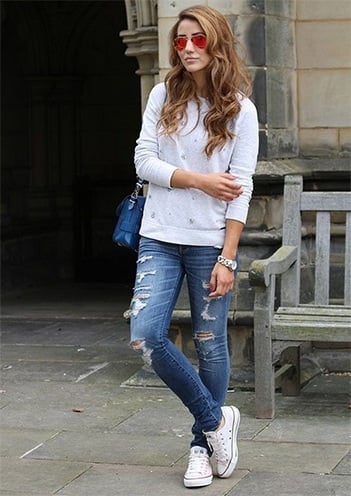 8. The Tea-With-Mom Look
Got a pair of battered printed jeans? Just combine them with a pastel coloured top, light coloured coat and sling bag for a formal yet casual outfit. Wear this with either heels or boots.
Excellent for an afternoon out with your parents.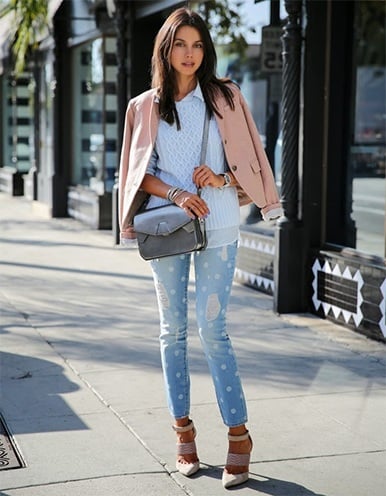 9. The First Date Look
A printed casual top tucked into your skinny jeans (obviously, torn!) along with typical black heels. Carry this attire with shades and a sling bag. Being set up for a blind date by your friends or meeting the 'guy' officially for the first outing, you have the perfect outfit that looks effortless yet chic.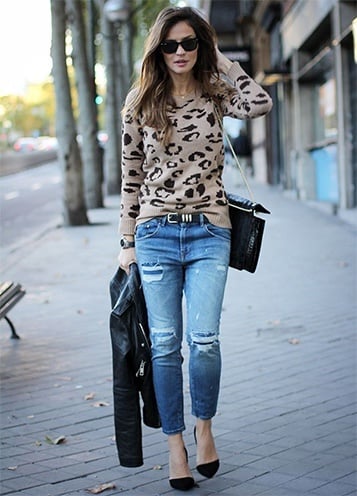 10. The Dinner Look
An elegant blouse and oversized jacket on open-kneed denim jeans is all that's needed. Printed heels on feet and stylish bag slinging from shoulders, voila! You are all set for a movie night along with a wonderful dinner with your family, friends or colleagues.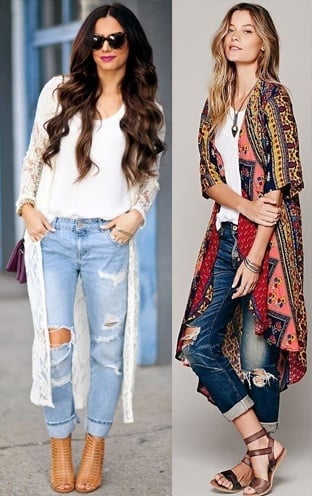 Try experimenting with styles and accessorizing these outfits to create a whole new attire of your own. Looking cool yet chic in boyfriend jeans is not an easy cuppa, but with these fashion ideas you can pep up the look with distressed denims for any occasion. Make sure you don't overdo your makeup, make it natural and soft. So now that you have all the hacks and fashion tips on how to wear distressed jeans, go make your own fashion statement!
Images Source: pinterest.com