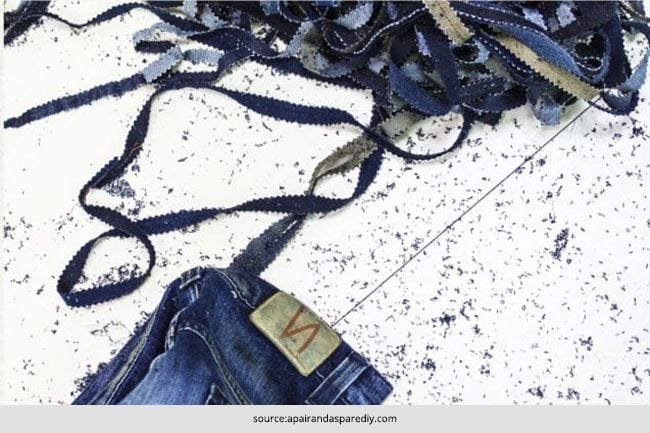 Take a look at your wardrobe! Did you spot at least one or two pairs of jeans that have seen better days? They are still there, probably because it is impossible to let go of them. For many of us, old denims can mean a lot more than just a piece of clothing – be it the faded and frayed old blue jeans that got you through the rough days of college or the bell-bottoms that fit so perfectly but are way out of fashion. But what good are they if you just keep them tucked away in a corner? Here's a chance to give some new life to your old denims – Upcycle them!
Not familiar with the term 'Upcycle'? Think of it as recycling with more style and purpose. Upcycling transforms your old denims into works-of-art that can speak volumes about your personal style. The fabric is so sturdy that it is the perfect material for a long lasting impression. And it's not just old jeans you can rely on – don't throw away the scraps after you are done with your DIY cut off shorts this summer. There is an endless list of fun craft ideas that can put these to good use. Let's start with these 20 fun, simple and easy DIY denim makeovers:
DIY Denim Jewellery
From statement necklaces to simple bracelets and everything in between, denim can add that edge to your dainty accessories.
Got a few thin metal bangles to spare? Let's give them a makeover – wrap it in denim scraps and hold it all together with colorful thread or yarn. You can also neatly stick on stones, beads and charms with fabric glue.
Make a neat little bow tie with your recyclable denim scraps. Now attach a thin and long metal chain to the edges for a pretty statement necklace. You can also use little beads and charms to add weight.
For a simple pair of denim earrings, you will need two circular pieces of denim and hooks from an old broken earring. Fold the denim pieces into a cone and insert the hook through the middle. Use a metal ring or wire to hold it in place.
Cut out a piece of denim from your old jeans, with a buttonhole. Neatly stitch the edges together and attach a decorative button to the other end. And your simple but stylish DIY denim cuff is ready!
DIY Denim Bags & Cases
A carry-all tote, a tiny coin purse or just a neat way to put all your gadgets or stationery together – let your imagination run wild, because there's a stylish bag or carry case hiding in every corner of your old jeans.
Now your jeans pockets can hold your phone even while it's charging! And it needn't be attached to your jeans either. Just cut out the pocket-square neatly, make a loop with another strip of denim and your phone holder is ready to hang around!
When it comes to stylish bags made out of recycled denim, the options are numerous. But nothing is easier than just cutting out the top portion of your jeans, sewing on a bottom and handles with more denim pieces or even leather. Your carry-all tote is ready with extra pocket space too.
With a little bit of sewing skills, you can easily make a pretty wallet with scraps from your old denims. Just cut out a simple pattern and stitch it together. If you are finding it hard to attach a zip, just use the buttons.
Like to carry around your gadgets all the time – and you have a lot of them too? Here's how you can make an easy gadget organizer with old jeans. Just cut out the top portion of your old denim, on one side. Keep the pocket intact. Now, just sew up the bottom and the seams on top.
DIY Denim Home Decor
Your living spaces should reflect who you are. Express the free-spirit and let the memories decorate your home – scraps from that old blue jeans can add the right amount of edge to your home decor, as well as keep things organized easily.
Recycled denim coasters are simply the easiest DIY denim idea on this list. All you need is a long strip of denim, preferably the seams of your old blue jeans. Now, just roll them up using the paper Quilling technique. Use fabric glue to hold it all together.
Creative people can be messy, but only because they don't have the right easy-to-use storage options. So, here's one – cut out the legs of your old jeans, stitch up one end and roll the other into a cuff. Your DIY denim storage baskets are ready!
Remember how we cut out the top portion of your jeans for the carry-all tote. Well, if you are not in a mood for a tote, transform that denim cut out into an absolutely cool cushion cover – complete with pockets to hold your TV remote and phones.
[sc:mediad]
The next time you have a party to decorate, forget the paper and plastic bunting banners. It's time to save the planet and use recycled denim. Just cut out little triangles or any shape you prefer, from your old denims and string them up. Use sparkles and fabric paint to decorate it more.
DIY Denim Accessories
There's more to accessories than jewelry. So, here's my pick of stylish and trendy denim hair accessories and belts. And guess what, they are quite easy to make! Time to Do-It-Yourself and show off your creativity.
You can use a strip of stretchable denim for the cute blue headband. If you are not up for lace as a trim, use colorful thread embroidery, beads or feathers to decorate. Either tie it under your ear like a bandana or use your sewing skills to attach elastic underneath the denim strip and join the edges to make an easy slip on headband.
Cut out tiny circles of denim from left over scrap, fold them into cones and stitch them into a bunch. Use two more circles of denim to hold it all together. Now attach these denim flowers to a simple black hair-tie, preferably using thread and needle. Decorate with beads or sequins.
This simple DIY denim belt requires almost no stitching at all. Carefully cut out the waistband of your old jeans. Make sure you keep the seams intact. Now go find an old belt – cut out both the ends. Now sew the two belt pieces on to either side of your waistband. Voila! Just don't wear it with another jeans.
The plain old black Bobby pins are so boring. Add some style to it with a denim bow. Everyone knows how to make a bow, right? So, just make one from denim scraps and glue it onto your boring black Bobby pins.
DIY Denim Clothing
Essentially, denim is a classic style of clothing. So, let's try and keep it in its original form. Well, almost original. With a little creativity and some help from a professional tailor, you can get this done easily.
Everyone wears cut-off shorts. So this summer, why not do something different and add some pretty-girl twist to your recycled denim shorts. Just get some lightweight see-through fabric and stitch it around the hips of your shorts.
Got a really frayed and torn piece of old denim? Before you throw it away, go get some lace. Now, cover up the damaged areas of the denim strip with lace and there you have it – a brand new stylish scarf.
Add new sleeves and some style to your old sweatshirt – but this may require some excellent sewing skills. So get your recyclable denim to the tailor now.
And lastly, here's how you can put that embarrassing old bell-bottoms to good use with minimal wastage. Cut along the seams in the middle and stitch up the zip portion. Now, you can either just join the two legs in the middle for a fitting pencil skirt silhouette or add more flare with extra denim fabric from another old jeans.
So, which DIY idea are you trying first? For me, it's the denim headband and scarf! Time to go find my basket of old denims.