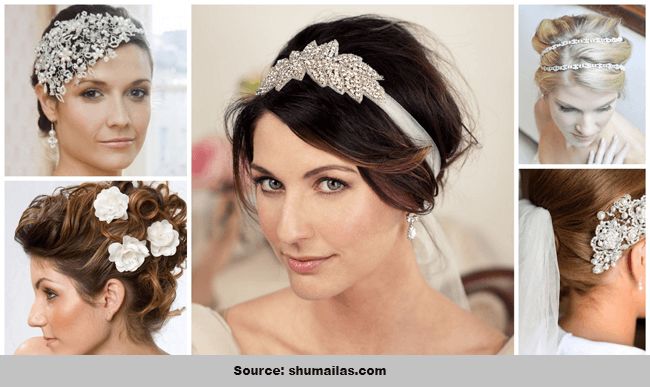 The monsoons are here! We all know the rains cause havoc on our hair. The dampness, the hair fall, dandruff, and frizz – everyone has a different problem to deal with, and there are usually more bad hair days than good. And if it's about styling for an event or a function or a wedding, this is an even bigger concern. But there is one trick that can help keep your hair in check, making sure your locks look great even in this season. Opt for some great hair accessories like headbands, barrettes, jewels and others. Try them all and you are sure to step out looking fabulous every day.
[Also Read: Hair Accessories for Festivals]
Head Bands
Headbands were a common hair accessory as you used to wear them when you were a kid. That doesn't mean that you can't wear them again as adults. Headbands when worn well not only help to keep your hair off your face, but also look very elegant and sophisticated. Skinny headbands have been one of the hottest hair trends in the past few years.  If you haven't had a chance to wash your bangs out, or they are slightly damp, just wear a skinny headband to hold it back, which draws the hair out of your face and still looks clean. It's also a good idea, if you have short hair, to create some volume at the crown when you're wearing a headband. Place the band just past your hairline, then gently tease or blow-dry the hair behind it to give it a little lift.
Headbands are a very versatile accessory, whether you wear it with your hair left long and open or tied up in a messy bun, it manages to look great almost every time.
Draped Crystal Accessories
On a dull monsoon day, sometimes all we need is a little sparkle. A very popular choice in bridal hair accessories these days, draped crystals can be worn in many different ways. You can wear it across the crown, drape it over a chignon bun, or wear it long from the back of your head to your ear. Crystals usually work on more dressy attire – perfect for weddings, functions and parties.
Ponytail Holders
Pony tail holders are also popularly known as hair bands, scrunchies and so on. On a bad hair day, the last thing you want to do is leave your hair open. Or maybe sometimes, your outfit demands a sleek up do. Whatever be the reason, ponytails are the classic way to style your hair with minimum effort.
Make sure to choose clear or neutral-colored holders to maintain a classy look. It's a more sophisticated style when the hair ties blend in.
Tiaras
Tiaras are a great option for bridal hair accessories especially if you are planning of wearing a wedding gown. There is a certain elegance and sophistication that they add to the overall look. When choosing a tiara, you should also take into account the dress that you will be wearing with it. The tiara is meant to complement and not overpower your look. For instance, if your dress has crystal beading, it would be ideal to choose a crystal based tiara. If the dress is beaded with pearls, then pair a pearl tiara to match. To ensure that the tiara is secured in place, use bobby pins to make sure it doesn't keep falling off. Position the bobby pins in such a manner that they will be hidden, and do not draw attention away from your crown jewel.
Flowers
Flowers may not be ideal to wear on every day basis as they can dramatically change your appearance. You can find silk flower of all shapes, colors and sizes embedded on tiny clips, bobby pins, headbands, barrettes etc. or you could go with a real flower held in place by pins and clips. A real flower looks way classier than an artificial one and has the added benefit of lending a natural fragrance to your hair. A big flower in your hair can complement almost every look be it from a long flowing dress, a pair of jeans to lehengas and wedding attire, whatever you may choose. Flowers can be worn with short hair, long braids or even open hair. If big flowers are not your style, you can always opt in for smaller, dainty flowers instead.
Bun Nets
Hair nets are usually used as a convenience to keep hair intact and in place. But with the new trends coming up, nets can be used to style hair as well. Tie your hair up in a secure bun and cover it up with the net. Then, in this net you can add crystals, flowers, attach your veil and try many such options. The new variety of bun nets also come pre-styled with embellishments, making your job much easier. Bobby pins can also be used to secure the bun. If you are styling hair for your wedding, a net works great to maintain the wedding hair style for a long time. It's a very convenient bridal hair accessory and could very well be a busy bride's best friend.
[sc:mediad]
Barrettes
Sometimes you just want to pull your hair back quickly but don't want to go with the tugging and pulling of ponytail holders. Here comes the barrette to your rescue! It looks classier and more expensive than elastic, while also giving you a clean and quick hair do. To ensure the barrette giving your hair a tight hold, thoroughly tease the underside of the hair and gather it into a ponytail. Then snap the barrette close to the nape of your neck. The addition of this simple accessory can take your look to the next level.
Bobby Pins
Bobby pins are the easiest and most convenient hair accessory to instantly glamorize your style. At a bare minimum cost, they keep the hair in check. The basic bobby pin can be used to secure the hair or an embellished one can be used to create a quick and vibrant hair do.
Hair Combs
One of the most popular wedding hair accessories is the hair comb. A hair comb is a subtle, simple, and elegant way to dress up your hair, whether you choose to wear it up or down. A hair comb has metal or plastic prongs to secure into the hair style. They may also have elements like rhinestones, pearls, crystals, feathers, or floral embellishments. If you are wearing your hair as an up do, bun, chignon, French twist, or have a base thick tied hair, the prongs will easily lock into place. Alternatively, you can push the hair comb into a ponytail, just above the elastic or use bobby pins to keep it in place.
Extensions
Sometimes, you may want to style your hair in an elaborate hairdo but your hair may be cut short, or may be thin and not enough for a particular style. This is usually an issue bride's face while styling hair for the wedding. Clip-in and wrap around extensions are a quick and easy way to instantly get fuller, thicker and longer hair in seconds. Hair extensions are available in a wide variety from natural to synthetic. Make sure to invest in a good quality piece even if it is a little expensive to ensure that it looks as natural as possible. And the color should also be as close to your current hair color to make the extensions blend in. So if you've got your heart set on a bun, French twist or a classy chignon for a special occasion, worry no more because hair extensions can make it happen.
Tell us how you like to accessorize your hair.