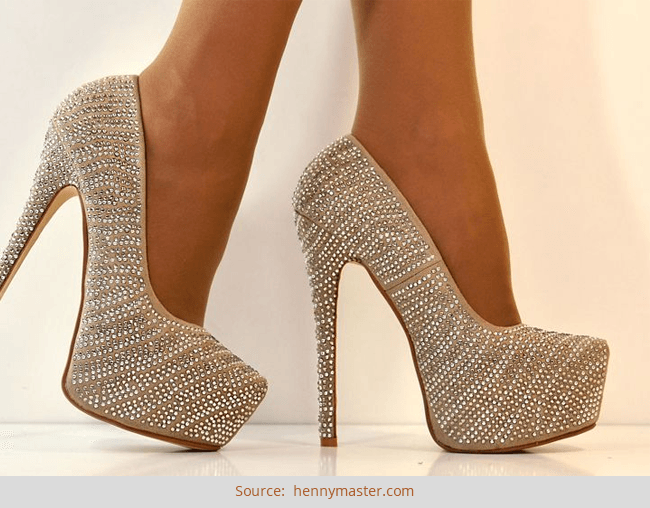 You know that feeling that you get when you put on a pair of heels? Like as if you can suddenly take on the world and be a fearless tigress. Heels give you that instant confidence boost by enhancing your posture and making you stand tall and proud.
Be it demure kitten heels or deathly high heels, a girl needs to do justice to her heels. Learn how to walk in different heels like a pro. And then once you get the hang of it, reward yourself with some sparkly new shoes!
Humble Beginnings
Always start with a pair of two-inch heels. You can work your way up to higher heels as you master each height. It is definitely much more difficult walking in high heels and making it look like a breeze. So take your time with your kitten heels and practice well. Once you've mastered them, move on to a four inch heel.
With kitten heels, the one thing to remember is to try and walk as normally as you can. Many a time girls who are wearing heels for the first time either bend their knees too much or keep their knees too stiff. Make a conscious effort not to do that. Keep your knees relaxed and walk with confidence.
Wedges Are the Way to Go
Wedges offer better support and are great for beginners. They look great with summer dresses and are not so taxing on the feet like the stilettos. So try on a pair of wedges to see how well they look on you. While walking in wedges, just remember to walk like you would in a pair of flats. We don't want it to look like you're putting too much emphasis on your walking. After all, the art of walking in heels is to make it look effortless.
Dare to Wear Spike Heels
You really need to be super confident to wear spike heels—those five to six inches stilettos that seem to be a death trap. These are the ultimate and look sexy. Slip these on and go from plain Jane to glam diva in an instant. As impossible as they seem, once you get the knack of it, you'll be flaunting your heels wherever you go.
Take small steps. Don't try to take big steps. Just take small steps and pace yourself so that you're not strutting around too fast. Also, figure out where your body weight falls. Try not to put all your weight on to your heels or your toes, because if you do that, you'll end up putting too much pressure on that part of your feet, making them hurt too much.
And invest in a nice pair of cushions for your arch. Your arch will gain some much needed support and relief. You can also use some cushiony insoles to keep your feet from hurting too much.
Always make sure your shoes are the right size. Even if they are the most gorgeous pair of heels you've ever seen, if they're not in your size, then they're not for you. Never try to squeeze your feet into shoes smaller than your feet. They will torture your feet and give you endless nightmares. Comfortable pair of heels make for a comfortable walk.
Practice Makes Perfect
You know all those ramp walk models who make walking in killer heels look effortless? Well guess what, they've practised endlessly to master that art. So put on your heels and walk around the house. Wear them all the time at home till it becomes second nature to you to be in a pair of heels. You need to be that comfortable in them to wear them out with poise.
Break in Your Shoes
Don't just wear your new heels to a party. Uh-huh, that's not how it works. First, you need to break in your heels. Wear them at home and wear them to the mall. Let the shoes mould to the shape of your feet and let your feet get accustomed to them. Only after that should you wear it to that party. New shoes tend to be way too stiff and could mess with your stride. This is why breaking in your heels is an important part of the whole process of walking in heels.
Decide Which Ones to Wear
Mentally map out your day and see what you'll be doing. If you'll be outdoors a lot, then wearing a pair of wedges makes more sense. Alternatively, if you'll be indoors and standing a lot, then maybe you should opt for kitten heels and not high heels.
Knowing what you'll be doing helps you decide what kind of heels to wear.
Finally here's a link to a video that'll help you master the art of walking in heels: