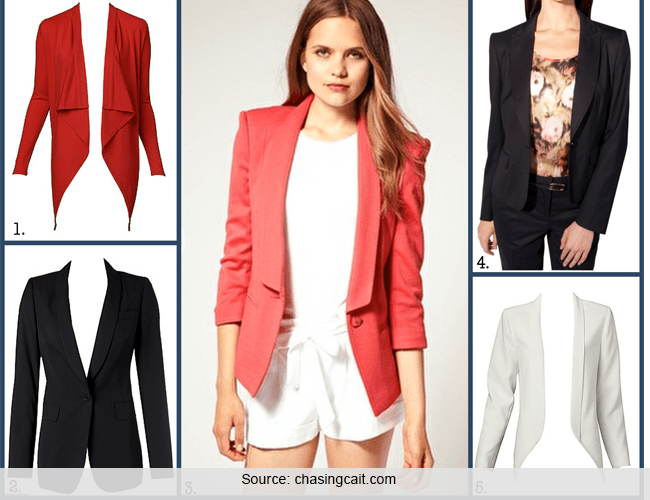 A blazer is a versatile piece of clothing that can be worn as a casual light jacket or as a part of a more conservative business outfit. You will feel classy and sophisticated after putting on the blazer over your dress. The best thing about blazers is that they work in almost any environment and it is constructed with a woman's movement in mind, and looks simultaneously professional and sensual.
The sneaky technique when it comes to blazers is how to get the most use out of what you have in your wardrobe. If you think that a blazer is a "serious" piece that you can only wear for the office then you are wrong. There are many ways to wear a blazer and look relaxed and fun.
So let's take a look at five different ways to sport a blazer –
[Also Read: How to Wear a White Blazer]
1.Blazer + Distressed Denims or Ripped Jeans
A trend that is really loved is a simple tee, blazer, and ripped jeans. Bollywood actresses always pull off this look and appear so glamorous on any events! You can team up any colour blazer with your favourite pair of ripped denim. It's simple yet elegant and classy. The best feature of ripped jeans is that they can be worn in the most relaxed or most dressy of ways. Generally, people wear jeans on daily wear basis and hence donning a blazer with it would slightly add a formal look. You may choose a comfortable fabric like velvet or corduroy while buying a blazer for yourself. As for accessorising, sneakers or loafers go well with the look. You can also opt for ballet flats in bright colour, which would add an interesting factor to your over all look.
2.Leopard Blazer + White Shirt
Are you ready to feel the love for wild leopard within you? Animal print is by itself a statement as you need less to complete the outfit. Wear it open over a white shirt (a beige item is another option), paired with a black trousers and black shoes. For a simple and casual look, just wear a leopard blazer over a white tee and jeans. To add an extra edge to the look, paint your lips red and accessorize the outfit loud. A bright clutch in contrast to the colour of blazer, and a gold watch can make an intense statement.
3.Blazer + Graphic tee
Another way to customise your blazer is the blazer and graphic tee look, which men find sexy and women find perfect.For this look, opt for a single coloured tee with a bold graphics printed on it, and then wear a black, navy or grey blazer over it. The blazer should be in the single colour. Over a printed top, only a classic blazer would look good. You can pair this tee and blazer look with a ripped jeans or black pants and accessorise it with animal print slip-ons or wedges.  With graphic tee and blazer, you can also wear high-waisted shorts or skirts. How about donning fedoras and thin belts with your look? Just go on and experiment with your look.
[sc:mediad]
4.Maxi Dress + Blazer
A woman looks feminine in a maxi dress. The dress can be worn on every occasions be it for a beach party or a cocktail one. As it's always fun to create an outfit that exemplifies a color contrast, a contrast fitted blazer surely can bring edge to your maxi dress. Floral prints are in when it comes to flowing maxis. And it can be fashionably paired with a fitted velvet blazer.
[Also Read: How To Wear High Waisted Shorts]
REMEMBER: It is advisable not to wear long cardigans or long blazers with maxi dresses as it distorts the proportion of a woman's figure. Always go for short or cropped blazers with maxi dresses.
5.Blazer + Jumpsuit
It is about mixing two trends together! Jumpsuits and blazers is the hot combination. It looks as stylish as sexy. Just pair it up with a fitted blazer. To add extra hotness, just wear the combination with strappy stilettos and red lipstick. The colour of your blazer should complement the colour of your jumpsuits. Jumpsuit can also be worn as an evening dress. Hence, wear blazer over it during the day for a casual look and remove it after work for the evening party. Pair it up with heels or espadrilles. You need not to accessorise if you are wearing an embellished jumpsuit. Go for elegance!
How are you going to wear your blazer next? Do let us know!