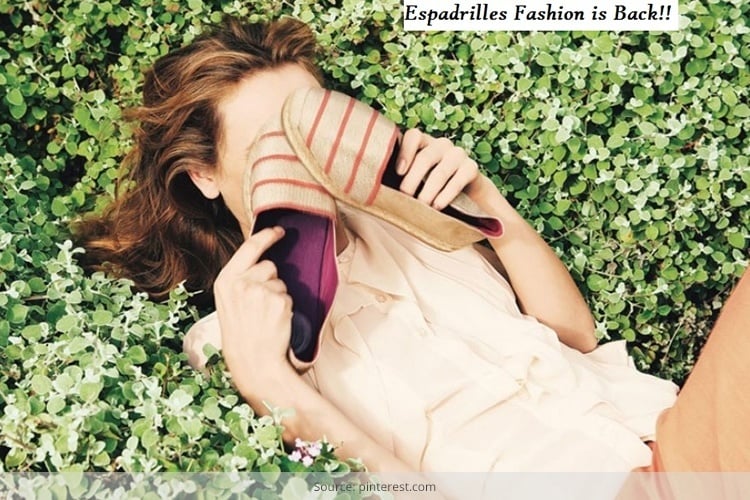 Nothing corresponds European savoir faire than a pair of classic espadrilles. In this edition, I'm going to talk about how these canvas shoes, which were once merely a pleasant Spanish footwear fashion, are now commonplace. Read on!
Espadrilles are to loafers what uggs are to boots!
In European countries, especially in France and Spain, you will see countless feet wearing this kind of wedged or flat shoes being paired up with anything from shorts to a flowy sundress.
I've also been following the same Instagram like you. Even I always check-out Chanel's sky-high version of these casual shoes which I've been dying to get my hands on for quite some time.
Finally leaving aside my brand craze for a while, I bought a fabulous pair of my espadrilles, which was neither Chanel, YSL or Prada but a super-cute pair from nearby flea market.
What are Espadrilles?
These types of shoes fall under casual wear and are available both in flats and high heels. They are enabled with a canvas or cotton fabric along-with a flexible sole made up of jute. Actually, the jute rope sole is the highlighted features of this footwear, while the upper part varies widely in style.
Here is an excerpt from Wiki
The soles of espadrilles may be flat, platform or wedge shaped, and can be made of natural fiber or synthetic fiber rope, or flexible synthetic materials cast to resemble rope. Uppers may be made from nearly any substance, and may have open or closed toes, open or closed backs, and can be slip-on or tied to the ankle with laces. Thousands of varieties of espadrilles can be found, from inexpensive bargain brands to high priced designer brands.
Long standing history
This style of footwear has a long standing history and is never out of fashion. It still remains an essential addition to stylish women's wardrobe. For the past few years, they have making their presence felt on a serious note in Indian market.
Ticket to fashion world
Originated in Spain during 17th century, these shoes made up of woven jute and cotton were used by Basque soldiers and clergy. It was only in 1950, when the Spanish shoe makers decided to transform this age-old practice into a modern and fashionable pair exclusively for women.
[sc:mediad]
This passing fancy prompted the legendary fashion designer  Yves Saint Laurent (YSL) to commission a pair of his runway shoes with a slight variation to it i.e. his shoes had heels and this is how began the craze for wedged espadrilles.
Varied styles
Owing to their popularity, many styles, including open-toe, back-open, slip-ons, gladiator sandals and tie-up laces are available everywhere from street shops to high-end boutiques.
While Hollywood celebs such as Jennifer Anniston fall for this style for their vacation trips, the footwear has now become a favorite option for women of all walks of life.
These shoes can effortlessly pair up with shorts, dresses, denims and even tuxedos. You can combine your newly purchased pair with a loose-fitted top, shorts and accessorize it with a big tote bag.
And if yours is a bright textured or stripped pair then you can pair them with an all-white or muted ensemble.
It doesn't take YSL and Prada to convince us that a great pair of flat or wedged espadrilles are your wardrobe sartorial must-have.
Hope you liked this post. Stay tuned for similar posts!