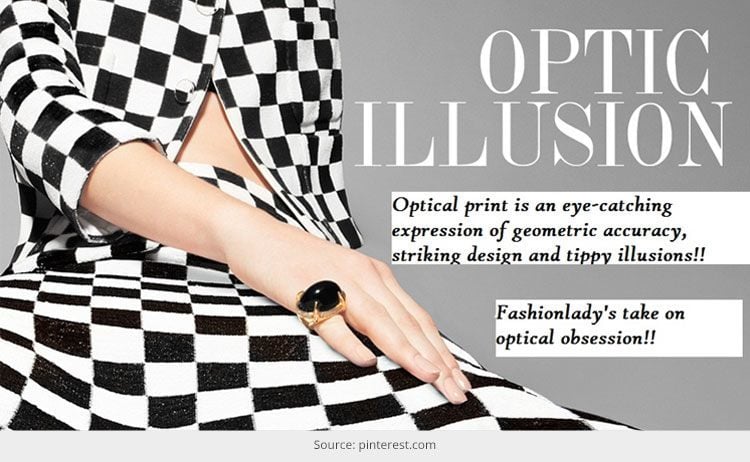 The optical print obsession
The captivating optical print is an eye-catching expression of geometric accuracy, striking design and tippy illusions
It's of no wonder that we live in an exaggerated world, where your fashion sense is constantly bombarded by dissonance. So, the concern which I bring out here is how does a self-conscious fashionista pull out the ballyhoo without taking off to an abbey?
By finding optimum peace in radical outfits, which are again inspired by the far-out optical art era dating back to 1960s; this is a fashion which is excessively on today's generation who are dynamic and high on impact. This fashion fad has certainly made it appropriate for the high street fashion and mass consumption.
What does optical art mean?
The optical art is actually a visual activity that gushes out into hippie culture of 60's. This fashion became highly popular especially when TIME magazine coined this jargon for the first time in 1964. The term, which was initially used to explain graphics making an illusory effect, is now more commonly used in fashion domain.
Optical art in fashion
This kind of mathematical art paved its way into the world of fashion after a popular American exhibition known as The Responsive Eye.
[sc:mediad]
Stripes, swirling spirals and giddying checks started appearing as motifs, only to break the barrier between social convention and conservative fashion of that era. Young rebels were then spotted in optic prints to shock some and make a strong fashion statement before others.
They say in fashion what goes stays around
This statement is quite apt for optical fashion. With digital prints dominating the fashion world, it was quite obvious that fashion designers would revamp this bygone style. Whom should we blame Marc Jacobs, Alexander McQueen or our very own Manish Arora?
While Marc Jacob started this trend by creating a line of striped garments for Louis Vuitton, other international designers such as Alexander McQueen, Versace, Christopher Kane and Etro also used this trend to relive the 60's fashion.
Back in India, fashion designers like Manish Arora and Krishna Mehta have launched an array of fabulous dresses with designs that look 3D.
How to pull it off
Optical prints give you the leverage to add some dramatic elements to your style. This fashion fad also enables you with a sense of living to your ensemble, thereby framing a leaner statement. The prints are so electrifying that you hardly require any accessories to enhance your look.
If exaggerated prints don't interest you and you don't want any kind of glaring eyes on the street then you can go for smaller prints in neutral shades.
For the confident fashionista, this trend will surely knock off the competition in the eye balls!!