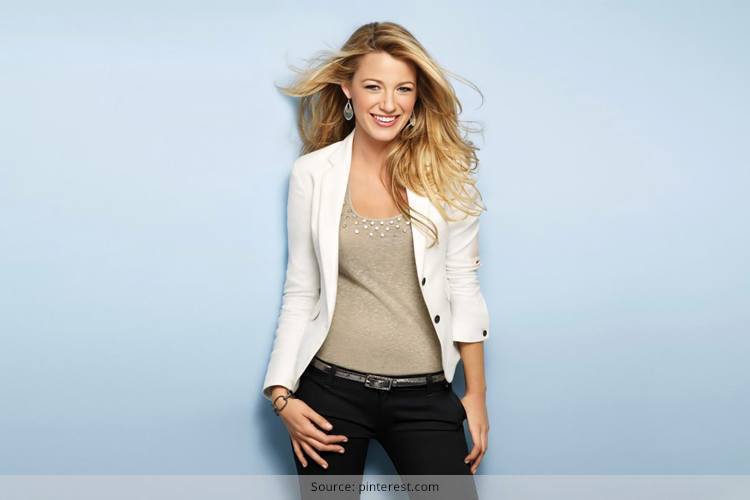 Season's staple and timelessly versatile piece – The White Blazer, is one those must-have wardrobe pieces that you can never go wrong with. While other colour comes and goes with changing season, the spotless white is an all time hit.
The crisp white blazer is effortlessly chic and can add major dose of sophistication to any outfit. Perfect for the chilly summer nights, windy autumn days, breezy springtime and of course the nippy early winter days, there is no easier way to changeover your wardrobe than this stylish outfit. Why? Because it is one of those classic and elegant pieces that can effortlessly be combined into several outfits from one season to another.
It can be a part of casual or formal dressing and can serve as a perfect choice for a date, a night out or even a vacation. Whatever the occasion, it is very much likely that styling the white blazer could make you look ultra glamorous.
FROM FORMAL DRESSING TO CASUAL DRESSING
White blazers are proved to be much more professional, thanks to its finish, warmth and structure. It can be easily layered with any basic formal dress or basic top.
[Also Read: Wearing the White Kurti in Different Ways]
But as already mentioned, you don't have to restrict white blazer just to work. You can pair it up with casual jeans, dress, shorts and even skirts. It is a staple piece that goes from formal to casual dressing.
White Blazer for a Casual Look
For a casual smart look, style your white blazer with jeans. You can choose skinny ripped jeans or a good pair of boyfriend jeans. Pair it up with simple top with floral or quirky prints for relaxed weekend or for Sunday brunch.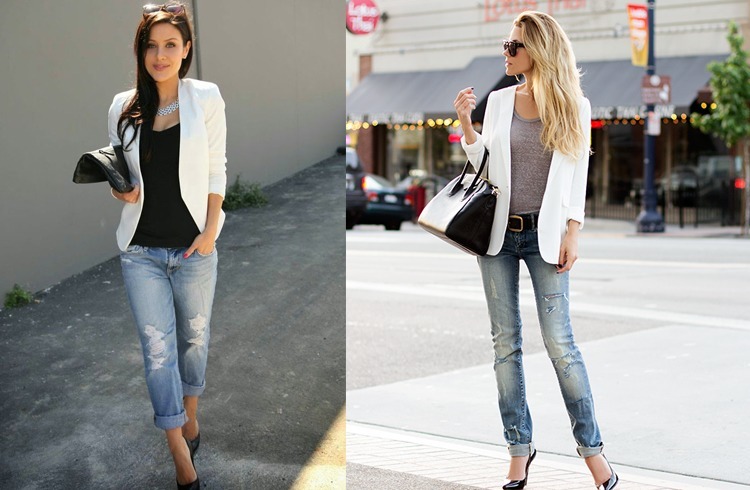 Styling the Structured White Blazer
A white structured blazer goes very well with shorts. To make it more interesting, choose from bright solid coloured shorts or the one with fun prints. For a bit feminine element, go for shorts with lace panels or scalloped hems.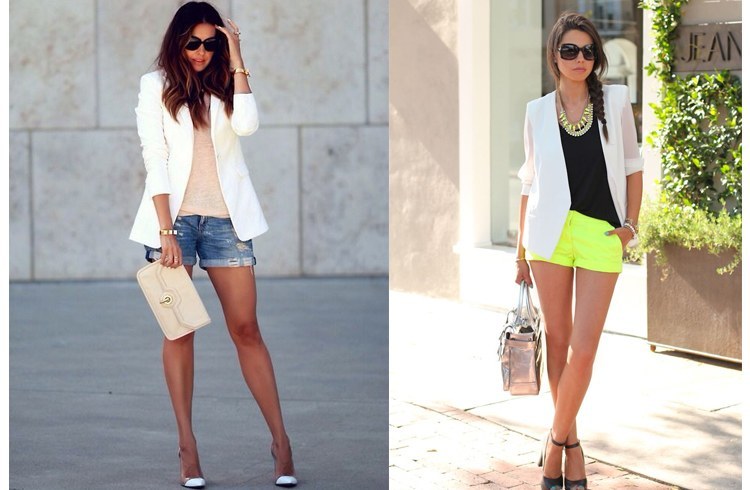 White Blazer with a Dress
Make your favorite dress look even more refined and ravishing by styling it with a fitted white blazer. This works for both daywear and night outs. Accessorize it right, to look like a fashion diva.
[sc:mediad]
COUNTLESS WAYS TO STYLE THEM
A white blazer can be amalgamated with any trend be it floral prints, stripes and chevron, bling fling or colour blocking. It goes very well with bold and bright colours as it can subdue the intense saturation hue. And as for pastel colours, you will love the refined combination of pastels with the angelic white blazer. Also, don't be afraid to embrace vibrant or vintage prints.
It can act as a layering piece, no matter what you are wearing. If you're looking for something to wear with your sleeveless dress to make it more formal or just as a coverage, head out with a white blazer and set many hearts aflutter. You can also pair it up with denim or Chambray for a fresh and smart casual look. Create a fun contemporary look by teaming ladylike outfits such as lace dress or ruffle top with a structured white blazer.
Here are few ways to style your white blazer –
A floral Crop top, white pants and a white blazer
Styling pastel colors with a White Blazer
For a day-time wear with a pretty skirt and a white lace top
White blazer as a Chic Work Wear
White Blazer for Layering
YES TO WHITE
If you think styling black blazer is very simple, then let me remind you black doesn't entice all colours. It's difficult to pair them with browns, navys or any dark colour. Whereas, a versatile white blazer can flatter almost every colour.
If you think pristine white doesn't compliment your skin colour, then you can go for other shades of white such as ecru or cream white.
PAIRING THE FOOTWEAR
White Blazers not only goes well with different outfits, but also with different footwear. For casual and relaxed look, you can pair it up with sneakers and espadrilles. Go trendy with brogues or chic wedges. To go for more polished look, balance it up with red pumps.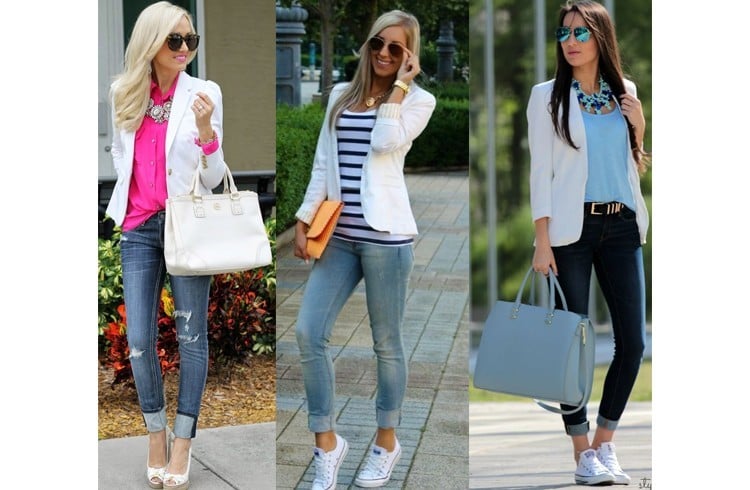 So, shun your black buys and make room for whites. You can choose to wear just a white blazer or could opt to go and wear all white from head to toe. Go on for a shopping expedition to find your perfect white blazer and do share your thoughts with us.