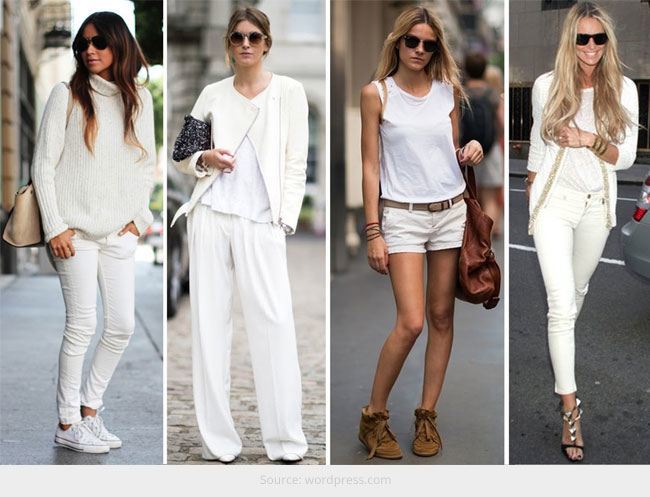 White is a classic colour and is one trend that never fades or goes out of fashion. While other colours swing with the latest trends, the humble white is a hit every season. But this summer, it's not about the colour- white, it is season of an all-white look. Does it seem a bit risky, dolling yourself in all-white from head to toe? Trust the trend; you can dress up brilliantly in the elegant and sophisticated all-white look. Here are some ways and tips on how to wear an all white outfit.
All-white outfit ideas for every occasion
The idea is to put together white on white to create an effortlessly elegant look that you could easily wear to work and would also be perfect all weekend long.
All white look for work
While there are several sexy ways to style your white button down shirt, going for an all white look can be a tad bit tricky. But the key to rock this trend at workplace is to keep it as simple as possible. A well- fitted outfit with structured blazers and pointy toe pumps is the best option. Add some sleek edgy neckpiece and earring to complete the look.
All white look for date
Do you doubt all-white trend for a date? If yes, let me tell you, this is the most preferred on a date. There are different ways to look chic and stylish in a little white dress. The color basically, highlights your natural beauty. Remember to show just the right amount of skin to look sexy yet stay a bit mysterious and refined. If you're uncomfortable going all-in with the white, adding pops of colour like the blue shoes, bright red lip colour, trim down the intensity of the look while still keeping it fun. It adds appealing element to the look.
All white look for weekends
A simple swing or bodycon white dress is perfect for a hot summer weekend – brunching, touring, or lounging at the park. Keep it casual and comfortable with a pair of white sneakers, and colourful sunglasses to complete the look. You can also pair it up with stylish metallic belts and carry this look to late afternoon shopping or movies.
[sc:mediad]
Tips for wearing all white
There are no restrictions with this trend. It's for every woman of any age who's confident enough to carry it well and knows that she can make it look incredible. Opt for styles that you know go well with your body shape.
1. Confidence
The primary tip for wearing an all white outfit is to have confidence. Neglect all the stupid rules about when and where you should wear white. Just enjoy the all-white look and don't be afraid to experiment with it.
2. Match the shades of white
White jeans are our absolute favourite go-to when it comes to any occasion.But the one question that pops in our minds is what to wear with white jeans? There are so many incredible shades of white like vanilla white, ivory, snow white and many more tones, but they don't always complement each other. Whenever you're trying a unicolour an ensemble, keep the tones in mind. You can mix shades but let your eye be the unbiased judge. Before walking out, examine your outfit in various lighting.
3. Accessorize
Accessories can change the look of the outfit. Allow your all white outfit to be the backdrop and craft a fresh trendy look with accessories. Pair up an elegant and eye-catchy choker or rope neckpiece to add some color to the garment. But remember, you should be the focal point in this all-white look.
4. Do your hair and makeup
As stated above, this trend puts the entire focus on you. Go stylish with red or pink lips, whichever suits your complexion and add oomph factor to your look. For the eyes, go sleek with metallic eyeliner or coloured- winged cat-eyes. Keep your makeup matte and natural just to highlight your real beauty.
5. Play with Textures
When you can't play much with colours, try to mix and match textures. Pair a white jeans with a sheer white tank top or with some chunky knit kimono. Let textures of fabrics be the eye catchy element in the look. The assortment of fabrics adds style while keeping the trend edgy. Just make sure your outfits are well ironed, as wrinkles are super obvious on white.
6. Back to Basics
A white pencil dress paired with structured textured blazer is easiest combo to wear for your hasty mornings. It looks just as fresh and chic as any complex mixed-print outfit. Wear it with simple black sandals, or you could also try pumps, flats, brogues or even your much-loved sneakers.
7. Add an accent or neutral colour
Make this uni-colour look a little more exciting by the addition of a contrast hue. Add a bright coloured heel or bag to white separates, and the result is the perfect blend of chic and minimalism. White goes with just about anything, so feel free to try different colours in unique manners. If not an accent colour, you could also try pairing it up with some neutral colour. A nude or silver pump acts as a neutral tone and preserves the look of the trend.