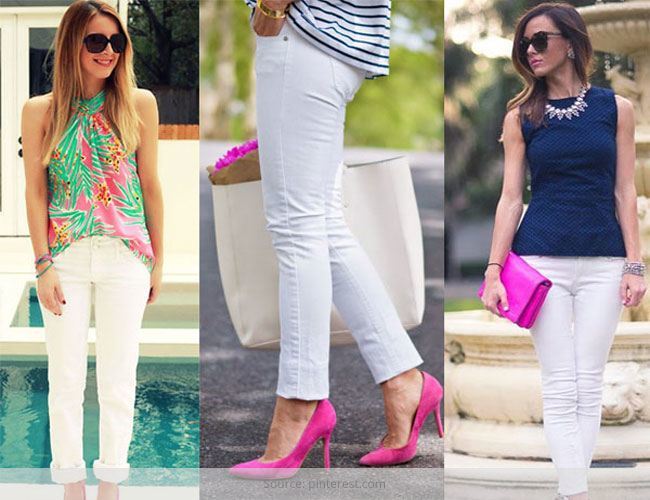 Jeans are our absolute favourite go-to when it comes to any occasion per say. But our jeans have also evolved from the indigo blue to the different washes to colored and to white. Wearing anything with our denims has become a way we save our day when we don't want to think too much about what to wear. But carefully pairing your denims with tops can make you look even more fashionable and slim (because I know I like that).
White jeans particularly are not an everyday option because of obvious reasons. But some of us have those white jeans that we are extremely fond of but pairing those pair becomes a tricky task. So, I suggest you wear them with that confidence, the smirk, and the right lips and well, the rest are for you to read ahead:
1. Denim Shirt
Denim on denim is one ever lasting trend, but when you pair your blue denim shirts or jackets with those white pair of jeans, the look is very stylish. Just wear your cotton denim shirt with white jeans and some nude or neutral shades accessories. A nice belt or a necklace will bring out some colour to your outfit and make the entire look nice.
2. Blazer
Wear bold or any colored blazer with neutral top and white denim to steal the show!
3. Sweater
Wear it this winters with cardigans and sweaters that go with your mood. A nice cropped sweater, a loose cardigan or an open shrug, all look great with the white jeans.
4. White on White
A little risky it might be but it's definitely worth it, wear white on white and look dangerously fashionable. It's a tough style to carry on but of done right, you could be the most stylish. Don't go out and out with white, instead accessorise with colours or nudes to look coordinated and well dressed.
5. Colour Blast
From all white to the pop of colours. Contrast works best and hence picking a nice bright shade to wear with those white jeans are a perfectly beautiful option. Go for your favourite's shades, the one that make you look pretty and for those that rule the fashion charts. Experiment with those shades cause white will compliment all well.
[Also Read: Alternatives To Jeans]
6. Grunge Look
For all those who like to go a different style path, try the grunge look where you pair your whites with something rages or something in leather. For a better look, you can tear and give your jeans the right grunge look that's haggered. A cool belt or a hat will complete your look the way it should.
[sc:mediad]
7. Pastel or Neutral colours
Not all of us are a fan of the bright hues, some like the pastels, the understated muted colours. And again, white jeans will bring out the colour better than those blue ones. Wear a pastel pink or a dull green, the white will set in the right look for the colour you choose.
[Also Read: How To Look Slim In Jeans]
8. Printed Tops
The trend demands fashion to change and with that you ll have numerous prints coming in every time. So wear those prints, floral or animal with white. Look at the images below and be sure that it ll look nothing but perfect. A well fitted pair of white jeans is all you need.
9. Scarves
Printed, colored, checks or absolutely anything on a scarf will up your game very conveniently and easily. So, have a scarf handy in case you feel your look is a little drab and too simple. It is an instant pep up for your outfit and will look very pleasing and nice.
10. Monochrome
Blacks and whites are two sides of the same trend- monochrome. So, black on white jeans is a good option if monochrome is your thing. Since, the contrast in very high, you have to be careful about the accessories you wear along with.
[Also Read: How To Wear Crop Tops]
11. Shirts
Loose fitted or slim-fit shirts on a snuggle fit jeans look very trendy and cool. So, with white jeans, wear the shirts tucked in or out and look fabulous.
With all these simple and easy ways to wear white, I'm sure you ll pick up those white jeans you've always wanted to own. With those, make sure you pick a nice pair of strappy sandals, a brown belt and voila, you are good to wear them.