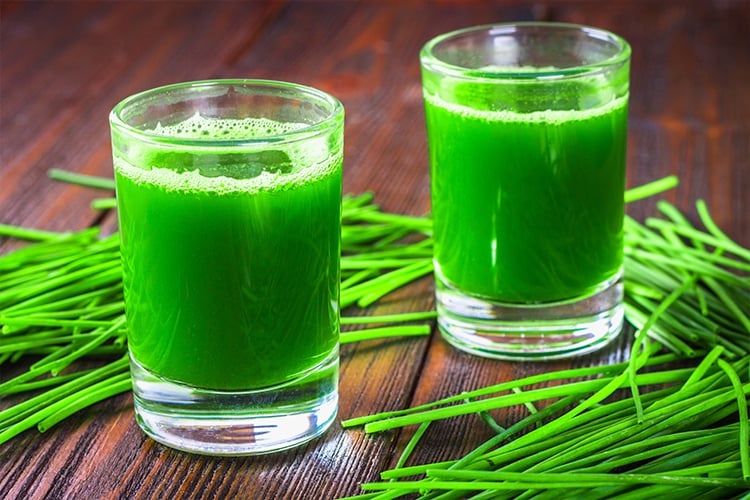 As you will get thousands of options in natural supplements for your skin and hair, you may get confused in which one to choose that best suits your requirement. If I give you a name that takes care of your overall health then you won't believe me, isn't it? This is the reason I have come up with an elaborate post on wheatgrass – all in one natural beauty supplement that can convince you to add it to your diet every morning.
Do have a read to know about the wheatgrass benefits for skin and hair!
What is Wheatgrass?
Wheatgrass, whose scientific name is Triticum aestivum, may be probably new to most of us. But because of its numerous health benefits, health conscious people swear by it, especially the models. As the name suggests, the wheatgrass belongs to wheat plant. It's the young grass that is harvested usually in the US and temperate regions of Europe.
How to make Wheatgrass Juice?
To make the wheatgrass juice at home, you will require the following ingredients:
Wheatgrass – Sufficient quantity to make half cup
Blender
2-3 cups of water
1 Strainer
1 Cheesecloth
1 Tsp. fresh Lemon Juice (optional)
Method to make wheatgrass juice at home:
Take a handful of wheatgrass blades. If you are growing them at home, make sure you cut them using a clean blade / scissors / knife, ½ inch away from the ground level. These leaves are also available in supermarkets, if you are unable to grow and maintain them at home.
Wash them under cold running water to get rid of any insects, pests and dirt. Chop them into rough ½ inch pieces and put them into the blender. Add some water and run the blender on high speed. Keep adding water to make sure you get a smooth juice and all the leaves are nicely pureed.
Once you see a thick enough puree, get ready to strain the juice. Place the cheesecloth over the strainer and hold it firmly. Place a glass below the strainer to collect the juice. Once this is ready, start pouring the puree from the blender into the strainer. Use a plastic spatula to gently press the puree.
What is collected in the glass underneath is now ready to consume. Add the lemon juice for flavor if you wish to make it a little tangy. Avoid storing the juice for longer hours. Wheatgrass juice is best when consumed immediately.
Benefits of Wheatgrass Juice
Before we get into the benefits of wheatgrass in detail, let's find out the nutrients present in wheatgrass. Here is a table of nutrients present in wheatgrass –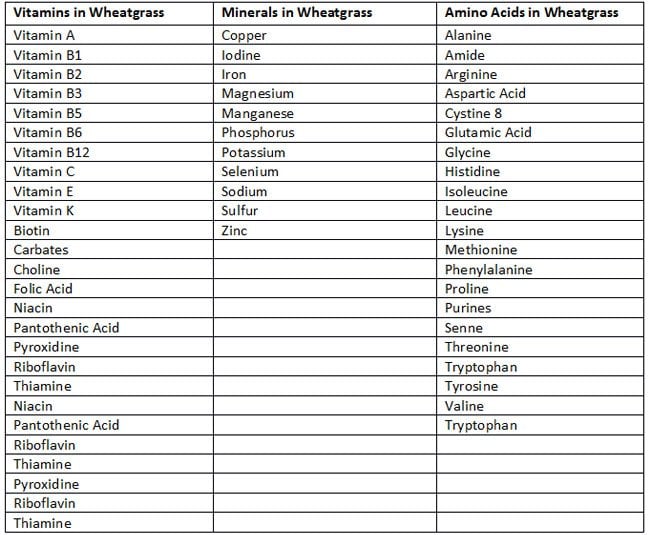 Here are the top health benefits offered by wheatgrass –
[sc:mediad]
It purifies blood and removes toxins
It fights with ace and other beauty ailments
It improves the skin texture
It strengthens collagen tissue
It provides strong gums
It helps in memory improvement
Histamine present in wheatgrass treats allergies
It promotes arteries and reduces fatty deposits
It prevents varicose veins
It helps in treatment of Arthritis and Rheumatism
It reduces fatigue
It promotes fertility
It fights anti-ageing
It promotes reproductive system
It boosts the immune system
It reduces development of free radical oxidation
It clears the skin by detoxifying the liver and blood
It increases energy levels
It balances blood sugar levels
It treats bad breath
It stimulates the thyroid gland
It fights indigestion
It combats anemia
It balances blood PH level
It maintains blood pressure level
It promotes metabolism
It strengthens the heart muscle
Here are some beauty benefits offered by wheatgrass –
It functions as a rejuvenating machine, rendering you with an outward glow
It is capable of cutting off a few years from your looks, thereby making you look younger and refreshed
It recharges dying cells and also slows down graying of hair, thereby giving an youthful effect
It prevents dandruff and is an excellent source for scalp treatment
It is excellent for treating
Sunburns
Minor cuts
Scrapes
Burns
Rashes
Athlete's foot
Boils
Insect bites
Breakouts
Apart from consuming wheatgrass juice, you can also apply a paste of wheatgrass powder with milk on your skin to get best results.
So those were the top beauty and health benefits of wheatgrass. Hope this helps!