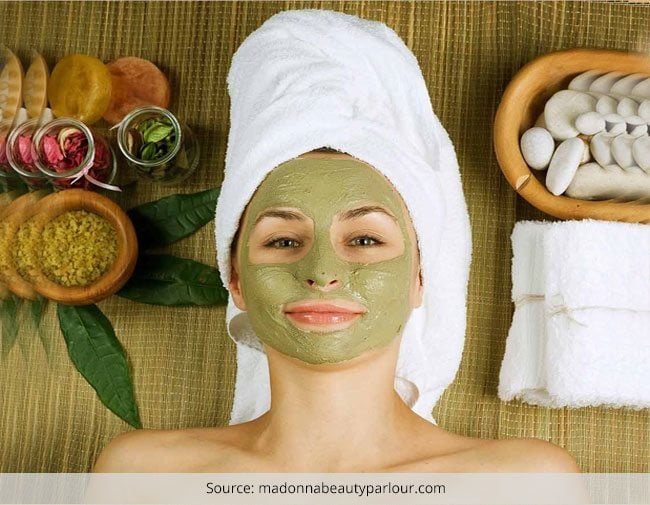 You may try hard to turn a blind eye towards those small creases starting to develop around your eyes, but it's time that you should really start paying attention. However hard it may be to believe, but wrinkling of the skin begins by your late twenties. I know it sounds very early, but the stress your skin undergoes daily is the leading cause for it to start ageing soon. It is something that will inevitably happen, but it's better to start treating it right from the beginning.
People spend thousands of bucks in search of the right anti-ageing treatments. So instead of burning a hole in your pocket, there are plenty of easy home remedies which work brilliantly. Try a few of these homemade packs to reduce those fine lines and get beautiful, youthful skin.
1. The Multani Mitti and Egg Pack.
Ingredients:
Multani Mitti (Fuller's Earth)
2 teaspoons of egg white
1 teaspoon rose water
2-3 drop of olive oil
Take the egg whites in a bowl and beat it well. Add the rose water and the multani mitti and mix it in the bowl of beaten egg whites. Add a few drops of olive oil in the end. This will keep the pack from drying out the skin and will leave it moisturized. Apply the paste on the face avoiding the eye and lip areas. Let it sit till it reaches a semi dry state, and then wash it off. Once you have dried your face, apply a light moisturizer. Apply this pack weekly for about one to two months, and you will begin to notice the difference. Fuller's Earth contains natural minerals, which help in deep cleansing the skin and keeping wrinkles away. Egg white helps in tightening of the skin by minimizing the appearance of pores. If you apply the pack regularly, it will reduce the existing wrinkles as well as prevent the appearance of new ones!
2. Yogurt Packs
Ingredients:
2-3 spoonfuls of yogurt
Teaspoon of honey
1 teaspoon of lemon juice
Vitamin E capsules
Mix the honey and lemon juice with the yogurt in a bowl. Take one capsule of vitamin E and cut it slightly at the top. This should create a small opening for the liquid inside to flow out. Add the entire liquid of one capsule to the mixture. Apply the mixture to the face and leave it off for 15 minutes. Rinse it off with lukewarm water and apply moisturizer after drying skin. Yogurt contains Vitamin A, which is vital ingredient for anti-ageing treatments. The Vitamin E is also added to this pack, as it is an antioxidant and helps protect and repair the skin. Apply this pack regularly to see visible results.
[sc:mediad]
3. Potato Pack
This is one of the best and easiest face masks to treat wrinkles and signs of ageing. All it needs is one single ingredient – potatoes.
Grate a raw potato and squeeze out the juice. You can use a cotton handkerchief to help squeeze out the precious liquid. Dip a cotton ball in the juice and apply it all over the face. Potato juice is very rich in phosphorus, iron, calcium, fibers, potassium, proteins and Vitamins A, B and C, which makes it a very healthy skin tonic. Mixing it with a little bit of olive oil and applying under your eyes can also help in controlling dark circles, wrinkles and those dreaded crow's feet.
4. The Papaya Pack
Papaya is a delicious fruit to eat and an amazing food for your skin as well. It is rich in antioxidants and contains an enzyme called Papain, which removes dead cells and impurities. It also gives the skin more elasticity by encouraging generation of new cells in the skin.
Chop up a few pieces of papaya and mix with some lukewarm water (alternatively mix it with rose water). Add just enough to form a paste. Apply it all over the face and wash it off after 10-15 minutes.
5. Pomegranate and Green Tea Pack
Ingredients:
Pomegranate seeds
1 teaspoon honey
Green tea bags
1 tablespoon yogurt
1 teaspoon lemon juice
Seep the green tea in warm water and add the lemon juice. Make a paste of the pomegranate seeds, yogurt and honey. Add the green tea to the mixture. Apply this to the face and neck and wash off with warm water after 20 minutes. Make a fresh batch each time you apply the pack, and use it about once or twice a week. Besides helping with anti-ageing this face pack also acts as a natural peeling pack for exfoliation of the skin. In terms of its benefits, pomegranate is a powerful anti-oxidant and contains vitamin A, C, and E. Honey and green tea are also widely known for their anti-ageing properties.
Do let us know the results after you are done applying any of the face packs!