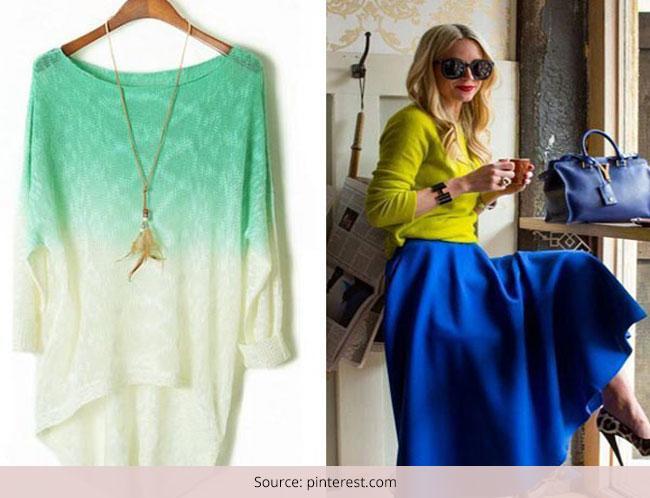 We love the fall winter for its cosy mornings, hot coffees, and the slight drizzle and of course the sweaters. Sweaters were a basic clothing requirement to cover your body and keep it warm. But fashion doesn't see it so, for us it's the colours, the prints, and the different ways to wear that same sweater.
Read away for the easy ways to work around your sweaters in the chill.
1. Classic Sweater with Denims
The evergreen combination of a sweater with a well fitted pair of jeans never goes out of fashion. Wear them with just a pair of jeans and go minimal or your style, or pair them with a scarf and knee-high boots. The quickest way we get ready with a sweater is by just putting on our favourite pair of denims and throwing a cardigan that we comfortable in and Tada, we are dressed.
2. Sweater with Maxi skirt
Whoever thought of this combo is not less than a fashion genius, maxi skirts with a sweater, brilliant. Wear it high waisted like Jessica Alba, with stilettos and hair ties back or in a more casual way with the sweater just falling like it should. Multiple ways to pull off this trend, wear it contrasting colours, neutrals, or with whatever comes to mind.
3. With a belt
A nice loose cardigan with a belt cinching your waist, giving your body a definition and your look a twist. Wear this over a dress and a long sweater or with pants. This style gives you the body shape that is usually lost over your winter clothes. A nice sleek brown belt or a black, nothing too flashy because it might blow your look, is perfect to get this look.
4. Over a crisp printed shirt
For the office goers, a sweater usually kills the formal look. Here we have a nice shirt collar underneath the sweater neck looking fabulous and formal at the same time. Who said you have to compromise on style in winter and in the office. Wear your creams, beiges, blacks and browns over any colored or printed shirts and you will get the desired look.
5. Bright and Beautiful
Usually winter is said to be the season for neutrals and tones alike. Well, I beg to differ, no season should be let go without some blasts of colour. Wear you trousers, colored or neutral with a popping colour sweater and accessorise accordingly to not look like a Christmas tree. Balance your colours with black or brown accessories and you are good to go.
6. Denim Twist
Why let this trend hide in the winters, denim on denim is a trend that we have just begun to adore. Wear a contrasting colour or print sweater over it to get the ultra chic and stylish look you desired. There is so much you can do when you have the stylist in you.
7. Stylish and New
The fashionistas are out and so are their incredible tastes. Check out these stylish women, the first in an off shoulder dress that is paired with a sweater worn inside, don't miss the fabulous shoes. The second is an asymmetrical dress that she has worn with a similar colour cardigan with folder sleeves and boots. Go all out like these divas with your winter style quotient.
8. With an Accessory
Accessories are key to making any piece of clothing better than it already looks. So wear a statement piece of jewellery around your neck on your plain loose sweaters and look terrific. Choose a neutral shade of cardigan and a bright stone neckpiece to look stylish and yet be comfortable in this season of cold.
9. With leggings
These leather leggings are a little tough to find, hence wear your sweaters with the leggings that you get otherwise. I love the way this sweater is paired so effortlessly with the shiny leggings and the canvas shoes. If you don't want to be all experimental, and then wear it with ballerinas and your look will be as fantastic as the one in the picture.
10. Quirky prints
Prints are key to any season, and why winter left be behind. You will find sweaters in the quirkiest of prints and designs, with animals, lips, hearts, Aztec and what not. You just have to pair these with jeans, trousers, leggings or just a short shirt and I dare you to not look absolutely fetching. It's a trend that has caught on from summer to winter and to summer again. Don't let your print side give up.
11. Celebrity Style
Celebrities' love their knits like we do and are seen flaunting theirs with uber stylishness. Charlize Theron in her turtle neck, black sweater paired with a camel colour handbag is complete in itself. On the other hand, Blake Lively in just a sweater with a low neck line and a boost to go with looks stylish even when she is not trying.
For those who love the winters already, there is so much more to do and for those who aren't so fond it, well, this is time you get to develop your liking. Cause there is nothing better than chilly nights and the sunny morning, the cosy beds and the morning coffee. Go find your style and experiment with your knits like we just did.