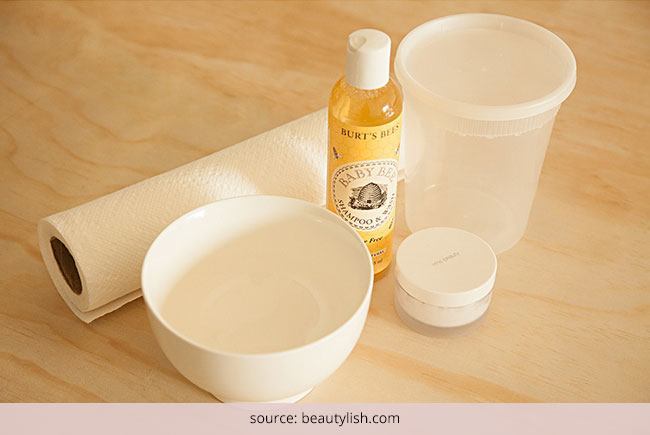 Washing your face every day is a must-must beauty routine in order to obtain a breakout-free, clear skin. And then this beauty process isn't confined to once in a day, but one should wash face every time it becomes dirty. Since it is not possible to use face wash everywhere especially when makeup gets smudged, your own makeup remover wipes can become your ultimate savior.
[Also Read: Makeup Remover Pads]
So here is an ultimately useful post for you that help you to make your own DIY makeup remover wipes.
Sometimes out of laziness and lack of accessibility, you just drop the idea of wiping off your dirt-clad oily face which then eventually offers you pimples and break outs the next day. Therefore, for the sake of glowing visage clogged pores and smooth texture, it's every girl/woman's duty to religiously practice the general cleanliness. For all those lazy beauties wipes were invented. But then these commercially available makeup remover wipes are laden with chemicals, drying ingredients and even alcohol contents and not to mention they do with come with a hefty price tag.
For all those who are not only particular about their safe proof skincare regime but also about their budget, this DIY makeup remover wipe can be their ultimate option.
Cleansing face with oil is one of the best kept beauty secrets as it helps in warding off grease from the skin whilst moisturizing the surface. Since we usually use cotton balls to apply oil or any other cleansing agent on our face so why not create our own DIY pre-soaked pads/wipes that are ready to go?
[Also Read: Diy Makeup Setting Spray]
Another great advantage of this DIY beauty treatment is that you can customize your cleansing solution that's fit for your skin type. For instance, if you already have oily skin then you should not use oil as cleansing agent and if you've dry skin then you should always go for alcohol-free solutions.
How to make your own DIY makeup remover wipes?
Makeup removal wipes are extremely convenient especially when you're on the move. Even they are pretty useful when you return home at the end of the day and you feel exhausted with the thought of removing makeup before going to bed.
For this you'll need –
Roll of paper towel
Microwave bowel
Sealable storage container
Oil (olive or jojoba)
Facial cleanser
Tear-free baby wash
Utility knife
Purified water
[Also Read: Simple Cleansing Wipes]
DIY makeup remover wipes steps:
Take a microwave bowel and add two cups of purified water
Now add 2 tablespoons of coconut oil and 2 squirts of facial cleanser/baby wash
Warm this cleansing mixture in microwave for few seconds and stir
Now cut the paper towel into half with the utility knife
Place one half of the roll in the storage container and pour the mixture over it
Now allow the paper towel to soak for 5 minutes and then remove the cardboard present inside the roll
Now on the lid of the container cut a small 'X' with the knife
You can use this hole to pull the wipes through
You can use one corner end of the roll to pull off
So that was an easy and convenient DIY makeup remover wipe trick! Hope this helps!