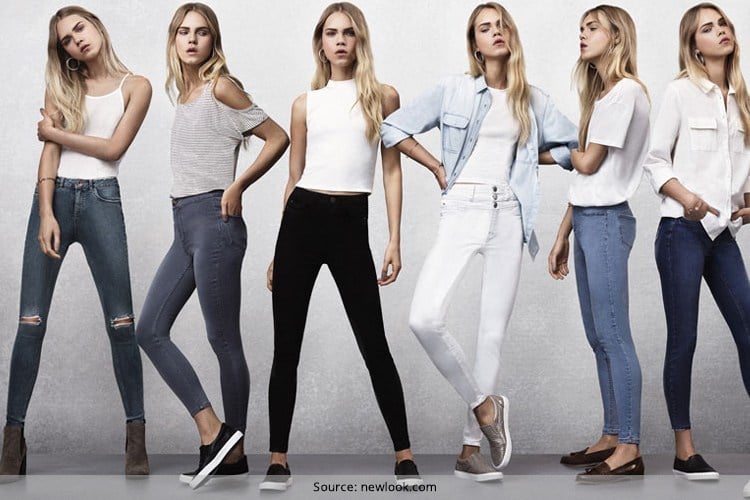 Jeans is one wardrobe staple that you simply cannot do without. Any kind of wardrobe ensemble dilemma — jeans is the rescue solution! However, it can also make you look fat and can be highly unforgiving to your bulging thighs or well-endowed rear! We are here to help you flaunt your best assets! So let's get updated on how to look slim in jeans.
How To Look Good In Jeans
Well the good news is that with just a few tips in mind, you can actually camouflage your trouble spots. Here's how to look good in jeans.
1. Dark Wash Is Your Best Friend
If you sport a heavy thigh or a well-endowed derriere, solid dark color jeans with minimal or no whiskers are your ultimate choice! There is no harm in keeping a little tear here and there but avoid any distressed variety or those with various kind of faded, washed bleached or jeans with other color treatments. They would only tend to highlight the flab that you want covered! Dark solid colors tend to give you a lengthy and sharp silhouette which makes for an easy way to look thinner in jeans. Black, blue, dark brown should be your all-time favorites!
2. Give A Nod To A Higher Rise
Courtesy of old-school ugly versions of jeans, high waist jeans are normally looked down upon. However, they are a powerful tool in your quest of how to look skinny in jeans. A well-fitted high rise jean adds height to your lower body holds the tummy well and smoothens the hip line. End result is a leaner silhouette. Terrific news for you is that it is making a comeback this season, giving you a chance to stock it well. While shopping for it, remember to select one whose waistband hits directly above your belly button and sports the classic one-button and zipper closure. Avoid jeans higher than it as they definitely fall into the awful mom jeans niche. Make full use of the trial room and try out various styles to nail the one that looks best on you.
3. Length Does Require Attention
The length has quite an impact on how to look slim in jeans. Ideally your jeans should have atleast an inch or two of length below your ankles and flow into your shoes. To be on the safe side, you can always carry your shoes or wear them while going for jeans shopping to get the perfect piece. Ensure that your jeans have enough length when worn over heels. You can always roll it up stylishly when pairing it with flats.
4. Opt For Perfect Fit
Often people fall for going for one size smaller jeans in the hope of looking slim. However, it only tends to highlight your problem areas and actually make you look fat. Extra loose jeans can add unnecessary extra volume making you look larger. They should nicely hug every area of your lower body without squeezing them too tightly and should allow easy movement. The waistband should have a gentle fit without cutting into the waist which would only ooze that devastating muffin effect! Since the sizing differs between brands; it's best to always try out the jeans before actually buying them. A smart move is to opt for those jeans whose fabric has atleast one to four percent spandex count. They not only accommodate your fluctuating weight but also lend a more body-hugging silhouette with greater flexibility and movement. With spandex woven fabric, you always nail how to look good in jeans.
5. Jeans Style Is Extremely Important
Shopping for jeans becomes a much faster and easier chore once you know exactly what to look for and you should not even bother with! The type of jeans that flatters an hourglass figure is different then what flatters a pear shaped body! If you are on the heavier side, opting for bootcut jeans, skinny jeans, wide leg jeans, straight leg or the flare jeans would be some of the best options.
[sc:mediad]
6. Chunky Shoes Are An Added Advantage
A right pair of shoes is pivotal in lending you a longer and slimmer silhouette. Wedges or platform-style heels not only provides balance to the entire line of the leg but also balances the width at the top but gives off a more polished and glamorous ooze.
7. Layer Up
Light colored, slightly loose tops with layering like coat, jackets etc. which covers your rear camouflages the bulky thighs and lends an overall balanced and lengthy silhouette which makes you look slimmer. The reason for light colored tops is that the light hue draws the attention away from the problem area and creates a wider illusion at top which balances the look and thus hides the extra flab.
How to look slim in jeans is an art and a trick which if perfected can go a long way for any woman to look and feel beautiful and sexy at all times! Finally, let us know how well these tips worked for you!