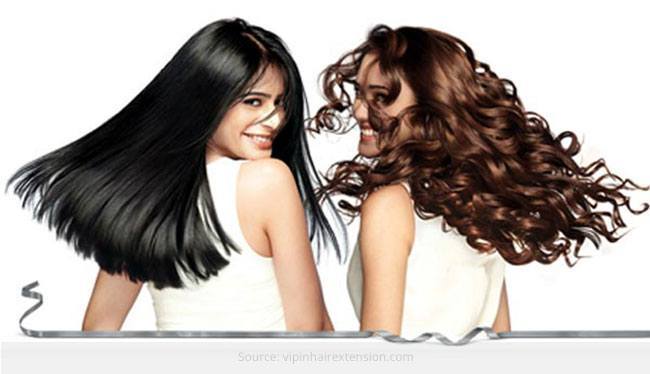 Nowadays, having problem-free hair is like a dream come true to most of us. The credit goes to environmental pollution, extreme mental stress, deficiency of proper nutrients, lack of a good hair care routine, and so on. So, there is no other solution than frequent salon visits, right?
[Also Read: Natural Hair Products]
Wrong!
Why should you waste your time and money by visiting salons when you can treat your hair just the right way with some amazing natural ingredients? Do check out the following list and you will have some great ideas:
1. Coconut Oil for Long And Strong Hair
This is an age-old natural remedy for the overall treatment of hair and making it long and lustrous. Pure coconut oil can feed our hair strands, thereby strengthening them and facilitating their growth rapidly.
Take pure coconut oil depending upon the length of your hair.
Massage it into your scalp by pressing with your fingertips gently.
Also, massage your hair with it from the roots to the tips.
Leave it overnight.
Next morning, wash off with a mild shampoo.
There are numerous coconut oil benefits for glowing skin as well.
2. Egg for Healthy, Beautiful Hair
Gorgeous hair means healthy hair, which needs proper nourishment from both inside and outside. An egg mask is just perfect for this purpose as it has plenty of proteins and healthy fats necessary for our tresses.
(a) To Reduce Dryness:
Take 2 egg yolks and beat them well.
Apply it all over your unwashed and slightly damp hair.
Let it sit for around 20 minutes.
Wash off with cold water and a mild shampoo.
[Also Read: Brittle Hair Treatments]
(b) To Reduce Oiliness:
Take the white section of 2 eggs and beat them nicely.
Follow the previous procedure for application and washing.
3. Amla for Strong, Black Hair
We are well aware of several benefits of amla for skin, hair and health. Amla or Indian Gooseberry is one of the most effective natural remedies for reducing hair fall. It can also prevent the premature aging of our hair and restore its natural black color.
Take 6 to 7 amla and cut them into several small pieces.
Sun-dry them completely.
Add the dried amla pieces to a pot filled with water and bring it to a boil.
Drain the amla pieces and store the concoction in a bottle.
Massage your scalp and hair with it every day.
Rinse with plain water.
[Also Read: Amla For Hair Care]
4. Baking Soda for Clean Scalp and Hair
Whether hair care and styling products are leaving residues on your scalp or your locks are getting weighed down due to the accumulation of dirt and grime, a simple baking soda rinse can be the right solution for you.
[sc:mediad]
Pour 1 tablespoon of baking soda into (1/2) cup of water.
Mix well.
Apply the mixture thoroughly from the roots to the ends of your hair strands.
Massage gently with your fingertips.
Let it sit for 15 minutes.
Rinse with fresh cold water.
[Also Read: Baking Soda as Beauty Product]
5. Honey for Soft and Smooth Hair
If your hair has already lost its softness and smoothness, opt for this simple honey treatment. The natural moisture balance of your tresses will be fixed and you will love to touch them again and again!
Start with washing your hair with a mild shampoo.
Squeeze out the excess water carefully.
Apply 2 to 3 tablespoons of pure honey all through your hair focusing on the ends.
Leave it for 10 minutes.
Wash off with plain water.
6. Avocado for Dry, Frizzy Hair
Like our skin, avocado is considered as a superfood for our hair too as it is loaded with vital nutrients. It is known to have just perfect ratio of protein to fatty acid, which can keep frizziness at bay. There are different ways to use avocado for hair care. The miraculous fruit is one is one of the best natural hair conditioners as well.
Take (1/2) portion of a large ripe avocado.
Mash it properly to turn it into smooth pulp.
Apply it all over your clean and dry hair.
Let it sit for 15 to 20 minutes.
Rinse away with plain water.
7. Ginger and Lemon for Dandruff-Free Hair
Lemon juice is highly efficient in treating dry flaky scalp, while ginger prevents it from developing any sort of infection. As a result, you get rid of pesky dandruff issue successfully.
Take a fresh ginger root of 2" and grate it finely to yield at least 1 tablespoon of juice.
Squeeze out the juice of a lemon.
Combine them well.
Apply to your scalp with your fingertips or with the help of a cotton ball.
Allow it to dry.
Rinse with a gentle shampoo.
8. Olive Oil and Lemon for Itchy Scalp
A flaky, itchy scalp can result from allergies, infections, dandruff, excessive mental stress, etc. This rich blend of olive oil and lemon juice can both exfoliate as well as hydrate dry scalp and also soothe itchiness efficiently. Olive oil is also considered as a natural treatment for hair loss.
[Also Read: Dandruff Treatment At Home]
Squeeze out 2 tablespoons of fresh lemon juice.
Pour it into 2 tablespoons of olive oil.
Add a little water to it.
Combine well.
Massage your scalp gently with this mixture by using your fingertips.
Wait for 20 minutes.
Wash off with lukewarm water.
So these are some of the natural hair treatments, using natural hair products. Still want to pay a Salon visit? Just forget it. You can treat your own hair in your own natural way and that too from the comfort of your home!
Welcome gorgeous hair!