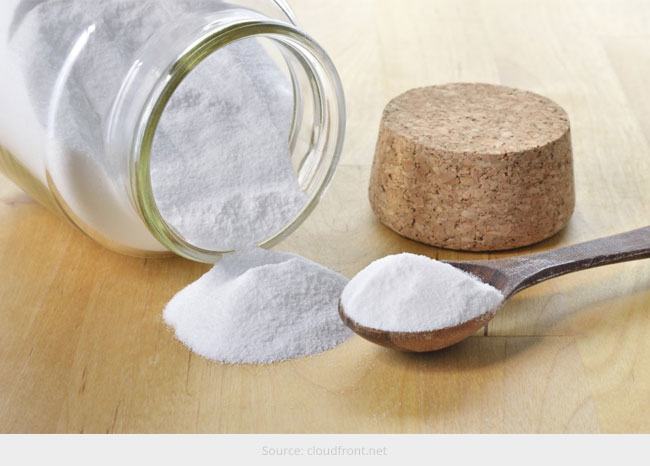 There are many things in life that are multi-tasking, without us ever realising it. One such product is Baking soda. Chemically known as Sodium Bicarbonate, baking soda is an amazing home product that deodorizes and brightens surfaces. It's a simple, cheap, nontoxic product that is now getting acknowledgement for its beauty benefits too. Here are some ways you can use baking soda as a beauty product – on your teeth, for your skin, and for your general health.
For Health
Instead of spraying chemicals found in deodorant on your body, use baking soda instead. Put the powder on a puff and apply to underarms. This will help kill body odour. This can be one of the solutions to the embarrassing skin woes.
Insect bites and itchy, dry skin are painful and bothersome. Make a paste out of baking soda and water and apply directly to the bite or sting. You can apply sodium bicarbonate directly to itchy, dry skin right after the shower too to get instant relief.
Upset tummy can put us into a problem. Sodium bicarbonate has wonderful antacid properties that will help you relieve heartburn, sour stomach and indigestion. Just add ½ teaspoon of baking soda to ½ glass of water every 2 hours. Dissolve completely in water and drink up.
Sanitising your stuff gets new dimensions. Sodium bicarbonate is a great antiseptic, and it's safe and easy to use on items of personal care. Mix 4 oz of water with 2 tbsp of white vinegar and 2 tsp of sodium bicarbonate to create an amazing solution that cleans toothbrushes and combs and hairbrushes.
For use on both sunburns and other burns, you can mix 4 tbsp of sodium bicarbonate into 1 quart water, and soak a washcloth with the mixture to create a cold compress. Use this to remove sunburn at home.
For a relaxed bath, add 1/2 cup of baking soda to your bath. This will help neutralize acids on the skin and clear out sweat, dirt, and oil.
Want a quick mouth refresher? Put one teaspoon of sodium bicarbonate into half a glass of water. Use it like a mouthwash to neutralize coffee and garlic odours. Even dentures can be disinfected from food particles, odours and germs by dissolving 2 teaspoons of baking soda in a glass.
Toothache is bothering? Mix some sodium bicarbonate with half a cup of water, swish around your mouth and you will find soreness gone with the wind!
For Hands & Feet
Harsh soaps can irritate the skin on your hands, leading to cracking, peeling and itching. Gently wash hands with a paste of 3 parts baking soda to 1 part water to get super-soft hands.
Give up the parlour for manicures and pedicures. Make a paste of 3 parts sodium bicarbonate to 1 part water. Rub the mixture in a circular motion over hands, fingers and cuticles to exfoliate and smooth. For feet, dissolve 3 tbsp of baking soda in a tub of warm water and soak feet.
[sc:mediad]
For Hair
Sprinkle about a quarter-sized amount of sodium bicarbonate into your palm along with your shampoo and wash your hair. The solution clears the scalp and leaves hair lighter and fuller.
[Also Read: Baking Soda Scrub]
For At-Home Facials
Exfoliate your skin the natural way in the comfort of your home. Mix 3 parts sodium bicarbonate with 1 part water. Rub in a circular motion to remove dead, dull skin cells. Thoroughly rinse the skin and follow it up by moisturizing.
Make an acne-fighting mask by mixing equal amounts of sodium bicarbonate with honey and apply as a spot treatment. Leave on for 15 minutes and then rinse.
To brighten your complexion, mix baking soda with 1 tbsp of lemon juice and a few drops of olive oil. After cleansing skin, apply all over the face, avoiding the eyes, and leave on for 10 minutes and rinse. The mixture will brighten, soften and hydrate.
From personal care to complete tonic for skin and hair, Baking soda is a kitchen aid that does amazing benefits for your overall being.