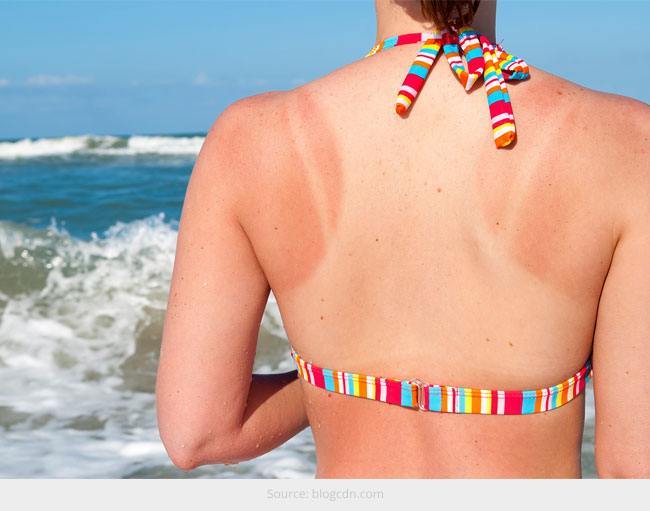 While summer is one of my favorite seasons as far as Indian fashion is concerned; it surely brings me a lot of beauty concerns as well, a few of them being sunburn and tanning. I have come up with some effective natural ways on how to remove sunburn at home.
Do have a read and maintain glowing and soothing skin this summer!
Sunburns occur when body is exposed to scorching sun for longer time period. When the body gets exposed to UV light, the melanin production gets affected. Melanin is nothing but the dark pigments that develop on the outer most layer (epidermis) of the skin.
How to remove sunburn at home?
Potato paste
There are a couple of ways to use a potato to soothe sunburn. Potatoes are considered to be among the best natural bleaching agents that also help in soothing redness, scratches, burns and bites. This is one of the best home remedies for sunburn.
How to apply –
Take 2 potatoes and grate them thoroughly and collect the paste in a container
If the paste becomes too thick or dry then add a little bit of water
Now with a cotton ball or with fingers, apply the paste on the sunburn areas
Leave it for 20-25 minutes and then clean it off
Repeat this process daily for best results
Compress milk
There are numerous benefits of milk for skin, hair and health. Talking about skin in particular, cool compress milk is a great natural way of treating sunburn. The coolness of the compressed milk offers soothing effect on the sunburned areas and also helps in healing the sunburn fast.
How to apply –
Take a washcloth and dip it milk and apply over the sunburn areas
For best results, you can drape the cloth across the areas and leave it for 30 minutes
Repeat this process twice in a day until the sunburn soothes
Baking Soda
Not very long ago, we talked about the beauty uses of Baking soda. Undoubtedly, this product is slowly but surely becoming the beauty staple because of its versatile benefits when it comes to skin care treatments. The cool and fine texture of the soda helps in soothing the sunburn areas. Apart from treating tan, the cornstarch is also used in healing toenail fungus, teeth whitening and hair grooming. The baking soda is not only a sunburn relief, but also works on redness and itching.
[sc:mediad]
How to apply –
Create a thick paste by adding baking soda with water
Now apply the paste on the affected areas and leave it for 15 minutes
Rinse it off completely
Repeat this procedure daily for over a month and see the difference
Mint and Green Tea
While mint offers coolness to the affected areas; the tannic acid and theobromine present in green tea help in relieving sunburn blisters and the pain that comes with it. And both these natural ingredients help in healing the damaged skin when applied topically.
How to apply –
Boil 1/4th cup of water
Take 5 tea bags and remove the tags and add them to 3 cups of fresh mint leaves
Now pour the boiling water over the leaves and tea bags and cover the pan with a lid
Let it sit for 1 hour so that the ingredients are well soaked up
Now strain and let it cool
After the solution is cooled down, dip cotton pads into it and apply on the affected areas
Let it sit for 20 minutes and rinse it off
So those were some useful tips on how to remove sunburn at home. Hope this helps!