The first thing in the morning that every mother insists the kids on having is, of course, milk. Rich in nutrients, it tops the list of healthy drinks. Most often, we all make this as a base for our everyday refreshing beverages. And why not? It is a powerhouse of vitamins, minerals, and calcium that is essential for the growth and maintenance of good health.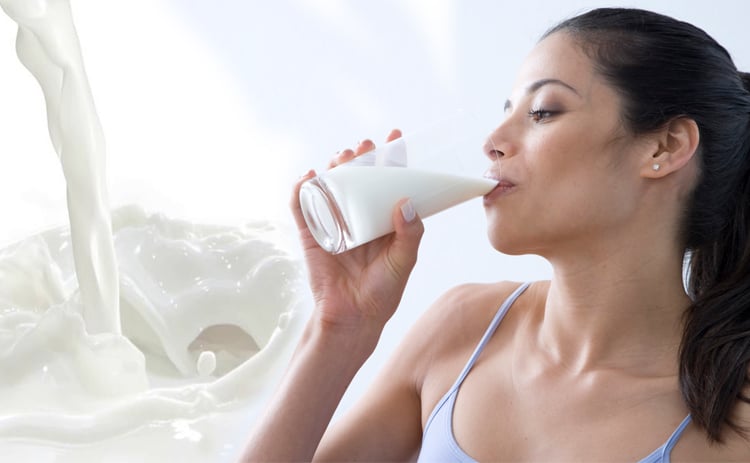 Other than its infinite health benefits, milk is a brilliant beauty enhancer as well. Milk is rich in calcium, Vitamin A, D, B6, B12, biotin, protein and other nutrients that are greatly beneficial for skin and hair both.
Before we explore the benefits of milk, lets first know the abc's of milk.
Types Of Milk:
With the wide range of milk taking up great space in the grocery store, we often get confused on which one to pick. Every type of milk has its perks and pitfalls and we have summarized the different types and the reasons to pick to ease your burden.
1. Cow Milk:
The best and the most sought after of all types of milk is the cow milk. It is considered as a wholesome supplement of protein, bone-building calcium and vitamin D that promote good health.
2. Almond Milk:
Wish to consume a non-dairy milk on a regular basis, then almond milk can be your pick. Low in calories, low in fat and with a creamy consistency, this milk could be a replacement for your cow's milk.
3. Hemp Milk:
It is a non-dairy milk that is rich in protein content. It is not thick in nature and helps reduce blood pressure and cholesterol.
4. Goat Milk:
If you are looking for same supplements as cow's milk, then opt for goat's milk. Unlike cow's milk, this has low lactose levels and hence makes it easier to digest.
5. Soy Milk:
This is a smooth, creamy and slightly sweet milk form. It is rich in protein, carbohydrates and low in fat than most non-dairy milk. It also contains dietary fibers and isoflavones which reduce the risk of cancers.
6. Sheep Milk:
It is the fourth most produced milk in the world. It is rich in proteins, carbs, fat and many more nutrients. It also contains cancer-fighting ingredients like conjugated linoleic acid making it a suitable milk type. Camel milk, rice milk, hazelnut milk, oat milk, rice milk and coconut milk are few more milk types that are healthy and can be consumed.
Apart from these, when it comes to dairy products it is important to choose milk that suits your body type.
[ Also Read: Turmeric Milk Health Benefits ]
Types of milk that are available in the market:
Raw milk
Pasteurized milk
Full cream milk
Skimmed milk
Flavored milk
Reduced fat milk
[sc:mediad]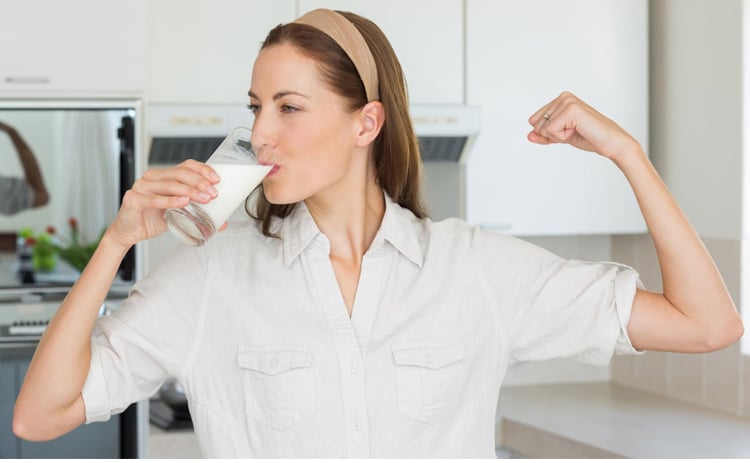 Benefits of Milk:
[ Also Read: Benefits of Milk Bath ]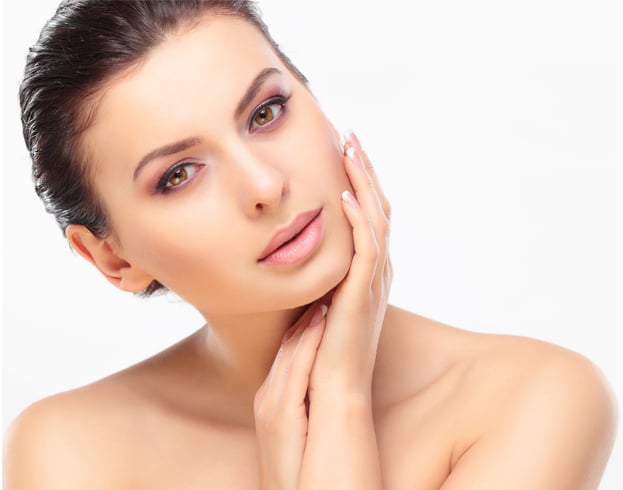 Health Benefits of Milk:
The protein present in the milk helps in rebuilding the muscles. Drinking a glass of milk for breakfast daily helps in muscle building and reduces body ache caused by intense exercises by retaining fluids and electrolytes. Here are few benefits of milk for health.
1. Bone Health:
Milk strengthens the bones of the body as it contains a high amount of calcium in it. Also present in abundance is Vitamin D that supplements strength to the bones and make them stronger. The bone matter and bone mineral density are dependent on the calcium content of the body. Hence do not make excuses to avail the benefits of drinking milk.
2. Healthy Teeth Structure:
The milk on consumption protects the enamel surface of the teeth from acidic properties. It will eliminate the harmful effects of carbonated water on the teeth and keep them healthy and glowing.
3. Eye Health:
Milk is a good source of vitamin A and B, so it's beneficial for your eyes as well. It boosts the immune system and makes the eyesight normal.
4. Heart Health:
Since milk also contains potassium, that reduces blood pressure and enhances vasodilation, it can make for an appropriate choice for good heart. Milk helps in normalizing the cholesterol production and works as an anti-acid fluid. Milk contains potassium and phosphorus in abundance which makes it the perfect drink for regulating the blood pressure.
5. Stress Relief:
Having a glass of milk at night can help your mind calm down if you had a busy and stressful day as it relaxes your exhausted body and eases stressed nerves and fatigue by increasing the energy level. Vitamin B12 present in the milk is great for red blood cells (RBC) and nerve tissues.
6. Fights Cancer:
Vitamin D of the milk regulates the cell growth and in turn protects from cancer. In areas where there is less sunlight, milk and its vitamin D provide the supplements for good health and prevent cancer. Research suggests that an increased intake of calcium and lactose helps prevent ovarian cancer.
Various studies suggest that the risk of getting several types of deadly diseases like cancer and diabetes can be reduced if milk is consumed daily.
7. Fights Depression:
An increase in the levels of vitamin D produces a hormone named serotonin which is associated with mood, appetite, and sleep. Hence the vitamin D supplement of milk is very helpful in keeping oneself active and energetic.
8. Fights Osteoarthritis:
Though it is still being researched in detail, some researchers have claimed that drinking of milk every day will reduce the osteoarthritis of the knee.
9. Menstrual And Fertility Issues:
If you drink milk regularly, you can reduce the chances of Premenstrual Syndrome. Moreover, milk has been known as a very efficient fertility drink since ages because it lowers ovulation related issues in women by increasing their fertility.
10. Rehydration:
As we all know our bodies need frequent replenishment with liquids. The water is the most used up component in our body. Hence we have to supplement sufficient quantities to the body to maintain the hydration levels. Milk contains a good amount of water molecules and can be considered as a replacement of water at times.
Also due to the presence of niacin, milk results in better metabolism, reduces acidity and heartburns. Cow milk contains a high amount of antioxidants and omega-3 fatty acids which help fight aging and other chronic ailments.
[ Also Read: Milk And Honey ]
Benefits of Milk For Skin:
11. Natural cleanser:
Raw milk is an amazing natural skin cleanser, as it removes all the dirt and dead cells from your skin; blackheads or whiteheads becomes softer and can be easily removed by steaming. Just apply some raw milk on your skin and rub gently. Wash it off with lukewarm water.
12. Natural moisturizer:
Organic milk is an amazing natural moisturizer which can help you get rid of lifeless dull and dry skin in the winter season. Make a smooth paste with mashed banana and some cold milk, apply this paste all over the face, leave it on for about 20 minutes then rinse it off with warm water. Apply this mask regularly for better results.
Milk contains AHA, a compound mostly found in several expensive cosmetics and anti-aging products. An exfoliation mask made with milk, honey, and oatmeal can do wonders on your skin. Make a smooth paste with all these ingredients and gently scrub your face and neck with it for about 15 minutes and then wash your face with fresh water.
Milk can also make your skin feel silky and rejuvenated if your skin is dull and lifeless. It cleanses the pores and moisturizes the dry skin.
13. Natural toner:
If you are looking to buy a natural and chemical-free toner, then you should try raw milk first. Mix few drops of raw milk and green tea together in a bowl. Dab a cotton ball in it and apply it all over your face. Leave it on for a few minutes, and wash it off. You can clearly see an instant glow and radiance in your skin if you do this regularly. This is one noteworthy benefits of raw milk.
14. Anti-Aging:
If you have ever paid attention to historic beauties, you will notice that they always looked young and glowing and all the credit goes to their milk based face packs. The enzymes, proteins, minerals and vitamins help in reducing wrinkles.
Make a smooth paste of banana and milk and apply it evenly to the skin. Let it rest for 15 minutes and wash it off gently with water. This pack will reduce the fine lines and wrinkles on the face imparting a glow.
15. Soothes Sunburns:
Can you believe that the remedy for all those holiday sunburns or beach sunburns are right in your kitchen? Yes! Treat your skin with love for all those sunburns with milk. Refrigerate a soft cloth soaked in milk and apply it on your sunburns. With anti-inflammatory, moisturizing properties, the milk soothes the skin.
16. Calms Sensitive Skin:
If your skin often ends up looking red with the use of chemical based cosmetic products, then cast them all away and opt for milk as your cleanser. Massage your skin with milk and gently wipe it off with soft cotton cloth. This technique cleanses and soothes the irritated skin.
17. Heals Cracked Heels:
Cracked heels can be very embarrassing and we often shell out loads of money to keep those feet tamed and pretty. But skip all the money shelling and let the milk treat your cracked heels. Dip your feet into a tub containing a half cup of milk, 5 tablespoons of oats and 5 tablespoons of coconut and warm water. Let it soak for 10-15 minutes and gently exfoliate the dead skin with a pumice stone. Follow it up with coconut oil or ghee for keeping them moisturized.
18. Acts As Scrub:
Milk scrub is the handiest and inexpensive way of making the skin glow and eliminating the dead cells. Dissolve salt in boiling water and add 4 cups of milk preferably the non-fat milk to it. Soak your scrub for 20 minutes and later use it to scrub the affected areas. It will impart great radiance and removes all dead cells.
19. Acts as cleanser to seal pores:
Sour milk at home? Wondering what to do with it? We have a suggestion. Use it as a cleanser that will close the open pores. Apply the milk and leave it on for 15 minutes and gently wash it off. It will seal the pores and keep it healthy.
20. Improves Complexion:
Milk along with honey when applied on the skin, gives a radiant look and moisturized feel. Apply this pack on the face and let it dry. Gently wash it off with warm water to get the desired luminance effect.
Benefits of Milk For Hair: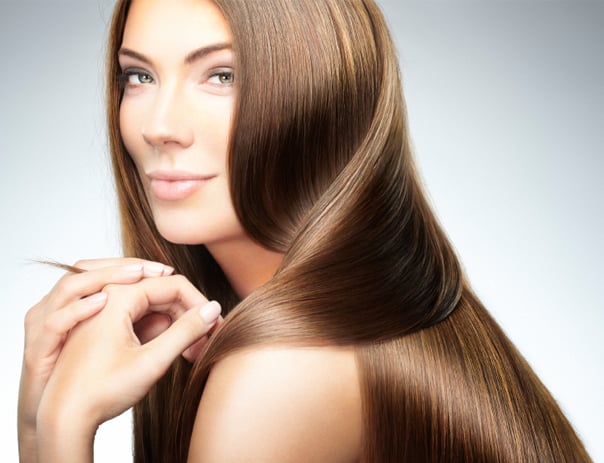 21. Treats Dry, Rough Hair:
Scrubbing your scalp with milk can be very effective in treating dry, rough hair. Apply this milk on the scalp and wash it off after few minutes. It will moisturize the scalp and leave the hair looking soft and silky.
22. Conditions Hair:
The nutrient-rich tonic, milk, even works as a conditioner. Spray cold milk filled in a spray bottle on your hair and gently comb through your hair. Let it rest for about 30 minutes and wash it off. This will leave your hair well-nourished and conditioned.
23. Provides Shine and Volume:
Milk proteins can help you get shinier and healthier hair. Milk contains casein and whey proteins which are great for healthy hair growth. Milk proteins play an important role in making hair thicker and healthier.
24.Promotes Hair Growth:
Calcium boosts hair growth and prevents hair loss, proteins and lipids make hair roots stronger; whereas vitamins A, B6, biotin, and potassium make your hair shiny, healthy and beautiful.
25. Infuses Keratin:
Other than protein, keratin is also an important element for hair growth; calcium is necessary to create keratin, and milk is full of calcium. Drinking a cup of milk daily may help dull and dry hair become healthier and thicker.
When you are in a rush, just rub some raw milk on your scalp before taking a bath, and then rinse it off using cold water. This simple home treatment will make your hair look glossy and soft.
Benefits of Drinking Milk:
We often wonder what is in milk that makes it the most nutritious drink of all time. And so far, we have given you all the details pertaining to it. Here are a few benefits and facts about milk that will inspire you to have it every morning-
Cold milk beats the hunger pangs and helps in weight loss.
Works as a great post workout drink that brings back energy and treats the strained muscles.
Helps in body building with its high protein content
Boosts your energy levels and helps you kick start your day
Helps in treating sore throat. A pinch of turmeric and pepper will soothe the throat irritation.
Best Time to Drink Milk:
It would be silly to point out a time frame as the best time to drink milk. But we have few suggestions here that will help you pick-
Have a big glass of hot milk right at the breakfast time to rejuvenate yourself, kick start your day with tremendous energy.
If you are an insomniac, have a glass of hot milk before hitting the bed. The amino acid in milk helps calm the mind and soothes frayed nerves and puts you to sleep easily.
Foods That can be Prepared with Milk:
Milk forms the base for many dairy products that are largely in use. Few of them include
Butter/ Ghee
Cheese
Yogurt
Cottage cheese (Paneer)
Ice creams, smoothies
Deserts
Hope you will make the most of the milk sitting on your refrigerator isle. Enjoy your journey with milk!
Images Source: pinterest