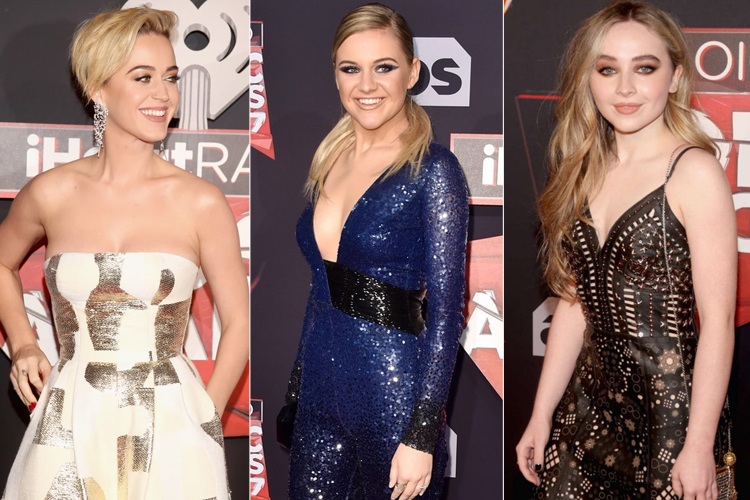 Oscars and Grammy's are for the classy and conventional but thank god there is iHeartradio awards that bring out the wild styles defining the inner person of the celebs we so dearly adore.  The Forum in Los Angeles welcomed all the big names in the game while Ryan Seacrest hosted the beautiful Sunday night. The show saw some of the debut haircuts and out of the world ensembles – we are here to update you on all that is worth a second look.
[Also Read: B-Town Celebs Slayed It At The Mirchi Music Awards 2017]
Rocking the charts with her new single 'Chained to the Rhythm' Katy Perry stole the evening right off the bat. It was a debut for her brand new haircut that she has been snapping about on Instagram all this while. The sexy side part was teamed up with a strapless gown in gold and white. Oh, wait! It's a pantsuit by August Getty Atelier and the jewels are by Jacob & Co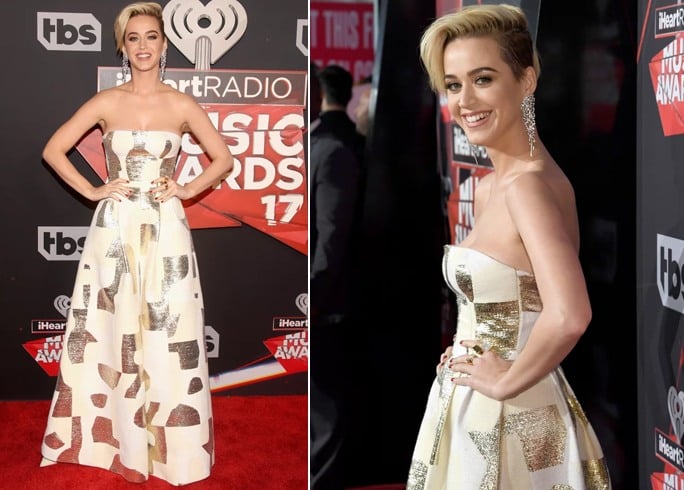 Halsey was the one who had most of the heads turning. When they said iHeartRadio isn't the place for conventional dressing, only the Badlands singer was able to decipher the real meaning of it. The Versace yellow ensemble resonates with Hasley's edgy style and Stuart Weitzman shoes are doing justice to the look too. We love her Jennifer Fisher jewels.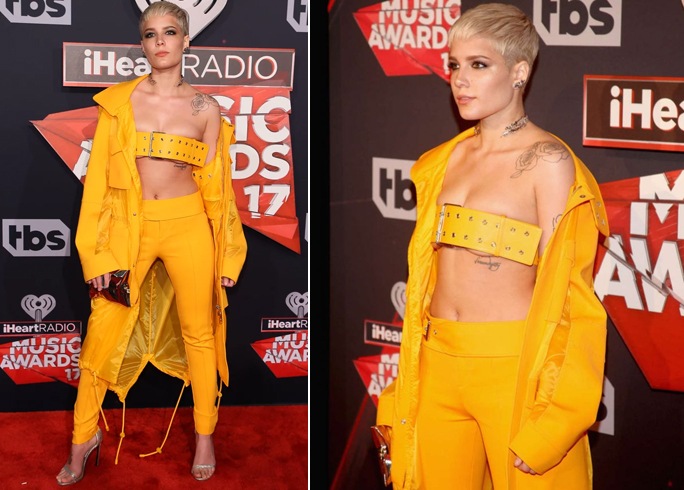 Who needs at clear star spangled sky if you can have Kelsea Ballerini? The woman rolled up looking mystic in her midnight blue jumpsuit by Pamella Roland pairing it with Stuart Weitzman heels. The shimmering texture complete with its plunging neckline was enough to have the look rounded up, but we are not totally mad that she chose to add a few Jen Hansen jewels to accessorize herself.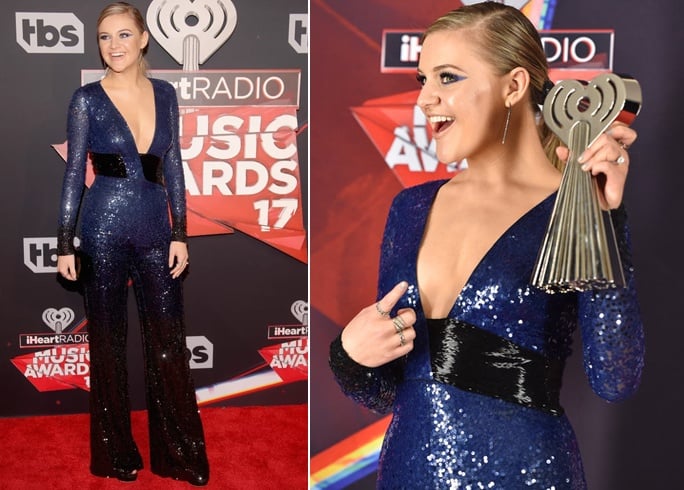 Heidi Klum was in her usual stunning self. A single shoulder mini-dress in monochromatic stripes with matching Giuseppe Zanotti shoes was all she needed to claim the carpet.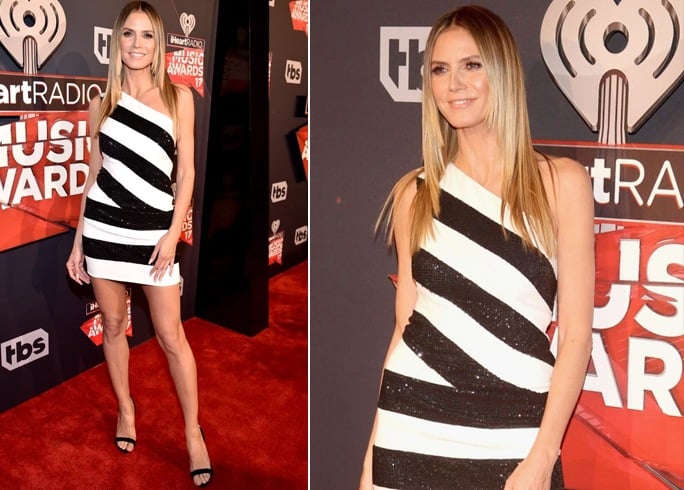 For those who just cannot wait for Season 7 of Pretty Little Liars take a look at the striking Janel Parrish – this might calm you down. Doesn't she look angelic in her baby pink halter neck jumpsuit? We are totally digging the ruffle detailing that adds a little girly vibe to the look.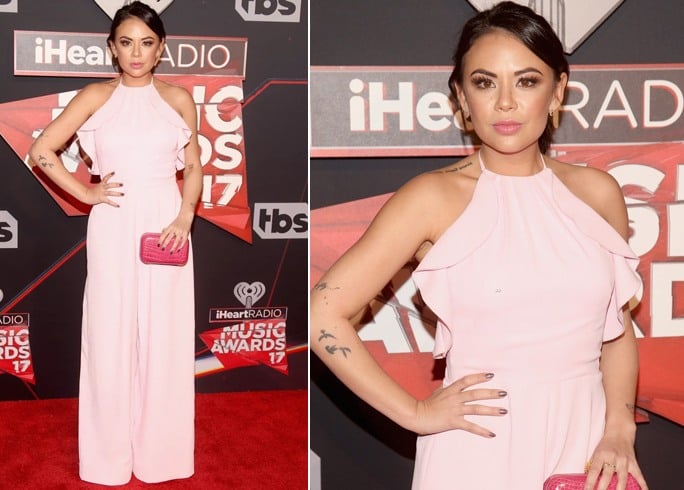 The ladies of the fifth harmony made an appearance in well-coordinated mini-dresses. We have to say that every pick was edgy to the core, but what stole our heart were not the dresses but the shoes. Just look at those strappy babies!!!
[sc:mediad]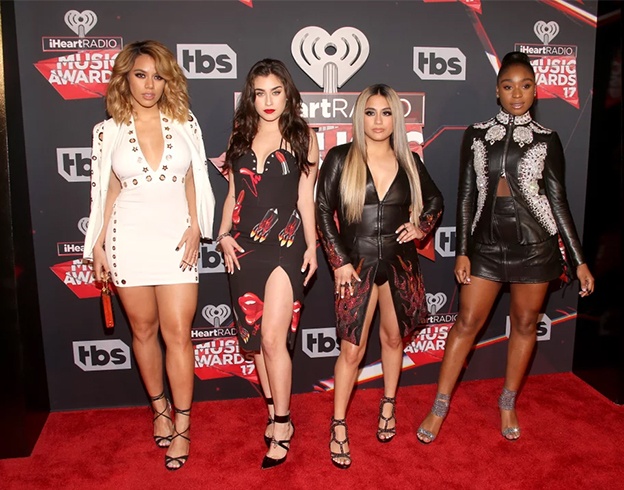 Miley Cyrus's baby sister was seen in a sheer black dress featuring some interesting graphic designs. But nobody is talking about that. What, in fact, has turned out to the talk of the town is her nose ring, and the sky high Marc Jacobs shoes she slipped in before stepping on the red carpet laid out at The Forum. I wonder how she managed to walk in those bad boys given she is barely 17.
Girl Meets World star Sabrina Carpenter, just 17 years old, was channeling her mature version in an intricately detailed black gown. We couldn't help fall in love with the smokey eye make-up of this Disney darling. She was wise in not overdoing the elaborate dress and going for simple strappy sandals. The beachy blonde waves were ideal too.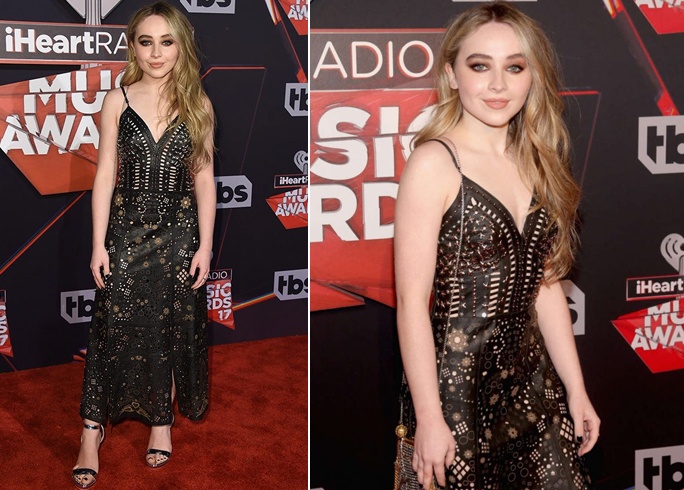 Demi Lovato wins the title of best dressed on our list. Thing is, she has actually landed on quite many magazines' list of worst dressed celebs at the iHeartRadio Awards for this tin foil look that, as per many, was reminiscent of Reynold's foil. We get where they are coming from, but hey, this is not the Grammy's. iHeartRadio's night is to have fun, to bring your authentic self and creativity to everyone's sight. And on these grounds, we are totally supportive of Demi and her unusual choice of wardrobe.
And these were the 10 celebs that enthralled us with their style on the red carpet Sunday night. What's your take on their unique sense of fashion?