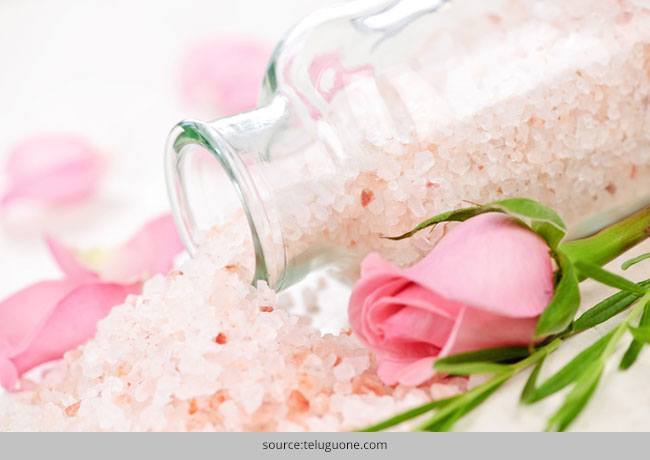 Great smelling exfoliators for your body are not hard to find. Though the use of bath salts is mostly popular in the West, India too is slowly catching up to this craze. Bath salts make your skin shine and keep it younger looking and polished. Once you switch from your regular bathing products to bath salts, you will really see a difference.
Why are bath salts becoming that popular? Scientifically speaking, bath salts are salts which are available in their purest forms. Since they contain a large number of minerals and salts like potassium, calcium, magnesium, etc. they help to keep the skin soft and supple. The minerals in these salts can easily be absorbed by our body and they can help to keep the skin younger looking and radiant because these are taken in by the body at a molecular level.
Here is what the various minerals in the bath salts can do:
1.Calcium: It can help to keep the water retention in check and promote healthy bones. Regular use can also prevent osteoporosis.
2.Magnesium: This particular salt help to combat stress and fatigue.
3.Potassium: Potassium balances the level of moisture in the skin
4.Sodium: Sodium helps to keep the balance of lymphatic fluids in our body
Hence, we see that bath salts can really help our body, and not only externally, but internally as well!
Here are fifteen of the best bath salts available in our country! What are you waiting for? Grab these magical salts and feel the difference!
1.Grace Cole Orchid and Amber Bath Salt:
If you are looking for some bath salt that smells heavenly even hours after your bath, you are at the right place. Grace Cole's range has a number of sweet smelling bath salts, but this one is the best.
Cost: Rs. 599
2.Grace Cole Lime and Mint Bath Soak:
At the end of a tiring day, this is the bath salt that can energize you. With a hint of refreshing lime and mint, this bath salt can leave you feeling minty after the bath.
Cost: Rs. 599
3.TVAM aloe Vera Fig and Neem Bath:
For those pesky pimples and acne, take a dip in TVAM's Aloe Vera fig and neem bath. The anti-bacterial properties will help you get rid of pimples in a jiffy.
Cost: Rs. 938
4.TVAM Green Tea & Mint Bath:
This ultimate blend is perfect to fight against antioxidants. The green tea and mint combination leaves you with a cooling sensation and is a great refresher.
Cost: Rs. 938
5.TVAM Rose Geranium Bath Salt:
For those with a sensitive skin, this combination is perfect for balancing and harmonizing the various minerals in your body.
Cost: Rs. 938
6.Thalgo Lagoon Water Pebble:
[sc:mediad]
For those with a love for the sea, this is a slightly different variant of the bath salt, but it works in the same manner. Available in a pack of 6, these can be gently rubbed on the body or can be dissolved in water.
Cost: Rs. 1220
7.H20+Spa Sea Salt Body Wash:
Another variant of the sea salt, unlike the others, this is available as a body wash and is easier to use.
Cost: Rs. 1200
8.Manufaktura Home Spa, Prague, Romantic Carlsbad Spring Bath Salt
For those with a penchant for something exotic, get this bath salt. The healing properties of this bath salt are tremendous and may be a little heavy on your pocket.
Cost: Rs. 2000
9.Manufaktura Home Spa, Prague, Dead Sea Salt:
Everyone has heard of the benefits of Dead Sea salt. With this, you can have the coveted salts right in your bathroom! This pure Dead Sea salt regenerates the skin cells and helps promote blood circulation in the body.
Cost: Rs. 1599
10. Soulflower Tea Tree Bath Salt:
The ultimate combination of anti-fungal, antiseptic and anti-bacterial properties, this bath salt helps to get rid of itching and any other skin problem.
Cost: Rs. 350
11.Iraya Green Tea Bath Bomb:
This tiny little bath bomb packs essential salts in the form of a ball. With extracts of green tea and sunflower oil, the ball dissolves in water and is suitable for all skin types.
Cost: Rs. 176
12.Iraya Tea Lavender Bath Salt:
A little bigger in size, this bath salt is infused with lavender and tea tree extracts and helps to make the skin smooth and supple.
Cost: Rs. 401
13.Khadi Lemongrass and Cinnamon Powder Bath Salt:
Its therapeutic properties makes it a popular choice for people who want to have a good refreshing bath. It contains natural extracts of lemongrass and orange.
Cost: Rs. 300
14. Khadi Lavender & Basil Herbal Bath Salt:
For bruises and acne, this is the perfect bath salt. It cleanses your skin and leaves you refreshed.
Cost: Rs. 300
15.Nyah Jasmine Mogra Sea Salt:
This is the perfect bath salt to get rid of dead skin and leave you with a refreshing smell.
Cost: Rs. 400
So, you see bath salts have lots of benefits! The above salts are the 15 best available in India. You can easily buy them online or at your nearest medical store.