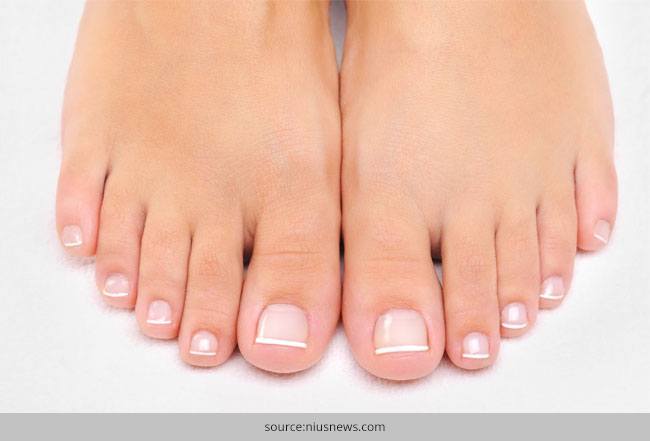 Toenail fungus, also known as onychomycosis, is one of the most common skin ailments that are not health hazardous but can be quite embarrassing. And these nails can be nightmares for beauty conscious women. So, if you are also facing this beauty embarrassment and wondering how to remove toenail fungus at home then you are at the right place.
Do have a read and get rid of the fungal nail infection immediately!
"Tho' the world may be a jungle,
Not all funny nails are fungal."
What is toenail fungus?
The fungus occurring in the nails is a kind of infection usually developing on the inner surface of the nails. Because of this fungal attack, the nails tend to change color followed fowl smelly nails. This kind of a fungal nail infection is contagious and thus spreads to other nails as well.
What are the causes for toenail fungus?
People who usually walk around barefoot in damp areas are likely to get infected by the fungi. People who are diabetic or those who have an immune deficiency are prone to get a fungal nail infection.
How to get rid of toenail fungus at home?
Apple Cider Vinegar
The acidic content in the apple cider vinegar prevents the infection from spreading to other nails. Meanwhile, the vinegar helps in killing the fungi and bacteria, thereby treating the yellow and stinking nails.
How to use Apple Cider Vinegar
[sc:mediad]
Take equal amount of vinegar and water and mix them in a container, wide enough to soak up your feet
Soak your nails for half an hour on daily basis
Take out your nails and pat dry them
Over a period of time, you will notice the nails getting cured
Tea Tree Oil
The tea tree oil is laden with antiseptic as well as anti-fungal properties that contribute hugely in treating the fungal infection. The various benefits of tree tea oil makes it a very useful and a friendly oil to cure many ailments.
How to use Tea Tree Oil
Mix one teaspoon of coconut oil or olive oil with a few drops of tea tree oil
Now using a cotton ball, apply the mixture on the affected nails
Leave the solution on the nails for about 10 minutes
Now gently scrub the nails using a toothbrush
Repeat this procedure for 2-3 times in a day and you will gradually see the results
White vinegar
White vinegar is another best home remedy for treating toenail fungus as it not only helps in fighting the infection, but also restores the pH balance of the skin.
How to use White Vinegar
Take one spoon of white vinegar and mix it with two spoons of warm water
Now soak the affected toenails in the solution for 15 minutes
Rinse it off and thoroughly dry the affected area
Repeat this treatment two times in a daily until the nails are free from fungus
Baking soda
Baking soda, which is used for whitening teeth, is also used to remove toenail fungus at home. Plus, baking soda also helps neutralize the smell.
How to use Baking Soda
Add one half cup of baking soda with 1/4th cup of H2O2 (3%), 1/2 cup of Epsom salt and 4 cups of water and mix well
Now add 1/4th cup of white vinegar to the solution
Now soak the affected nails in the solution for about 10 minutes
Wash with clean water and dry it thoroughly
Repeat this procedure twice a day for 1-2 months
So those were some natural ways on how to remove toenail fungus at home. Hope this helps!