Green tea is known to be a healthy substitute for anything and everything. What you didn't know was there are a number of other ways to use green tea to benefit you apart from just drinking it. So many recipes that could keep your under-eye bags at bay, balance out your oily skin etc. All recipes could come handy!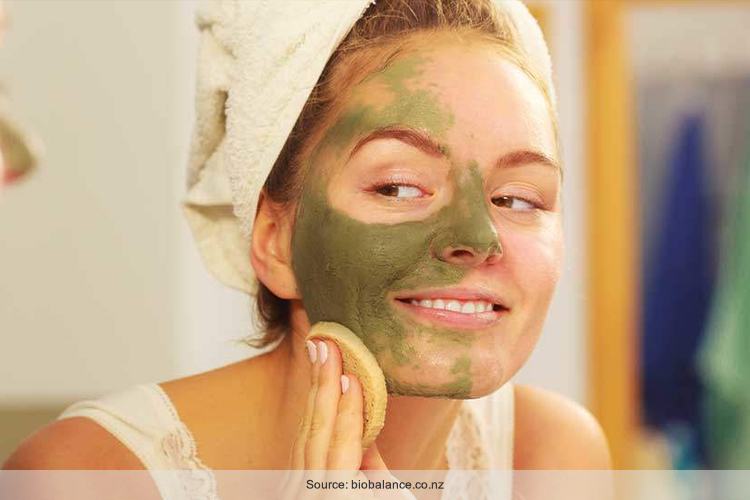 For all green tea lovers, the next time you drink a cuppa, think what it can do to your skin. Supermodel Miranda Kerr uses green tea for her beauty jobs and loves it!
Beauty benefits and green tea? Heard of it? Ever? Well, its time you knew the latest about the 'skin' connection and "green tea".
Benefits Of Green Tea For Skin:
Lets find out the goodness of green tea for skin.
1. Improves Skin Complexion:
'Flush' out the skin toxins and impurities. This is the principle of green tea. When that happens, you get clearer and enhanced skin complexion.
What all you need:
Green tea bags (used ones)
Honey (raw)
Lemon juice
Directions:
Cut open the used green tea bags (about 2 of them).
Take out the contents from the tea bag.
Now mix 1-2 tsp of raw honey.
Also, add some lemon juice.
Apply this mixture on your face.
After a gap of 5-10 min, rinse your face with lukewarm water.
Use this green tea face mask once or twice a week.
Tip: Even the skin elasticity improves with green tea.
[Also Read: Chamomile Tea Benefits ]
2. Reduces Puffy Eyes And Dark Circles:
Green tea extracts has antioxidants and tannins which suitably treat puffy eyes and dark circles. In fact, they help in shrinking of blood vessels underneath the delicate skin around the eyes. This reduces puffiness and swelling.
What all you need:
Directions:
Put the used green tea bags (2 of them) in the refrigerator for half an hour.
Now take out the tea bags from the fridge and put them on your closed eyelids.
Keep it for 15 min.
Rinse off your face.
Do this remedy twice daily to get best results.
Tip: The vitamin K in green tea lightens the dark circles under the eyes, visibly.
3. Fights Skin Cancer:
Green tea has polyphenols, which inhibits the growth of two proteins, known to promote the growth of tumour cells. In short, green tea blocks cancer-promoting carcinogens.
What all you need:
Just green tea bags or leaves (as per your preference)
Directions:
Boil water in a vessel.
Transfer it in a tea cup or mug.
Put the green tag bag in it, and Dip-Dip-Dip!
After 2 to 3 minutes, take the green tag bag from the tea cup.
Drink (but slowly)!
4. Reduces Tan:
What all you need:
Green tea powder
Cold water
Directions:
Mix green tea powder with some cold water.
Make a mixture of it.
Apply it on the blackheads and skin which is exposed to direct sunlight.
After few minutes, rinse it off with water.
Tip: This will give you a soothing effect, and also effectively treat sun tan.
5. Anti Aging:
Green tea is packed with minerals, which nourishes the skin and fight the signs of ageing.
What all you need:
Green tea
1/2 tsp Lemon juice
Turmeric powder (pinch)
Directions:
In a bowl, Mix 2 tbsp green tea (brewed and cooled), lemon juice and turmeric powder.
Use a cotton ball in order to apply this on your cleansed face.
After 10 min, when the pack dries on your face, rinse it off with cool water.
Tip: Lemon juice has Vitamin C which 'increases' the collagen development
6. Treats Oily Skin:
Tannins in green tea extracts are a good astringent. Why? 'Cos they shrink pores in the skin. Moreover, they reduce the sebum production by sebum glands.
What all you need:
Green Tea
Rice Flour
Lemon Juice
Directions:
Start off the procedure by brewing green tea.
Let it cool.
Mix 3 tbsp green tea solution with 3 tbsp of rice flour.
Add 1 tsp of lemon juice to the prepared green tea-rice flour mixture.
You will get a smooth paste.
Now wash your face first, dry it and then apply the pack.
After 20 min, rinse it off with cool water.
Apply a good moisturizer at the end.
7. Treats Acne And Pimples:
Catechins! The acne-fighting bacteria in green tea extracts, which are good antibacterial agents. They also help regulate hormonal imbalances – one of the main causes of acne.
What all you need:
Green tea (freshly brewed)
Cotton ball
Water
Directions:
Mix 1/4 cup each of green tea and water.
Dip a cotton ball in this.
Apply it on the affected skin.
After 15-20 min, wash it off with water.
Do it twice daily to see the acne and pimples say goodbye to you.
8. Removes Blackheads:
Did you know, Green Tea is an effective remedy when it comes to treating blackheads? This takes care of your perennial problem of black spots hidden in the skin.
What all you need:
Dried green tea leaves
Water
Directions:
Put 1-2 tsp of dried green tea leaves in a small bowl with water in it.
Grind it into a coarse paste.
With your finger tips, apply the paste on your blackheads.
Scrub the paste for 2 to 3 min.
Wash it off with lukewarm water.
Ideally, repeat this method on your blackheads three times a week.
Tip: This green tea remedy helps in cleansing oily skin, and clearing dirt from skin pores
9. Sun Protection:
Want to challenge the sun? Take the help of Green tea. It protects your skin from harmful UV rays. Plus, the tannic acid and polyphenols in green tea heal the sun-burned skin by neutralizing the UV damage.
What all you need:
Directions:
First of all, brew 2-3 cups of green tea.
Now put it in the refrigerator for a while.
Take it out, and soak a cloth in the chilled green tea.
Apply it to the sunburned areas.
Do this twice a day to get results.
10. A Gentle Exfoliator:
Dried green tea leaves have a slight rough texture which exfoliate dead skin cells, impurities, and dirt.
What all you need:
1 tbsp dried green tea
1 cup sugar
½ cup extra-virgin olive oil
2 tbsp raw honey
Directions:
Mix all the ingredients together.
Now apply it on your washed and dried face.
Rub it in circular motions.
Rinse it off with warm water.
Once or twice a week, use this facial scrub.
11. Shrinks Pores:
Pore-Shrinking news! One of the best green tea benefits is that it shrinks enlarged skin pores which tend to get clogged. This is a good technique to make your skin smooth and tight.
What all you need:
Green tea (prepared)
2 tbsp bentonite clay
Directions:
To start with, steep the green tea.
Let it cool.
Combine few tbsp of this tea with bentonite clay.
Make it into a smooth paste.
Apply this pore-tightening mask on your face.
Let it dry completely.
Then, scrub it off.
Now, rinse your face with warm water.
Tip: You can also drink a few cups of green tea daily. This will help flush out toxins from your body.
Now that you have read the green tea benefits, let us know how to benefit from the same.
Some More Homemade Green Tea Remedies for Skin:
Recipe or Remedy Time? Both.
Here are some homemade remedies for skin with "green tea" as the main ingredient.
1. Green Tea Steam Facial
What all you need:
Boiling water
Green tag bags
Directions:
Pour 2 glasses of boiling water in a vessel.
Not put 2-3 green tea bags in it.
Get a towel for yourself.
Cover you head with the towel.
Enjoy the Steam!
How it works: Steam is an important part in every facial. When you add green tea to the plain water being used for steam, your skin also takes in flavonoids and polyphenols.
2. Skin Toner
What all you need:
1 Green tea bag (or 2 tbsp)
1 cup boiling water
Directions:
In boiling water, add a green tea bag.
Let the tea steep for 5 min.
Now discard the tea bag.
Pour the liquid into air-tight container.
If you are using green tea leaves, pour the tea through a strainer or filter.
Now spray or apply this homemade green tea skin toner to your face and neck twice a day.
No rinsing required.
How it works: When you spritz Green Tea toner on your skin, you not only tone and tighten pores, you also remove impurities and toxins from the skin.
Tip: Store the green tea toner in a small spray bottle (for repeated use)
3. Facial Cleanser
What all you need:
Just green tea bags (or green tea leaves)
Directions:
Get a green tea bag for yourself.
Dip it in hot water for about 10 sec.
Now cut open the green tea bag.
Add the green tea leaves to your facial cleanser.
Massage it on your face for 5 min.
Wash it off.
How it works: Green tea has polyphenols which enhance blood circulation, and also help in fighting acne.
4. Green Tea Neat
What all you need:
Directions:
Make hot green tea.
Let it cool.
When it has, take a few drops of it in your hand.
Now splash green tea on your face.
Keep doing it – till there is no more of it left.
How it works: This homemade remedy of green tea leaves you nice and fresh-faced!
5. Green Tea And Sugar Scrub
What all you need:
1 green tea bag
1 brewed tea bag
1 cup granulated sugar
olive oil
Directions:
Brew the green tea bag in half a cup water.
Keep it aside so that it can cool.
Now put sugar and olive oil in a bowl.
Pour the un-brewed green tea in the bowl and mix.
Once brewed tea cools down, add the mixture of loose tea, sugar and olive oil.
Now decant the scrub into a pot or jar, and you are good to go.
How it works: Loose tea from the bag adds a rough texture to the face scrub, which makes it more effective – making it "buff" away dead skin cells
6. Green Tea and Rice flour Mask for Oily Skin
What all you need:
Green Tea
Rice Flour
Lemon Juice
Directions:
First of all, brew green tea.
Next, mix green tea (once it cools) with rice flour.
Now add lemon juice till it turns into a smooth paste.
Apply the pack to your face.
Rinse it with water after few min.
How it works: Rice flour helps in treating skin blemishes, pigmentation and dark spots. It also absorbs excess of oil and sebum from face.
7. Green Tea Sunscreen
What all you need:
1 cup green tea infused coconut oil
1/4 cup beeswax
1/3 cup shea butter
1/3 cup red raspberry seed oil
1 tsp Vitamin E oil
2 tbsp non-nano
Uncoated zinc oxide
20 drops carrot seed oil
Directions:
In a double broiler, combine coconut oil, beeswax and shea butter.
Heat them over low flame till it melts.
Then, let the mixture cool down.
Now add the remaining ingredients.
Stir it.
Add zinc oxide at the last (since it thickens the mixture).
Transfer the contents in a jar.
Allow it to cool.
Keep it in cool dry place.
How it works: This homemade sunscreen combines green tea, zinc oxide, natural oils and butters, to give you protection from UVA and UVB rays.
8. Green & Rose Water Toner for Skin Tightening
What all you need:
1 green tea bag
1/2 cup distilled water
2 tbsp rose water
2 tbsp witch hazel (liquid)
1/4 tsp glycerin
10 drops lavender essential oil
Directions:
Steep the tea for a couple of min.
When it cools, put the ingredients in a jar.
Then shake the jar.
Spray a few drops of it on your face.
How it works: Removes makeup, and feels great! Plus, it is nourishing for skin
[sc:mediad]
9. Green Tea and Yogurt Facial
What all you need:
1 tsp Matcha green tea powder
1-2 tbsp Greek yogurt
Few drops honey
Directions:
Mix the ingredients.
Apply an even layer on your face.
After 15 min are over, wash your face.
How it works: Did you know – Matcha Green tea has loads of antioxidants. Plus it is cooling and anti-inflammatory for skin. Yogurt is good for skin as it has lactic acid and zinc. This prevents acne, lightens scars, and tightens skin pores. Honey helps heal infections.
10. Green Tea Detox Bath
What all you need:
Directions:
Put 6 to 10 tea bags in a bath tub.
Get into the bath tub to enjoy the results.
How it works: To make you feel refreshed and relaxed, a Green Tea Detox Bath is ideal. Green tea has antioxidants which are great for repairing and rejuvenating skin. They also remove pollutants from the body.
What about 'Preventive' care for skin? Any tips? Yes.
Tips For Beautiful Skin
Here are some tips to prevent problems that hinder a beautiful looking skin:
Keep your face as clean as possible. Do regular washing and cleansing with herbal face cleansers.
Skin exfoliation should be done once in three days. This helps remove skin impurities and dust on skin pores, thereby preventing blackheads.
When you take out blackheads in a systematic way without any delay, you also end up hydrating your skin. This helps in making your skin cleaner, softer and smoother.
Drink! Drink! Drink! Water. It keeps your skin fresh and hydrated.
At night time, make it a point to remove makeup and dirt from your skin, before you hit the sack.
Once a week, change your pillow covers. There could be dead skin cells, dirt and dust attached to the pillow cases, which can be the cause of reappearance of blackheads.
Check out the ingredients of the facial products before you buy. Natural products are always the 'best to buy' since they prevent the appearance of blackheads on nose and skin.
Avoid "popping" or "picking" the blackheads, as it might add more bacteria to your skin.
Hope you had a 'fresh' and stimulating experience reading this green tea for skin blog. Share your comments with us. And yes, don't forget to pass it around in your social network.
Recommended Articles
Health Benefits Of Drinking Ginger Tea
Health Benefits Of Hibiscus Flower Tea
Benefits Of Oolong Tea
Lipton Green Tea For Weight Loss