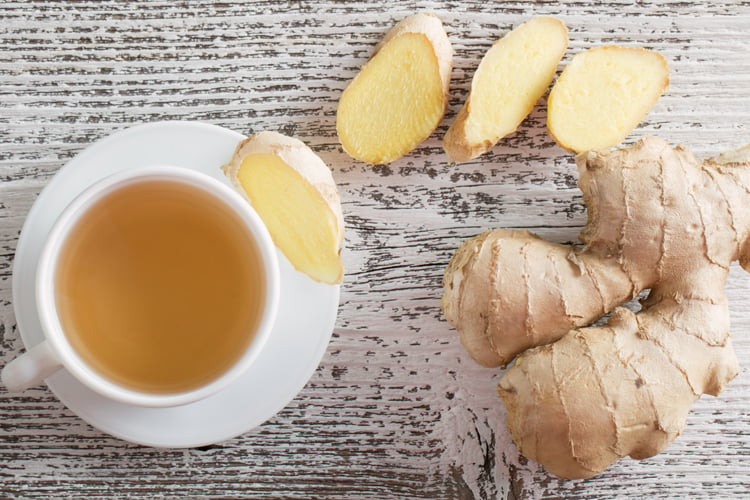 Ginger is known for its medicinal attributes, and drinking ginger tea can offer relief from several health problems. Brewing ginger tea at home can ideally be a better option than packaged ginger teas. Here are few reasons to support the health benefits of drinking ginger tea.
Benefits of Ginger Tea:
1. Relieve nausea
Ginger tea can settle your stomach when you are ill and feeling nauseous
It can also treat morning sickness, motion sickness and nausea that arises after surgery
2. Improve stomach performance
Ginger tea can aid during digestion and help with food absorption
It can also prevent bloating after a heavy meal
3. Reduce inflammation
Ginger tea contain anti-inflammatory properties ideal for muscle problems
It has analgesic properties and serves as painkiller for inflamed joints
[Also Read: Chamomile Tea Benefits ]
4. Fight respiratory problems
Ginger tea can relieve from common cold symptoms like congestion
A cup of ginger tea can relieve one from respiratory problems like allergies
5. Improve blood circulation
Ginger tea contains vitamins, minerals and amino acids that improve blood circulation
It can decrease cardiovascular problems such as heart attack and stroke
6. Relieve menstrual discomfort
Press a cloth soaked in ginger tea around lower abdomen tea to relieve from menstrual cramps
Drinking a cup of ginger tea can also relieve pain and relax muscles
7. Relieves Heartburn
Add half a tsp of honey to ginger tea to relieve from acid reflux
It can also soothe stomach naturally and reduce stomach acid production
8. Strengthen Immunity
Ginger tea can strengthen immune system because of its antioxidant presence
It can also lower cholesterol problems and reduce the risk of a stroke
9. Relieve stress
Ginger tea contain calming properties that can lower stress and relieve from tension
Its strong aroma is therapeutic in itself and contains healing properties
10. Cough and Cold
A cup of ginger tea can relieve one from cough and runny nose
The tea can loosen up phlegm and relieve the respiratory system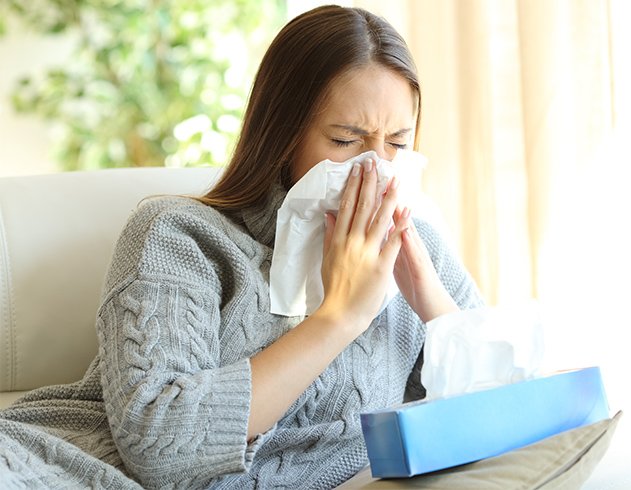 11. Help with irritable Bowel syndrome
Ginger has anti-inflammatory properties to relieve from stomach related problems
Ginger tea can help reduce stomach pain and inflammation
12. Help with weight loss
Ginger tea is essential for losing weight and leading a positive life
A cup of ginger tea a day can burn fat and help reduce calories
13. Boosts Brain Power
Sipping freshly brewed tea can boost brain power and improve nerve health
Ginger tea can guard against brain oxidative stress and neurological problems
14. Help fight cancer
Having ginger tea is said to cure one from cancer
It can also protect one from ovarian cancer and get rid of the cancer cells
15. Treats Asthma
Drinking ginger tea helps during sudden cases of asthma
It can help to reduce allergies and relieve one from constant sneezing
16. Help manage glucose levels
Ginger tea is said to reduce blood sugar levels
It can regulate and increase insulin levels of diabetic patients
17. Improve the food digestion
Ginger tea can aid digestive system as it contain phenolic compounds like gingerol
Drink ginger tea before meals or have it in small sips while eating
18. Relieves Tired Muscles
Sip on ginger tea to improve circulation and blood flow
It can help relieve one from tired muscles
19. Increases the production of gastric juice
Ginger tea can stimulate saliva and gastric juice production to improve digestive system
It contains relaxant properties and volatile oils primarily responsible for aiding in digestion
20. Protect against Alzheimer's disease
Ginger tea can prevent or even cure Alzheimer's disease
It can reduce brain cells loss and keep it protected
21. Stimulate appetite
Ginger tea can improve a tired appetite with its medicinal properties
Drink the ginger tea twice a day to stimulate appetite
22. Lowers The Effects Of Diabetes
Ginger tea can reduce blood sugar levels and regulate insulin response for diabetic patients
Its anti-inflammatory properties can prevent diabetic complications
23. Provides Pain Relief
Ginger tea can help to relieve from muscle soreness
It can also improve circulation and reap relief from various pain inflicted areas
24. Perfect Skin And Great Hair
Ginger tea contains antiseptic and antibacterial agents for a problem-free skin
It is also loaded with antioxidants and vitamins to tackle all hair problems naturally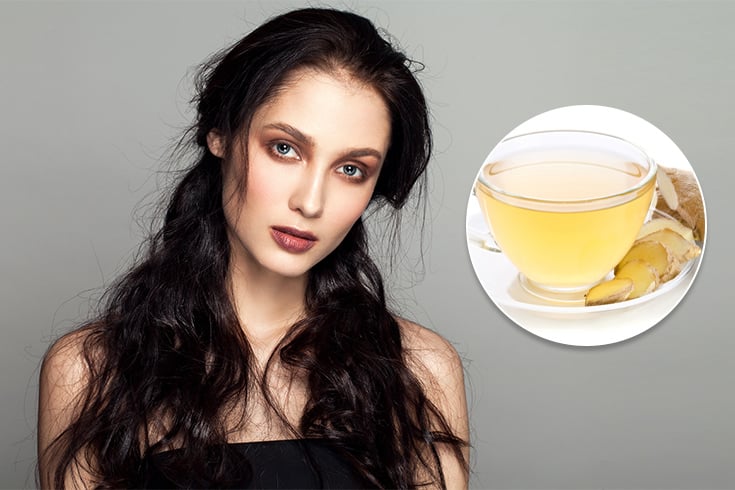 25. Help the body absorb nutrients
Ginger tea is the simplest method to experience health if you are facing with poor nutrient absorption
Ginger is effective for killing parasites, viruses and pathogenic microbes that prevents nutrient absorption
26. Relieves Sinuses and Migraine
Sip a warm cup of ginger tea to relieve from sinus problems
It can also relieve from impaired breathing and pressure migraine headaches that come with sinus congestion
27. Relieves Symptoms of Arthritis
Ginger contains gingerols and shogoals that can fight inflammation, pain, and cartilage attack associated with arthritis
Ginger tea lessens production of cytokines accountable for triggering immune reaction leading to rheumatoid arthritis
28. Increases Fertility
Ginger contains aphrodisiac properties to promote blood flow to uterus
The increased circulation reduce uterus, ovaries or fallopian tubes inflammation
29. Helps with Morning Sickness
Ginger contains chemicals like gingerols to offer relief from nausea, vomiting and morning sickness
It acts like a stomach soother to relieve from morning sickness symptoms
30. Heals Frostbite
Ginger contains anti-inflammatory properties that can increase body circulation and help with frostbite treatment
Alternatively, drink ginger tea mixed with one tsp of lemon juice and honey
[sc:mediad]
31. Improves Your Breath
Ginger is an excellent remedy for knocking out bad breath
It helps to kill the foul bacteria that causes bad breath
32. Protects Against Nuclear Radiation
Drinking ginger tea can calm the stomach and help with nausea post radiation and radiotherapy
It protects the white body cells in vitro to fight against radiation that stimulates genetic damage
How to Make Ginger Tea in 7 Ways:
Now that we have learned enough about ginger tea health benefits, let us now learn how to make it:
1. Normal Ginger Tea
What all you need?
8 ounces of boiling water
Directions:
Put sliced ginger in a tea infuser in a cup
Pour hot water over cup, and steep over five minutes
Remove infuser before drinking
How it works:
Ginger is the anytime tea for treating any health ailments
It can cure stomachache, cold, migraines and fatigue
Drinking ginger tea can invigorate the body instantly
Tip:
You can grate the ginger slices instead of slicing if you want a spicier ginger tea. Also, make use of fine sieve if you do not own a tea infuser
2. Ginger Honey Tea
What all you need?
Directions:
Place freshly grated ginger in a bowl. Pour hot water over it
Strain the ginger tea into a mug
Add 1 tsp of honey and stir well
How it works:
Honey ginger tea is excellent to drink during cold and cough
Its natural healing properties can soothe and relief body
Tip:
Steep the tea for 10-15 minutes for best results
3. Turmeric Ginger Tea
What all you need?
1 tsp fresh grated turmeric
1 tsp grated ginger roots
Directions:
Heat water in a saucepan and bring it to boil
Add ginger and turmeric and lower the flame
Mix honey and black pepper but these ingredients are optional
How it works:
Turmeric contains anti-inflammatory, antibacterial and immune boosting agents
It improves digestive system, regulates menstruation, dissolve gallstones and relieve from arthritis
Tip:
The curcumin is absorbable by the body especially when mixed with black pepper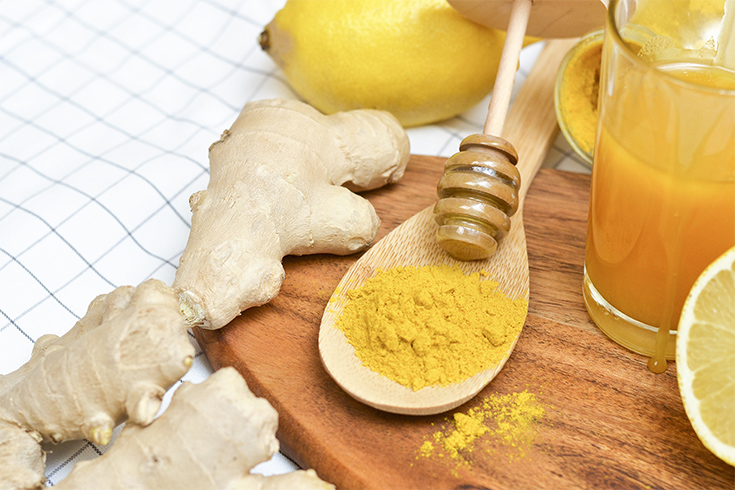 4. Ginger Lemon Tea
What all you need?
Directions:
Boil water over a saucepan
Add the lemon juice, ginger slices and lemon peel
Simmer water for 10-15 minutes
Pour into a cup and stir well
How it works:
Lemon contains immune boosting properties and Vitamin C helpful for the body
Tip:
Add the lemon scraps to the tea strainer as it contains active compounds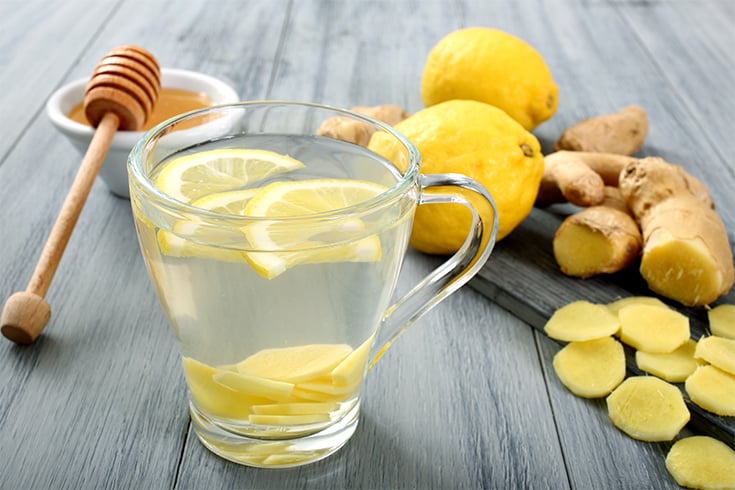 5. Ginger Peach Tea
What all you need?
1 inch fresh ginger slices
½ peach slices or 1 tsp dried peach
Directions:
Add ginger, rosemary and peach to a pot of boiling water
Lower flame and allow it to simmer for 10-15 minutes
Strain out the mixture and mix well
How it works:
Mixing peach with the ginger tea can cut the bitterness and add sweetness
Tip:
Peach ginger tea can be served both hot and cold. It is often served as iced tea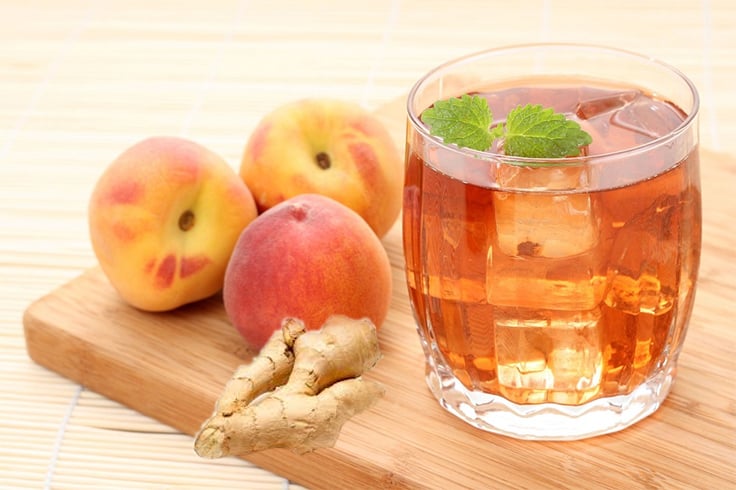 6. Lavender Ginger Tea
What all you need?
1 tsp loose green tea or chamomile tea
Directions:
Add ginger, lavender and garlic to a bowl of boiling water
Reduce the flame and simmer for 10-15 minutes
Steep chamomile tea leaves
Strain out the mixture. Add lemon juice and maple syrup
How it works:
Lavender helps to relieve from stress, anxiety and insomnia
Tip:
Drink the lavender ginger tea an hour before bedtime. Steep chamomile to cure insomnia
7. Ginger Green Tea
What all you need?
½ inch fresh ginger slices
Directions:
Add ginger and green tea leaves to a pot of boiling water
Lower the flame and simmer for 5-7 minutes
Strain out the mixture and pour into cup
How it works:
Green tea has antioxidants and polyphenols that can prevent diseases
It also contains little caffeine, and is a good replacement for coffee
Tip
Sip a cup of ginger green tea after a heavy meal to aid in digestion
Side Effects of Ginger Tea
Though ginger contains immense medicinal properties, it still has few side effects. Listed below are few side effects of ginger tea: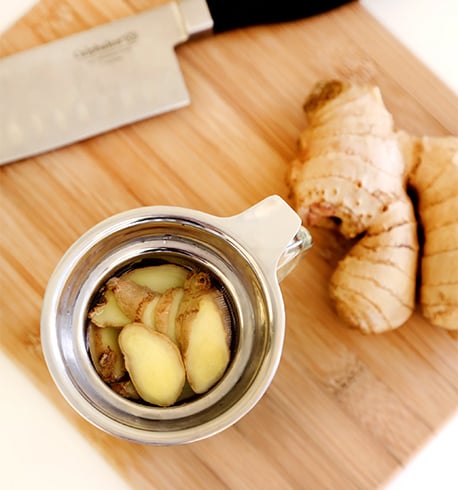 1. Increases Blood Flow
Ginger can stimulate and increase blood flow while also prevent blood clotting
If you have a history of bleeding history, then it can abnormally increase the risk of bleeding
Pregnant women should refrain from drinking ginger tea during last weeks of pregnancy
2. Gastrointestinal Symptoms
Ginger should not be taken in large quantities as it can cause severe gastrointestinal problems
Too much of it can lead to diarrhea, heartburn, severe belching and stomach problems
3. Suppresses Appetite
Ginger can reduce appetite and increase satiety feelings
People trying to gain weight should refrain from drinking ginger tea too often
4. Sensitive to Bright Lights
Drinking ginger tea can potentially increase the risk of visual sensitivity
Anyone starting to notice such symptoms should immediately stop ginger tea intake
5. High Doses
Ginger tea should be taken in limited quantities
An overdose of ginger tea can lead to sleeplessness, heartburn and increase heart palpitation
Diabetic patients should refrain from consuming too much of ginger tea as it can reduce blood sugar levels
Tips and Precautions:
Several of these side effects can be prevented by taking ginger supplements in capsule form
People suffering from heart diseases, gallstones and blood disorders should avoid taking ginger tea
Patients under medication should consult a health professional before including ginger tea in their diet
Recommended Articles
Health Benefits Of Hibiscus Flower Tea
Green Tea Benefits For A Flawless Skin
Benefits Of Oolong Tea
Lipton Green Tea For Weight Loss