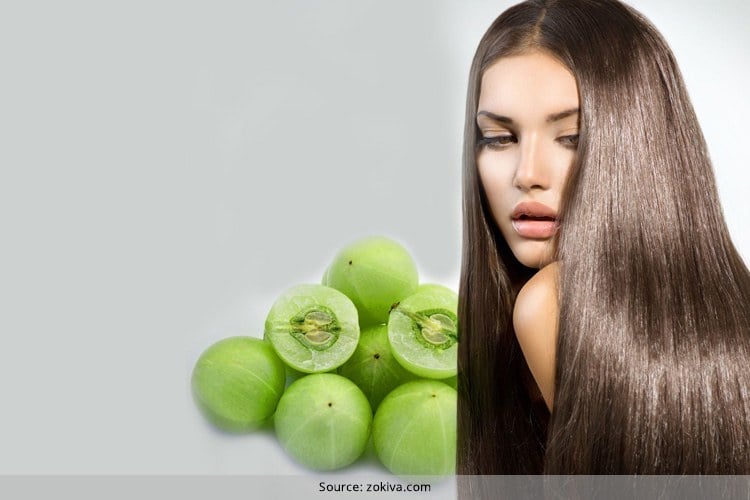 The Indian gooseberry popularly known as Amla is one fruit that has unreal properties to take care of all kinds of hair problems. There are a number of easy ways to use Amla for hair and every time your use, you will find a new kind of glaze in your hair.
[Also Read: 45 Benefits of Amla for Skin, Hair and Health]
So Here Is Your Guide To Use Amla For Hair Growth, Length And Shine
This tangy fruit can be your best friend in fighting hair fall, dullness of hair and dandruff. Let's see the benefits of amla for hair growth.
1. Use Amla Juice As A Hair Tonic
Take a couple of amlas and grade them finely. Squeeze out the juice and collect it in a cup or bowl. You can apply this freshly squeezed juice to the roots of your hair with your fingertips. Once covered the entire scalp, try to massage the head gently. Let the amla juice sit for an hour and wash it off with a mild shampoo. You can do this practice once every week to promote hair growth. This activity will also make your hair strands strong. This way you can use amla for white hair treatment too.
2. Mix Amla Juice With Lemon to Treat Dandruff
Those of you who suffer from excessive dandruff can try a solution of lemon juice and Amla juice. Amla has its own properties that fight dandruff but the strength is boosted when added with lemon juice. Massage the juice thoroughly in your scalp and keep it for an hour. Wash it off with lukewarm water.
[Also Read: Multani Mitti For Hair Care]
3. Amla Shreds Make Great Hair Wash
You can avoid hair fall by using an Amla hair wash every day. All you have to do is chop some of these berries in thin pieces and boil them for at least half an hour. You may also use dried amlas that you get in the grocery store. But for dried Amlas you will have to keep them soaked for an entire night. So coming back to the process, after having boiled it for 30 minutes, strain out the water, cool it down and keep it in your refrigerator. Use this water in your bathing water when you wash your hair – Hair fall sorted.
[sc:mediad]
4. Shikakai And Amla Go Great Together
One can also use amla powder for hair fall. Start with 2 table spoons of amla powder and equal amount of shikakai powder in a mixing bowl. Blend it well with some water. You may also make a smooth paste of it by using loose curd instead of water. Apply this paste throughout the length of your hair. Let this pack dry for 30 to 40 minutes. Wash it off with room temperature water. This works like black magic for hair fall.
5. The Ultimate Hair Mask Of Our Generation
You may also want to know how to use Amla powder of hair conditioning. Amla has great hair conditioning properties. You can utilize these properties by mixing well ground Amla to a bowl of powered henna. Make a smooth paste by adding some water. You may also use an egg and a cup of curd to make this blend more effective for your hair. This pack can be used on the roots as well as the body of the hair. It will dry in an hour after which you can wash it off with a shampoo of your choice.
[Also Read: Multani Mitti For Hair Growth]
6. Regular Oral Intake of Amla Everyday
Not only is topical application of Amla juice beneficial, oral intake of this seasonal Indian fruit is also very helpful for the health of the hair. If you drink a glass of Amla juice in empty stomach, first thing in the morning, your hair growth will speed up and hair fall will eventually stop. Another way of consuming Amla is to soak the dried form of it in a glass of water overnight and drink the water in the morning. Even this is a great way of restoring Amla's benefits in to your body.
You will hardly find any other natural ingredient that is so affordable and useful for the life and growth of your hair. The fruit can be used in all its forms and works towards getting you rich and beautiful strands. One may worry that it is a season fruit, but then for the rest of the year you can use dried amla for hair care and the benefits will be incomparable.