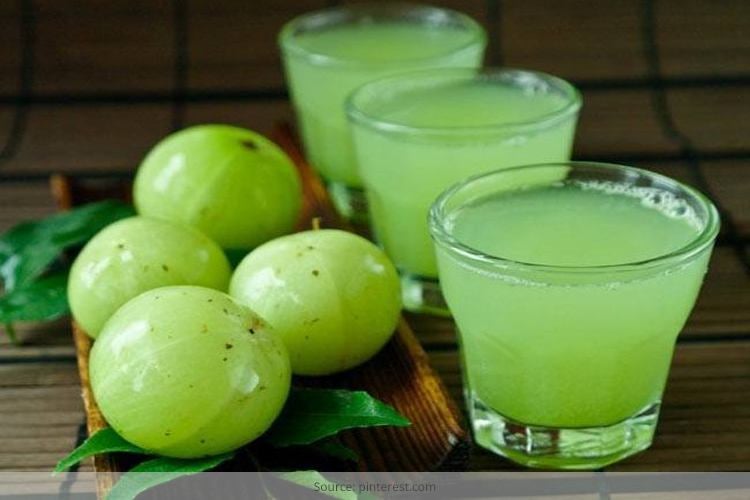 Indian Gooseberry or amla makes for lip smacking jams, murabbas, yummy pickles and chutneys. But did you know that amla is also good for your skin? Whether amla is in juice, powdered or dried form, it is great for your overall health, skin, body and hair.
My dear fashionistas, simple amla juice can do a lot for your skin by reducing wrinkles, fine lines,  bringing natural glow and giving your skin a youthful and vibrant look. Amla juice also tones and tightens the skin brilliantly.
Here Are The Beauty Benefits Of Amla Juice For Skin!
Amla juice can do wonders for sagging skin – When skin collagen decreases, the skin tissue becomes soft and loses its firmness. Amla juice can set this right as it has Vitamin C which increases collagen production and is effective in keeping the skin charming and vibrant. You can also use amla oil for skin.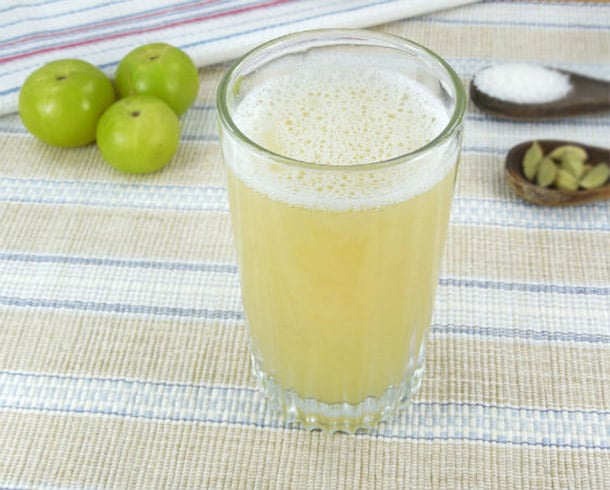 How To Prepare Amla Juice
A quick way to prepare amla juice is to blend some chopped amla pieces with water. You need to filter this so that the pulp is removed. You can add some pepper powder or honey as per your taste preferences.
Natural astringent: Apart from intake of Amla juice, you can use it to clean your face as it has toning properties and exfoliates gently to remove dead skin cells.
[Also Read: Skin Care Tips]
Vanish marks & scars: Amla juice used in combination with turmeric powder and lemon juice has the ability to reduce  marks, scars and blemishes.
Bright complexion: Mix amla juice with honey and mashed papaya – Use this as a face pack to make your complexion bright and few shades lighter. Now that's one of the easiest ways to use amla for skin fairness!
Feel young: Drinking amla juice stops the premature aging and also gives a youthful & vibrant look. It also helps reduce skin pigmentation and makes your skin brighter. To use amla juice for skin pigmentation, just dab a cotton ball in some amla juice and apply it on the face. Wash it off with water after a few minutes. Do this on a regular basis.
[sc:mediad]
Cure oily skin: Treat oily skin by using a wonderful face mask made of amla powder and rose water. You will feel the wonderful difference with your skin becomes light, bright and dirt-free. Here is the recipe for another amla face pack that you can use on your oily skin. Take 2 teaspoons of amla powder and add hot water to it. Mix it up and add 1 teaspoon each of raw honey and yogurt. Give it all a thorough mix before applying on the face.
[Also Read: Sugarcane Juice Beauty Benefits]
Treating dull skin: For dry and dull skin, make a cool face pack using half a teaspoon of yogurt and honey. Use this face pack once a week to see the best results. Another remedy is to make a paste with amla juice, multani mitti, rose water and olive or almond  oil. Apply this on your face and leave it for 10 mins. Then wash it off with warm water to notice supple, soft and healthy hydrated skin.
Drink to good health: Drinking amla juice keeps away skin problems by purifying blood and ensuring proper digestion.
Anti-Aging Benefits: Another reason to use amla juice for skin is to maintain your youthful look and prevent your skin from aging. Drinking amla juice on a regular basis will help in preventing dark spots, wrinkles, fine lines, etc.
Exfoliation: The benefits of amla juice or gooseberry juice also include exfoliation and cleansing of skin. It aids in getting rid of all the dead skin.
For Hair: Amla juice uses are not only beneficial for your skin but also for your hair! These benefits include conditioning of hair, dandruff treatment, strengthening of hair, scalp cleanser, etc.
Apart from this, Amla juice helps in keeping cholesterol levels low and has the ability to reduce inflammation or swelling on skin.
With so many benefits and advantages, Amla juice can be incorporated in your daily beauty regime. Whether it be drinking it or using it in face packs, the natural Amla can work miracles, repair your skin, keep it healthy, glowing and radiant effectively. All of this proves that the benefits of amla juice for skin is not something that you should miss out on!
[Also Read: How to Remove Blackheads]
What do you think about the beauty benefits of Amla juice for skin? Let us know!