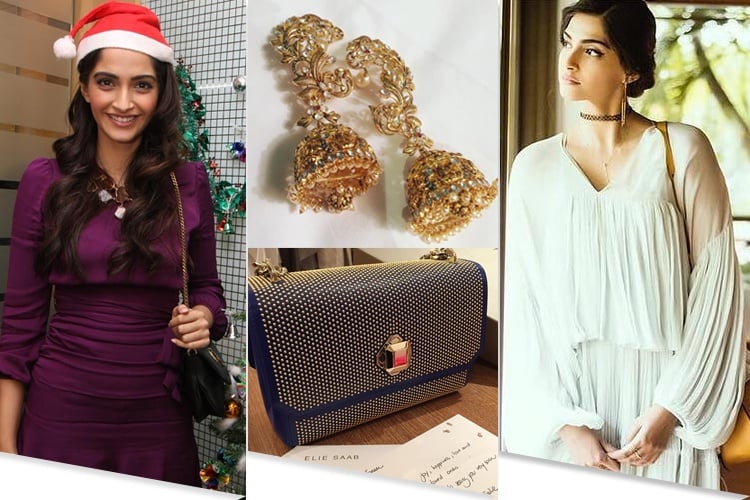 With Christmas around the corner, it's only Santa and Gifts on our mind.
Talking about gifts, while we have to really wait for Christmas, or to be precise the big sale season, to get all those break-the-bank kind of gifts, our celebrity sweethearts are flooded with them all throughout the year.
A host of national and international brands keep presenting pieces from their latest collections, as favors and gifts to their muses.
[Also Read: Sonam Kapoor]
The intent behind sending giveaways per-dominantly is to be featured on social media networks of these super popular fashionistas. Hence, while the divas share their joys on receiving the goodies with their fans, the brand hopes to etch some recognition for itself in the minds of their future carriers.
Of all the B-Town beauties, one stylista who is showered with much love from brands across the globe is Bollywood's most fashion forward woman, Sonam Kapoor.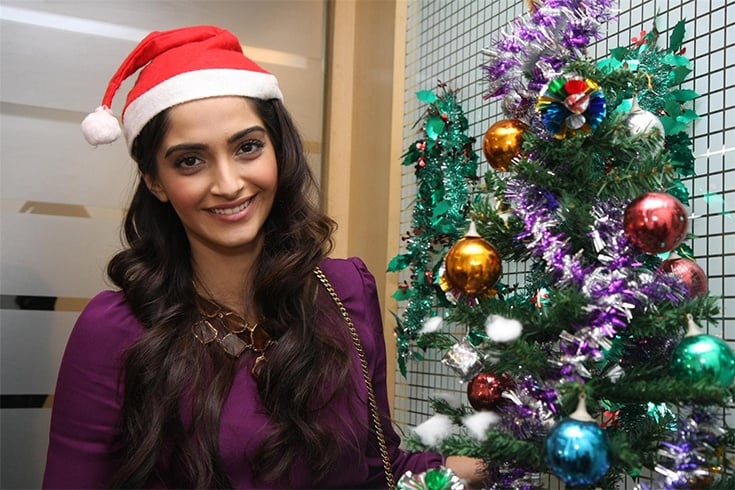 We all know Sonam Kapoor's love for designer labels, and the undoubted queen of High street fashion in India is an admirer of all things trending.
Her undaunted spirit to experiment with trends is in complete harmony with the client profile of few of the biggest brands, who are always on the lookout for trend setters. Hence Sonam always tops the lists when it comes to endorsing fashion biggies.
This year too, Sonam was flooded with an array of gifts. Let's look at all things presented to this diva in 2016. At least the one's the lady shared on her Insta and Snapchat handle.
Nappa Dori Trunk And Jewellery Case
Nappa Dori, the domestic brand, home to a whole lot of creative handbags, trunks, and other leather stuff showed love to the fashionista by sending in a beautiful trunk and a jewellery case, for the diva to carry her goodies in style.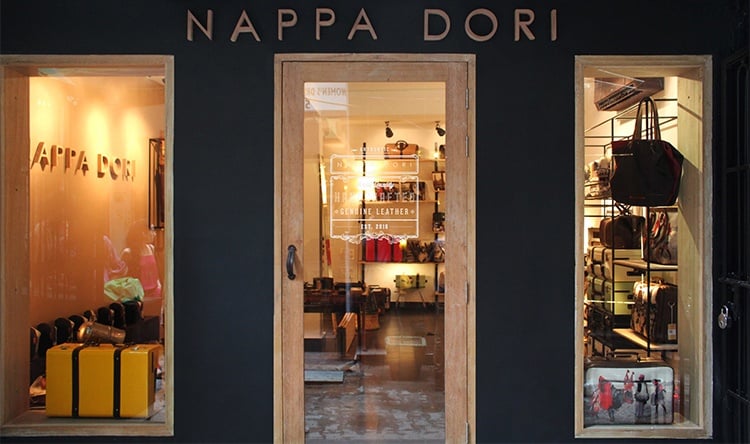 Sonam showed her gratitude with a message on her Instagram handle, saying "Thank you @nappadori I love the trunk and jewellery case!!!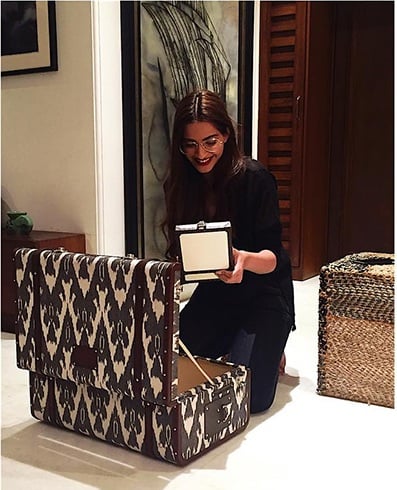 Addidas White And Gold Sneakers
Adidas gifted the woman a pair from it's collection of white sneakers featuring a gold contrast. The lady surely was all hearts for her gift, as we spotted the diva wearing this one a few times.
[sc:mediad]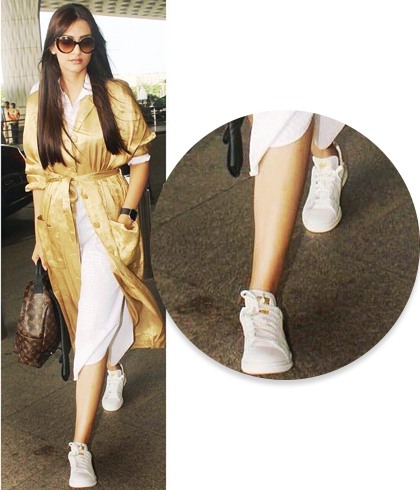 Sonam's Instagram account featured the pair with a beautiful message, " Ummm @adidasoriginalsinyou guys made my day!! Thank you for all the goodies!! I'm obsessed with these currently!!! @deepika_deepti these are Amaze!"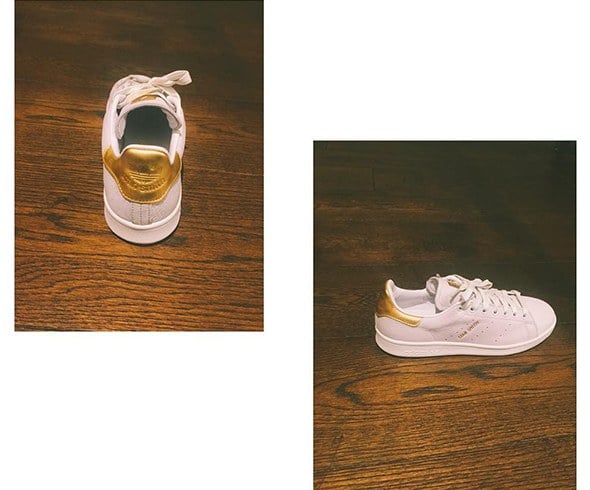 Designer Handbags
Sonam Kapoor's love for handbags and shoes is known to all. This year Sonam was treated to a whole lot of handbags from luxury labels across continents.
Gucci Sylvie Bag
Presented with a handbag from luxury label, Gucci, this one surely got her excited.
The lady was quick to share her new addition with her followers.
Her message showed that she definitely loved the surprise.
Obsessed with the new#Sylvie bag!!! Thank you @gucci and@manekathadani !!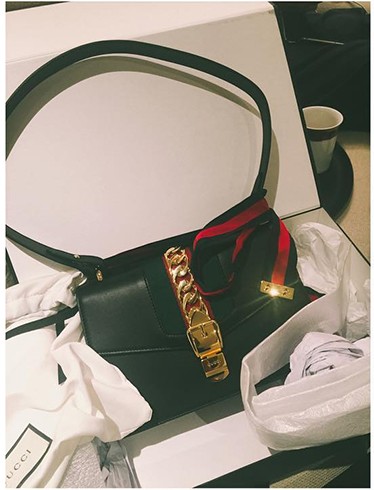 Chloe Sling
Presented by Le Mill, the Chloe sling made it to Sonam's list of favorites this year. The lady carried her sling in full swing.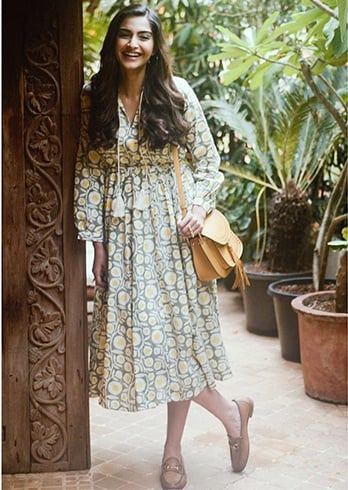 The gift was well received with a message that read, " Super obsessed with my@chloe bag… Thank you @lemill for this!!".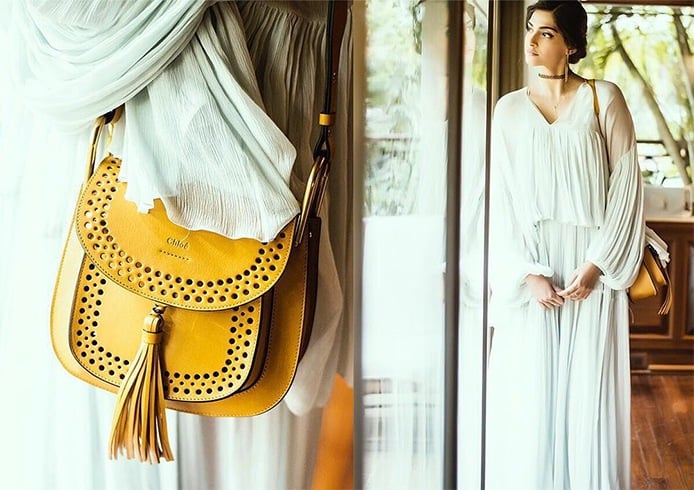 Bvlgari Bag
With the monochrome trending high this year, Sonam was presented with a classy black and white sling from Bvlgari. The diva took to Instagram to show her gesture for the luxury brand saying, "Thank you @bulgariofficial for the cute bag!! I love it!!.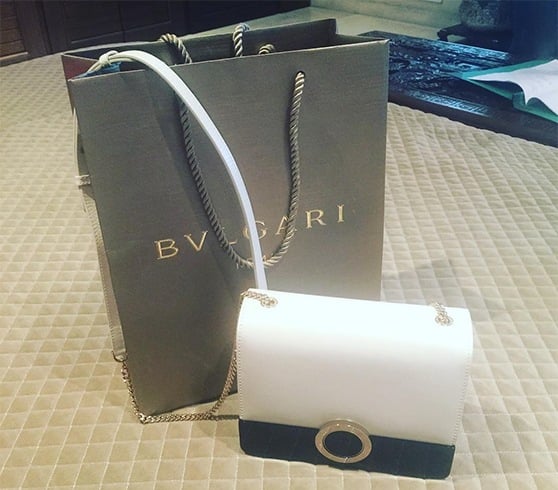 Louis Vuitton Backpack
With backpacks being all the rage this year, Louis Vuitton sent in a classic one from their range of backpacks.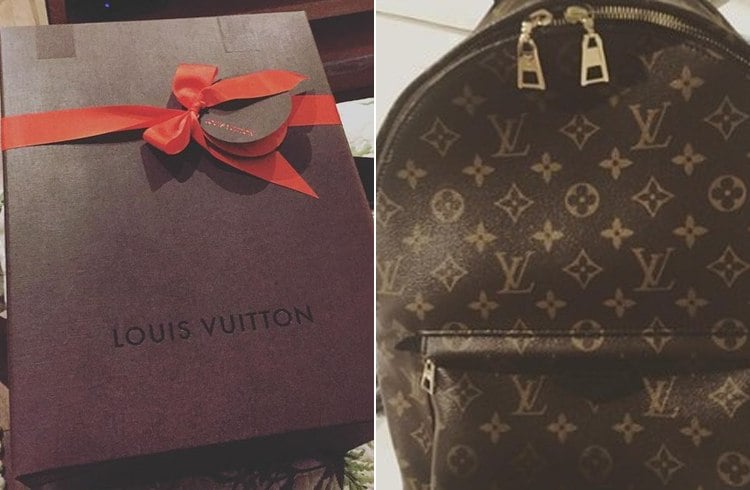 Elie Saab Bag
Sonam received a studded clutch from Elie Saab, earlier this year. Sonam shared her obsession with her fans saying, " Obsessed thank you, Ellie and Emilie! Can't wait to see the new couture collection! Happy happy new year! Lots of love!"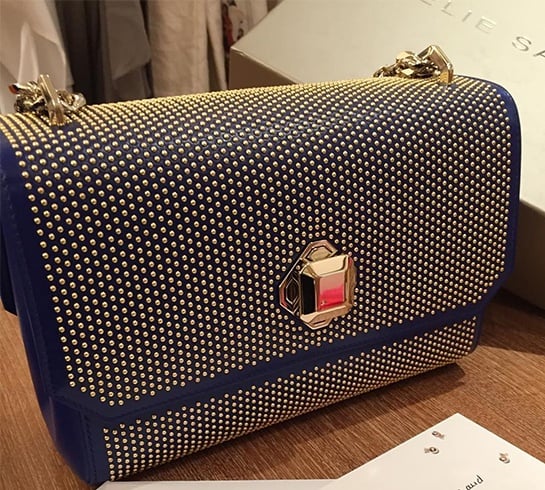 Sweet And Savoury Treats
The otherwise calorie conscious actress is often treated with sweet treats to satiate her sweet cravings.
The Sassy Spoon
Sonam was greeted with a beautiful floral basket full of treats from The Sassy Spoon.
Sonam shared her happiness with her fans, writing a sweet message that read, "Thank you so so much for the treats @thesassyspoon and@rachelgoenka !! This makes me so happy!!!".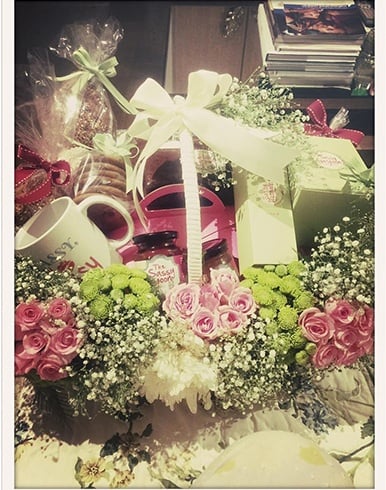 Birthday Cake
On her birthday this year, one of Sonam's birthday cakes replicated her appearance from the Cannes red carpet.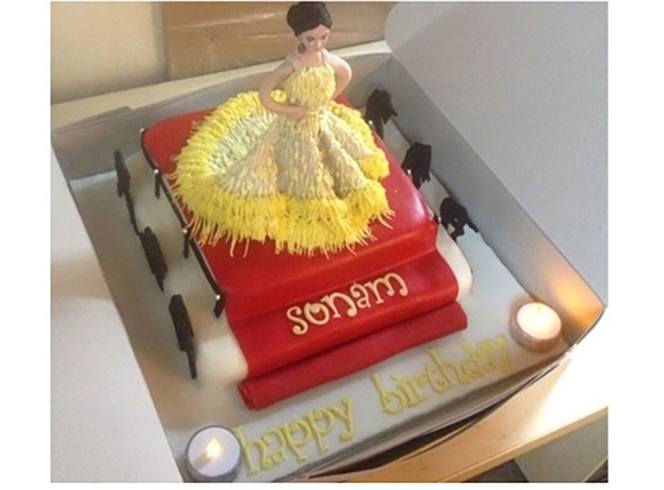 Love And Cheesecake
A delicious looking cheesecake was sent across to the diva earlier this year, and Sonam took to Instagram to thank the sender saying, " Thank you guys for the cheesecake!! I'm sure it's going to be delicious! @loveandcheesecake".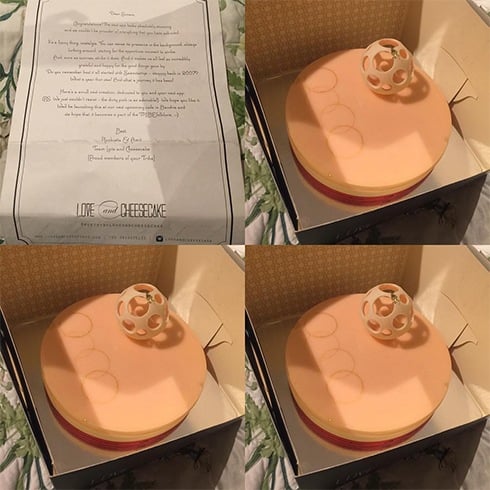 Peppy
A carton full of packets from Peppy took Sonam back to her childhood days. The lady thanked the brand saying, " Thank you so much, #peppyreminds of my childhood!! Do you guys still manufacture #simba ??? Please tell me you guys do!!! Yummy!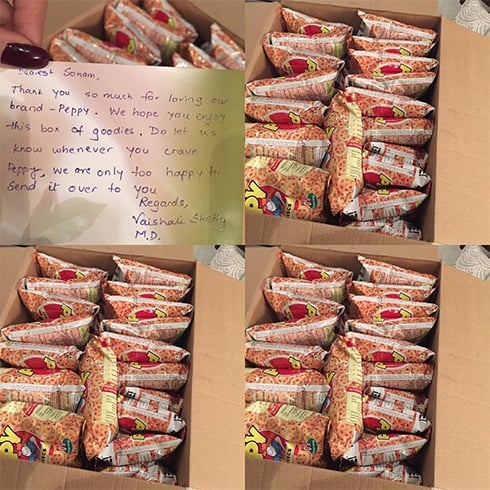 MakeUp and Kits
Loreal
Being a brand ambassador has it's own perks. Sonam was gifted a whole range of Loreal lipsticks for the season. Sonam posted a picture of her's with the kit and a message that read, " Love shooting for@lorealparisin I get so many goodies!!!".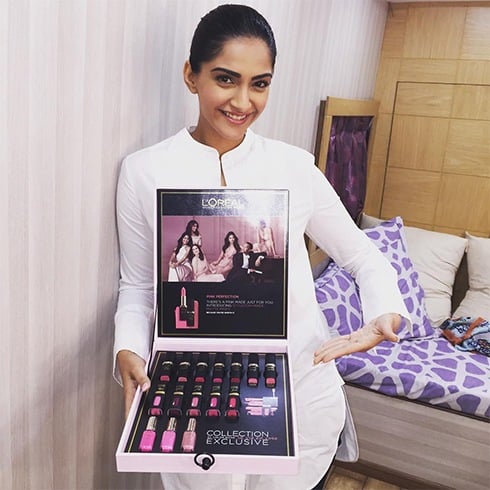 Pipa Bella And Namrata Soni
Pipa Bella along with Hair and Makeup artist Namrata Soni presented Sonam with Makeup and Toilet Kits in bright hues.
Sonam thanked them saying," Thank you @namratasoniand @pipabella for this lovely make up and toilet kit! I love it…".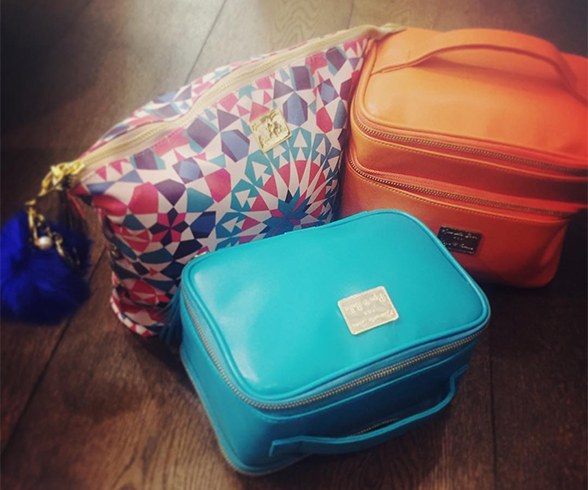 Ahikoza Clutches
Coming from a brand that handcrafts clutches using exotic skins, the brand Ahikoza delighted Sonam with their gifts.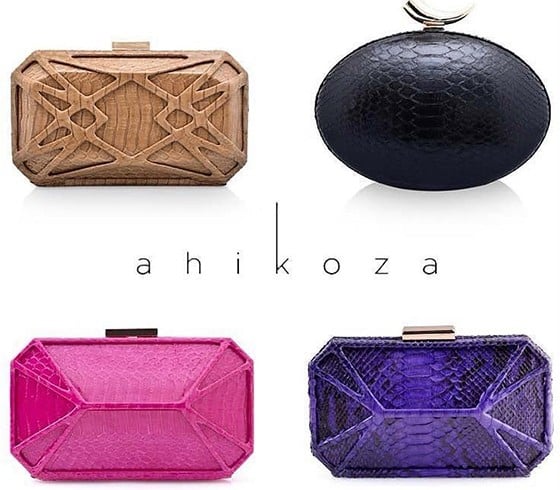 Presented with a snakeskin clutch, the mesmerised actress had just one word for this gift from Ahikoza, "Beautiful! @ahikoza".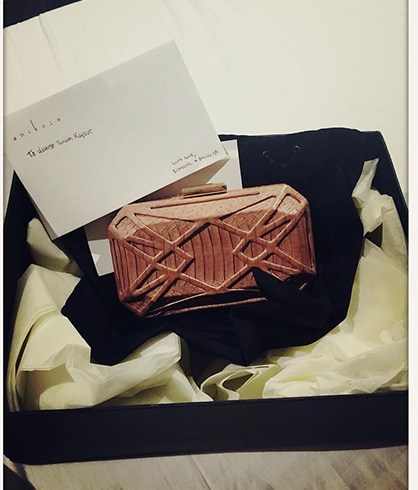 With festivities around the corner, the brand sent in a golden clutch to match Sonam's desi style files. The lady admittingly shared. "Thank you @ahikoza for the beautiful clutch! It's perfect for the festive season!".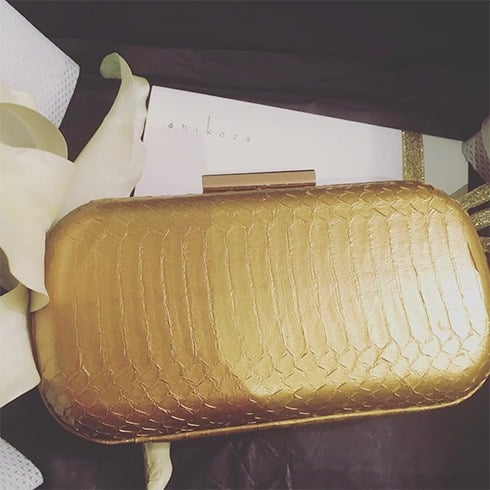 Jewellery
Kalyan
More sparkle to her persona was added by jewellery brand Kalyan, who presented Sonam Kapoor with a pair of beautiful gold earrings. The lady took them with her to Cannes to flaunt her Indian-ness.
Sonam posted a picture of the pair with a message that read, " Thank you #Kalyan for gifting me these beautiful earrings! I loved wearing them in #Cannes !#princessmoments #dreamsdocometrue".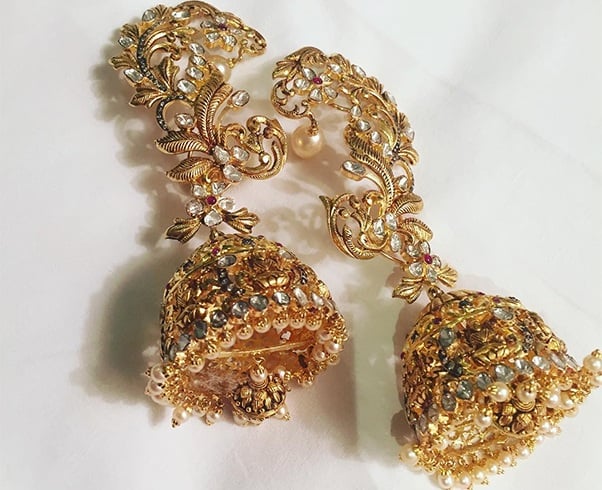 Valliyan and Outhouse Hampers
The diva was also presented with hampers from accessory brands Outhouse and Valliyan.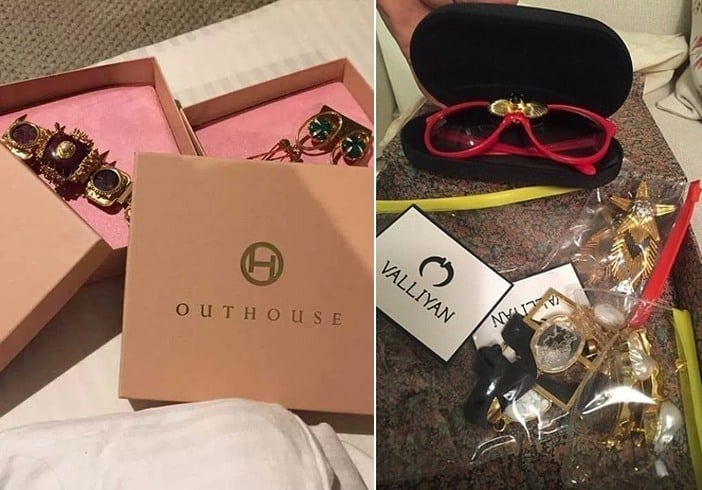 We are totally feeling the jealousy vibes. But we are glad our fashionista is blessed with not one but a band wagon of Santas who shower her with gifts all year round.
Images Source: instagram