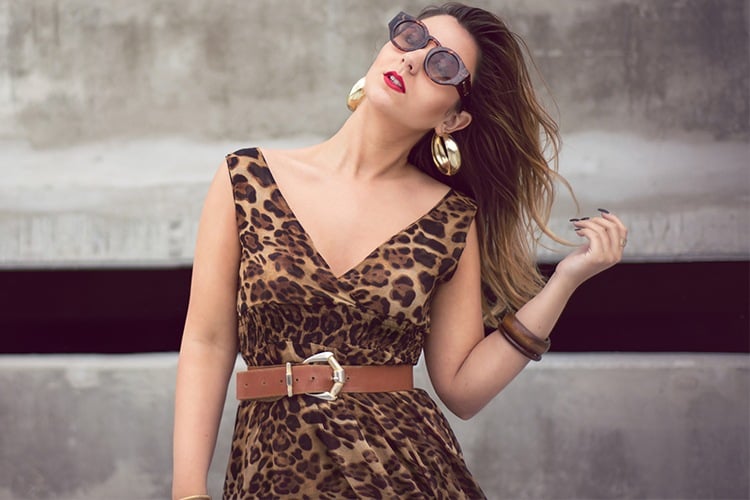 Did you Know Animal prints have a history in themselves? If we trace back to the 18th century, the Europeans had started colonizing the Asian and African continent and they were the first ones to bring about the skins of leopards and tigers together. Soon enough these foreign patterns gave way to what is today famously known as animal prints.
Style icons like Marilyn Monroe, Brigitte Bardot, and Elizabeth Taylor have marked remarkable statements in animal prints. Our very own desi queen Shilpa Shetty has been seen sporting these prints even before anyone else had their hands on it.
Popularity of Animal Prints
Season after season, animal prints have made their strong statement. If you are not bold enough to carry the animal prints use it in small doses.
[Also Read: print on print fashion]
Miranda Kerr has exemplified what I am trying to point out here. She has definitely worked this whole look. Even though Miranda has worn an animal print dress and a shoe together, the dress is subtle giving way more attention towards the animal printed shoes.
How To Wear Animal Prints
Now let me talk about how you can introduce animal prints into your wardrobe and mix and match with your everyday wears.
Like I mentioned earlier, a heavy dose of animal prints will make you look like a wild cat out on the prowl. Let me show you how to balance your animal prints ensembles and look understated yet elegant.
1. High waist Skirts
If you can take some cue from the picture like the white shirt tucked in with the animal printed skirt, it will win you loads of brownie points. It will look great for any formal event and will go well as an office wear too. The whole outfit looks neat and is not overpowering at all.
Crop top, another trending fashion staple also looks good with animal print skirts. Wear perfect heels with minimum accessories and your set to flaunt those perfect curves.
2. Jumpsuits
The animal print jumpsuits do not look overworked at all because of the way they are executed. Wear them with classic heels or style it with leather belts.
3. Animal Print Blouse
Retro skirts are back with a bang this season and what better way than to pair it with your animal printed ensembles. The whole outfit is a total knock out.
4. Animal Print Dress
Keeping simplicity in mind when you wear an animal printed dress is the number one thumb rule. You can see in the picture too how the whole outfit has a lot of flair and style and is kept simple with the black suede heels. No one will be disappointed with this sense of styling.
5. Animal Print Pants
If 'elegance' is your style mantra then you might want to execute this look. It is mess free and uncluttered. The heels bring in the sophisticated feel while the simple top spells comfort.
6. Shoes
Wear these with your blue skinnies, or your sexy LBD. If you love the bolds, pair it up with a pretty and stunning red dress to make a strong impact on your fashion and dressing style. Make sure you style your shoes most appropriately with your dress.
Let's look at some other ways of styling Animal prints – scarves, bags, accessories, and much more that can pep up your mood. Wear these to casual lunches with your BFF's or on hot date nights.
Those who are immensely in love with this print, can also explore the swimsuits and bikini's animal print designs. These look extremely sensuous and classy.
For those women who have a large bust size, remember to wear wrap style swim suits with a V-neckline.
Why animal Prints are always a Favorite
Animal prints have simply been a favorite for many people just for the fact that season after season it has made its comeback in a much more dramatic way than before.
Surely like every style trend the fashion ebb and flow keeps fluctuating but the animal prints never goes out of style. Both the leopard print and the tiger print have become like a classic piece and a must-have for your wardrobe.
Different Types of Animal Prints
Every woman owns a piece of animal print clothing. It is a hot favorite both on and off the ramp. There is so much to its popularity now that it's more or less like a rule for every woman to own it. Animal prints do not stop with leopard and tiger prints alone, the Bengal tiger strips had stormed the trend market last season. Giraffe's, snake, zebra and cow prints are seen too. We can say the same about the black and white Dalmatian spots as well.
For those who haven't seen other animal print fashion accessories, umbrellas, rugs, bed spreads and many more day-to-day use essentials have these prints on them too.
Here are some Bollywood Celebrities spotted in Animal Prints at various events and promotions.
Hope you enjoyed this post on Animal Prints. How do you plan to make this a part of your wardrobe? Do let us know in comments.