While some women complain of having a flat chest, the others are not comfortable with the oversized breast sizes. Not everyone is made perfect with a model sculptured body. Since perfection does not fall on anyone's lap, I understand the nightmares of having a bust size that does not match your overall body structure.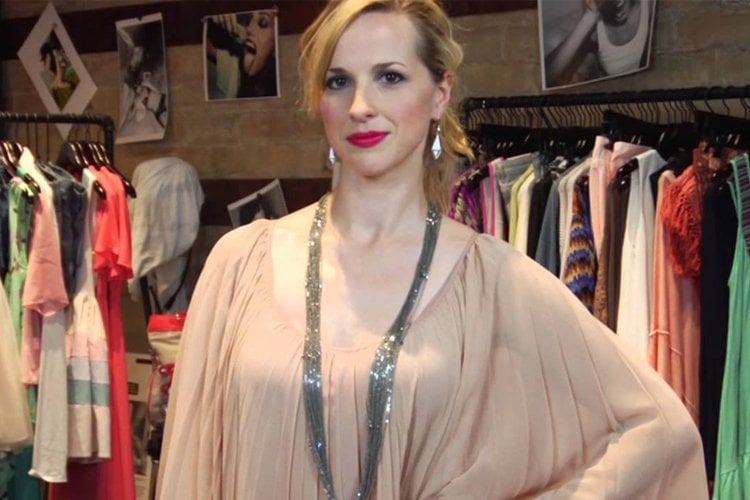 Fashion is all about accepting your body structure and dressing according to it.
Fashion tips are not limited for a single person; some may need suggestions to make their breasts look bigger than they are while some want them to look proportionately smaller than they actually appear. A bigger pair of busts generally calls for unnecessary attention. Hence, I am going to share very simple 8 tips to help large bust women look super-hot!
1. Invest in a Well Fitted Bra
A perfect foundation is extremely important. If your inner wear is ill fitted then the rest of your clothes is likely to look out of place as well. You need to be extra careful if you are on the bustier side.
Most people are found wearing the wrong bra size. If you are not sure of what size you fall into, please seek professional help at the lingerie store. They will measure your size twice. First, they will measure around the ribcage are and the second will be right across your chest.
Always wear full covering bras. These not only look decent but offer a better support. Avoid padded and push-up bras at all times. Remember, you may find them hot on the cover magazines and at the stores, but might look extremely indecent if you naturally have a bigger size.
2. Balance your Necklines
What you don't want, is for people to notice your large breasts, so I will tell you a trick that works most of time. To take this unnecessary attention off, make sure you carry some bold accessories on yourself. Necklaces and beaded long stands of these ornaments are one of the best accessories that you can pull off. Large chunky beads or multiple strands generally do the trick. You could also try wearing these statement accessories in contrasting colors. Add drama to a plain t-shirt or top by wrapping a long stand multiple times around your neck.
[Also Read: Breast Enlargement Creams – Reviews]
3. Choosing the Right Neckline
A 'V' neck dress or tops works best for large bust women. The deep plunging neckline hides the heavy upper body. This kind of dress helps to lift the bust and gives it a good shape. You will look super attractive. Make sure you wear a deep-cut bra to avoid any wardrobe malfunctions.
4. Wear Wrap Dresses
Wrap dresses are perfect for big bust women. They tend to separate the breasts and improve their exterior form. It takes away the fussiness round your breasts and flatters your figure.
[sc:mediad]
5. Style your Dress with a Belt
Most women might not agree to what I say, but trust me, belts definitely work. If the belt rests firmly just below the breasts, then that belt area becomes the focus giving a more hourglass shape to your body. And that's what you want right, a perfect figure? If you look at the image below, you will believe and trust my words.
6. Wear Large Prints
The right printed dress like the one shown is perfect for women with a big bust. This type of dress will make you look slimmer and highlight all your pretty your curves. Larger prints tend to divert all attention to your outfit rather than unpleasant stares to your breast.
7.  Fitted Blazers & Structured Jackets
Again, the focus is add structure to the dress. Either wear a fitted blazer over your top or dress or simply style a belt over a cardigan for that extra class and sexiness.
8. Opt for dark colors
Remember, if you have a large bust, you need to avoid too many colors. You will look way better in darker shades. Be it buttoned down shirts or floral and wrap dresses, dark solid colours will camouflage the faulty areas of your body and make your bust look less visible. The 'V' shaped necklines will lengthen your neckline and slim your upper half body.
These are very simple and basic tips for either the plus size women or just those who have a bigger bust compared to the overall structure of the body.
Ladies, do not hesitate! These are fool-proof tips that will never go wrong. Just give these a try and get back to us with all the lovely comments you receive.