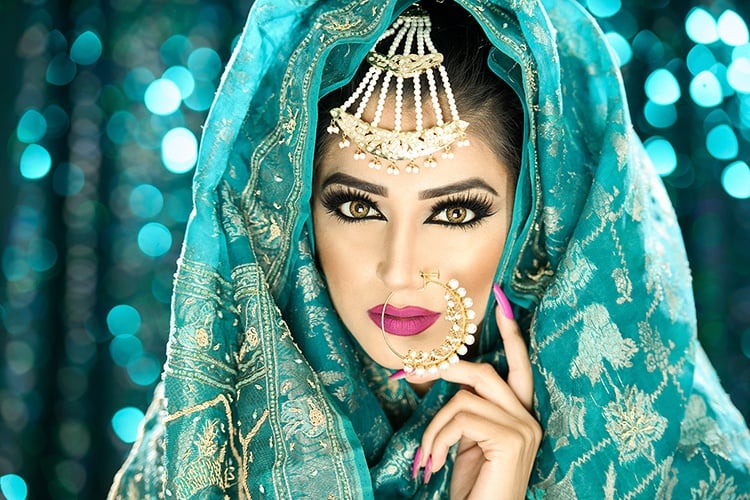 A bride, regardless of the culture she belongs to, is always the prettiest. But then there is something about the Arabic bride that sets her apart – the makeup and the costume. Arabic bridal makeup includes dramatic shades and shimmery eyes. The cheekbones are highlighted and the lips are kept soft. With loads of metallic colors, the Arabic make up for brides are perfect for all brides across the south Asian countries that enjoy colors.
Preping Up The Makeup Base
As the makeup of Arabic bride uses multiple products on the eyelids it is important that we prep the eyelids first. In this step you may prep your entire face by cleaning, moisturizing and applying a good primer that would hold your make up well for a long time. After applying primer layer you skin with a foundation closer to your skin tone and cover the blemishes with a concealer.
Dramatic Eyes Are Central To Arabic Makeup
To begin with the eye makeup, draw your eyebrows with an eye brow pencil and fill them up with a dark brown eye shadow so they look fuller and well defined.
The center of Arabic makeup, you will have to start by applying a matte eyeshadow, preferably in a neutral shade on the crease on the eyes.
Follow this step by taking a silver highlighter to the inner corners of the eyes. Arabic brides wear splendid and colorful bridal garb that they call lehenga. The shades they wear as eyeshadow most of the times are based on the bridal attire.
Taking a bright eyeshadow that goes with your garb, fill up the center on you eyelid. Fill the outer end of the eyelid with another shade of the outfit, preferably a darker one. We also suggest using shimmery eyeshadow, even better if you use glitter on the eye lids on this special occasion.
The eye liner is going to be a dramatic winged liner and we will go with the darkest in black so that it doesn't get muted by the heavy eyeshadows.
Curl you lashes and coat them with a thick coat of mascara. Now glue a heavy pair of false eye lashes.
Finish off the eye makeup by applying highlighter along your brow bone. Make sure you have blend the edges of different eyeshadow to avoid harsh lines. Dust off the fallen particles with a powder.
Contouring The Face
For the face, we are a step ahead as we have already primed it up, used a foundation and concealer. We will now contour the face with a darker contouring stick and contour our cheeks, jawlines and forehead. A good contouring always demands a good blending. Make sure your face has no sharp edges of colors.
Highlighting The Cheeks
Now it's time to show some love to your cheeks. Apply a highlighter, preferably in the shade of pearl on your cheekbones so they stand out with shine.
[sc:mediad]
A Hint Of Blush
Arabic bridal makeup uses bold colors on eyes but they go equally soft on the cheeks and lips. Pick a light blush in pink or peach, depending on what suits your skin tone more, and stroke the brush on the apple of your cheeks. Though Arabic brides use a lot of glittery make up products, we suggest you go for a matte blush. We have already used glitter on the eyelids and cheekbones. A shimmery blush may lead to an overdose of glitter and we don't want that. Once done with cheeks we will take a little bit of highlighter to the bridge of our nose.
Moving to lips, prime your lips with a primer and to cover all pigmentation apply an even coat of concealer. Now take a lip liner that is the closest match to your lipstick and line your lips. Try to achieve a perfect cupid's bow. Arabic brides do not over line their lips or use colors too dark. Sticking to lightest shades of peaches and pinks are the best choice. Once the lips are lined, fill them up with a matte lipstick. Use a lip gloss to give your lips the perfect shine. To round up the look, take the minutest bit of highlighter to accentuate the Cupid's bow. And we are done.
The Bridal Attire
It's not only the dramatic play of colors that form the beauty of an Arabic bride but also their extravagant bridal attire which are mostly embellished with threads of gold and silver on silk and satin fabric.
Heavy Jewelry
They don't forget to get the perfect jewelry sets to adorn themselves on their D-day. The gold and silver jewelry are mostly encrusted with diamonds, emerald, rubies and other precious and semi-precious stones.
Once you are ready looking like a goddess, do not forget the grace and elegance with which an Arabic bride carries herself grabbing all the eyeballs around.